Before you get high, research how the marijuana industry mistreats Black and brown people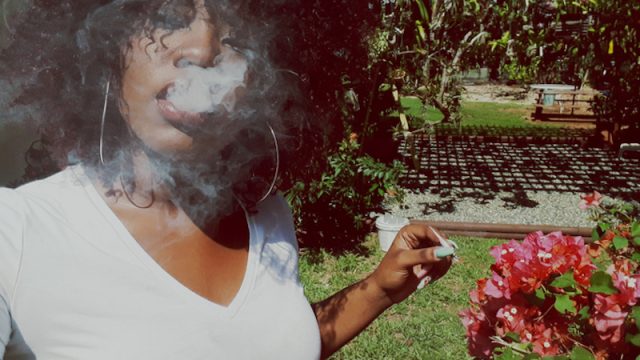 These days, everywhere you look, you'll find marijuana. As weed slowly becomes legalized in different parts of the country, it's hard to pull up to any corner of the internet without reading something about CBD oil, THC, or a person's experience getting high for the very first time—but there are many perspectives that need to be included in this conversation. It's nice that the nation is coming together around cannabis's health benefits, and it's exciting that weed is now legal in some states. But it's also infuriating when so many people of color are still doing real time in prison for marijuana-related offenses.
As more and more lighthearted news stories pop up about cannabis use, we need to face that fact that marijuana arrests disproportionately affect Black and brown people.
Many of the states that have legalized marijuana consist of largely white populations (my state of Washington included). White people are now publicly cashing in on the thriving cannabis industry, while Black and brown people either remain incarcerated or try to stay afloat in an industry that has always disregarded their safety and innovation. So as more states loosen their marijuana laws while other states completely legalize the plant, we must support people of color who are making a career out of marijuana, and help those who have been punished for participating in the business. We can't just continue to lift up privileged people piggybacking in an industry where they have always had free reign.
https://twitter.com/udfredirect/status/994967676119232512
Of course, white people can partake in the cannabis industry—they have been involved with cannabis for as long as everyone else—but white people are treated less harshly when it comes to any crime. That includes marijuana possession, use, and sales.
According to the ACLU, Black people are four times more likely than white people to be arrested for marijuana sales or use.
Even after weed has been legalized, Black people are still more frequently arrested for possession.
So when it comes to the cannabis industry, it is important to learn about legalization from Black and brown people whose lives have been most affected by War on Drugs policies. We can get this education from organizations like Cannaclusive, Mahogany Mary, and Supernova Women—groups that work to ensure marijuana legalization doesn't only benefit one type of person.
Created by women of color, Supernova Women is an Oakland, California-based organization specifically focused on uplifting Black and brown women in the cannabis industry. As explained on their website, they focus on empowering women through education, advocacy, and "skill acquisition":
"Supernova Women fosters a safe space for hard conversations, and will amplify the messages of our constituents at the local, state, and national level."
In Supernova's Shades of Green series, the organization hosts panels discussing why communities of color must be highly involved in all of the legislative work around the industry. By focusing on present day legislation and local politics, the organization is able to work towards making the industry more diverse and fair. The organization also offers career workshops for women looking for guidance in the industry, as well as legal services that help women who have previous marijuana-related convictions learn how to expunge, in other words remove, these offenses from their records under their state laws.
The cannabis industry is not new, but a lot of recent media makes it seem "up-and-coming." If you haven't grown up with or around marijuana, it may seem different and exciting. CBD products are especially increasing in popularity because the compound is an excellent alternative to prescription drugs for a wide range of ailments, mental health diagnoses, and even anxiety in pets. It's great that we are finally embracing some of the medical research around marijuana, but if you are a white person easily enjoying the benefits of weed legalization, this is a reminder to pay attention to the work of people of color in the cannabis industry. It is your responsibility to learn about the Black and brown people still serving shockingly long sentences for minor marijuana crimes.
We need to support organizations like Supernova Women and the people of color still hurt by racist drug policies more than we need to support white people selling novelty marijuana T-shirts and CBD lollipops on the internet.
By now, we have all heard the story of "Permit Patty," the white woman who called the cops on a Black child because she was selling water without a permit. Permit Patty's real name is Alison Ettel, and she is a white woman who sells marijuana edibles. The fact that Ettel can cash in on an industry that still gets Black people imprisoned while also calling the police on a Black child for selling water (which is definitely legal) is overwhelmingly hypocritical and, plainly, baffling.
So as we continue to legalize and normalize marijuana use, you should be furious that Black and brown people are in jail for marijuana possession while some of us waltz into stores to buy 10mg THC chocolate chip cookies without consequence.
I am a person of color. I may be white passing, but I come from a biracial background. Two of my three brothers have been harmed by the criminal justice system because of how they look and talk. One of my brothers has been targeted by police officers multiple times and has done jail time for possession of marijuana. When white people go online to tweet about their adorable "weed mom" shirts, it's a slap in the face to those of us who have been treated unjustly, and my family's experiences with discrimination aren't even anywhere near what other people of color have faced.
If you are newly getting into weed because of recent legislation, congrats. If you like getting high or enjoy the health benefits of CBD oil, that's great—but remember that there are people you need to listen to and learn from. Use your privilege to fight back against the discriminatory laws that negatively impact Black and brown people—and then let yourself have a good time.