Before Rachel Bloom was winning Golden Globes, she played a singing uterus
Last night Rachel Bloom, the co-creator and star of the CW's Crazy Ex-Girlfriend, won a Golden Globe for Best Actress in a TV Comedy or Musical. She was so excited about the honor that she began her acceptance speech by yelling, "Oh my god!" multiple times into the microphone — to be honest, some of us were yelling the same thing from our couches.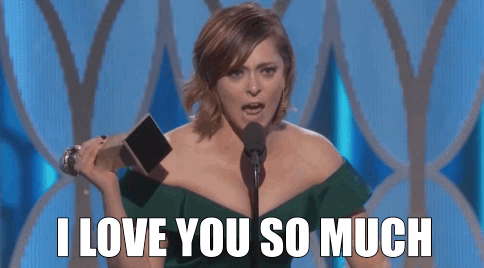 According to Rachel, her co-creator, Aline Brosh McKenna saw the performer's YouTube videos and reached out about collaborating. If you haven't seen any of Rachel's old work, you must check out her channel, which has videos from as far as five years ago. Comedy songs like "Pictures of Your Dick," "Jazz Fever," and "I Steal Pets" show that Rachel has always been brilliant, irreverent, and so so fun to watch.
Though it's not posted on her personal channel, Rachel also formerly starred in a hilarious and scarily informative musical video called, "A Singing Uterus Explains Perimenopause and Menopause." The title really sums the experience up quite nicely.
P.S. This mini-musical includes solos by the Clitoris and backup vocals by the Ovaries. Just so you know.
(Images via NBC and YouTube.)