This teenager just became the first-ever woman to win a football scholarship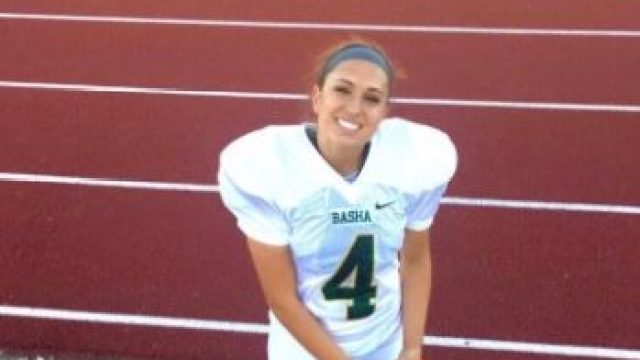 There are some headlines that have you high-fiving strangers before you even read the article. And "first-ever woman to win a football scholarship" is one of them. 18-year-old Becca Longo was accepted into Colorado's Adams State University on a football scholarship. Getting into college is no easy feat. Getting a scholarship is even harder. And being the first to earn that scholarship puts you in an incredibly cool club, the esteemed "first female ever" club!
If you're not familiar with Becca, you will be soon. A quick scroll through her Twitter account proves we're working with a real badass here.
Longo joined her high school football team her sophomore year and has been a star kicker for the past two years.
Beyond being an undeniable badass, she's also an undeniable star athlete. Only about a dozen women have gone on before her to play college football, and Becca is the very first woman to play on a NCAA scholarship for a Division II school.
As for how Becca earned this scholarship, she proved she's a genius on and off the field. She knew she had the skills, but the key was getting the right people to see what she could do. Longo wisely included a video reel featuring all of her football highlights with every college application. She then followed Adams State head coach Timm Rosenbach on Twitter to show her skills and dedication. And it worked! Rosenbach's jaw dropped to the floor when he saw Becca.
He told CNN, "If she's able to compete at a level we think she's able to compete at, we should afford her that opportunity to do that.
Longo told CNN, "I was just so grateful that somebody believed in me and that I could actually do it."
She continued, "I'm going to go in, I'm going to be ready to compete. I'm not one to back down to anybody.
We're beyond inspired by Becca, and suggest that when a life-size statue of her is made, the above quote be on the plaque.