From gemstone-inspired glosses to a collector's edition of Champagne Pop, here's the 411 on Becca's new launches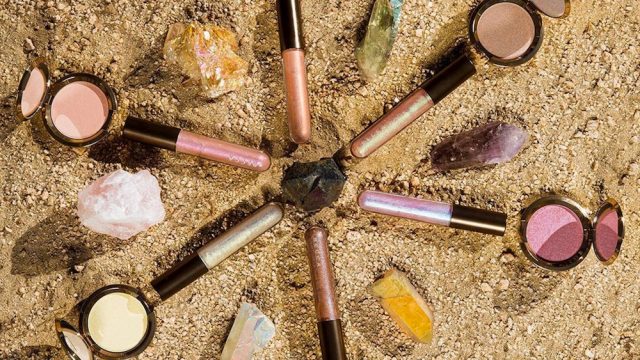 If you're a fiend for glowing skin, then you're probably well acquainted with Becca Cosmetics and their wide array of gorgeous products. No one does shimmering skin quite like Becca, and their upcoming launches are most certainly going to bump up the glam factor in all of your summer looks.
If you thought Becca products brought the glimmer before, you're going to be amped to see the new line that's headed your way. They brought the shimmer up to its maximum potential. It doesn't get much better than this.
The Becca Cosmetics limited-edition Light Chaser Highlighter and Liquid Crystal Glow Gloss will be available at Sephora and on Becca's website on June 8th.
https://www.instagram.com/p/BUo-lwIBhOv
Each is available in six shades.
To celebrate their anniversary, Becca Cosmetics is also releasing a Collector's Edition Shimmering Skin Perfector Pressed in Champagne Pop.
https://www.instagram.com/p/BU2_AVWhgkz
The revamp of this cult-fave product has got a cute-as-can-be festive bottle of champagne baked right in and comes in a limited-edition gold package that couldn't be more glamorous. It will be available online exclusively at Sephora on June 10th, and in-stores on June 15th.
The Light Chaser Highlighter for Face and Eye will be available for $34.
https://www.instagram.com/p/BUx93Peh9x7
This ultra-creamy, kaleidoscopic highlighter catches the light and creates insane color dimension. It's so much more than a highlighter thanks to its transformative formula. Each shade is infused with kaleidoscopic pearls that provide an otherworldly glow. Wear it alone on your face and eyes or layered on top of your favorite blush or eyeshadow.
The Liquid Crystal Glow Gloss will be retailing for $22.
https://www.instagram.com/p/BU2Dvf7B2mr
These glosses were inspired by gemstones and are specifically designed to shift shades as they catch the light. Each shade features a custom mix of unique pearls blended together for a multi-dimensional finish that looks beautiful on all skin tones. It's made with a conditioning blend of coconut, vanilla, and other nourishing ingredients that hydrates and leaves lips soft and smooth.
Doesn't get much more luxurious than that. We can't think of a more magical inspiration than the beauty of natural, raw gemstones. We can already see that the attention to detail will pay off with these gorgeous new products. Be ready for a chance to snag some for yourself — they won't be around for long!