Becca Cosmetics and Chrissy Teigen are hosting the ultimate meet-and-greet at *this* Ulta Beauty store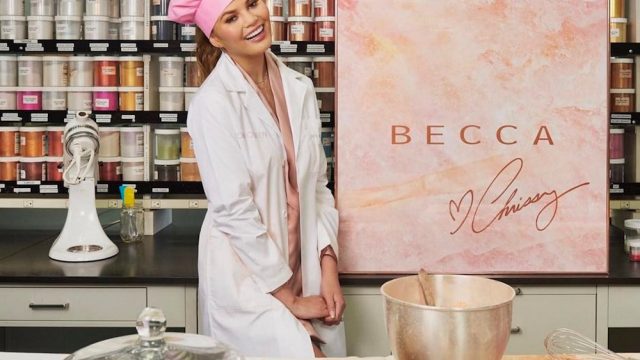 We can all pretty much agree on the fact that Chrissy Teigen is the GOAT and we would do pretty much anything to be her friend — there's no one funnier or more real than our girl. We're in love with everything she does, and that includes Chrissy's collaboration with Becca Cosmetics. Luckily for a few of you, it looks like fans of both are going to get a chance to hang out with her next weekend at the Becca x Chrissy Ulta Takeover. We've swooned.
Chrissy and her makeup artist, Mary Phillips, will be available for a meet-and-greet at Ulta in Huntington Beach, CA, which means your dreams of breathing the same air as our beloved Chrissy might finally come true.
Chrissy will be hanging out at Ulta on Saturday, June 17th, from 10:30 a.m. until noon.
Fans will be able to take pictures with Chrissy and get makeovers by the Becca Artist team, who will be showcasing all the different looks that can be created with the Glow Face Palette. You know you'll be taking a million selfies anyways, so you might as well have that makeup on point.
Are you freaking out yet? How will you use your time with Chrissy? We're dying to get a couple recipes out of her from her upcoming book, do you think she'll spill? There isn't enough time in the day to discuss all the things we want to chat about with our dear Chrissy.
Chrissy Teigen will be at Ulta until noon, but the event continues until 6 p.m. that evening.
You'll be able to listen to live music courtesy of a DJ, have fun in the photo booth, and take home some extra special swag bags. All you need to do is head on over to Ulta in Huntington Beach, CA.
You'll find it at:
Bella Terra
7777 Edinger Ave #130
Huntington Beach, CA 92647
Make sure you get there early, we can only imagine how long the line to meet our queen will be!