Cat lovers, rejoice: Tarte Cosmetics launched their Sex Kitten eyeliner, and it's purr-fect
Each product we feature has been independently selected and reviewed by our editorial team. If you make a purchase using the links included, we may earn commission.
What to do when a beauty junkie loves to spend her summers in the pool but doesn't want to sacrifice her beloved winged liner? Never fear, for Tarte Cosmetics' new waterproof Sex Kitten Liquid Liner is here to save the day. This feline-inspired eyeliner is going to make all your cat-eye looks just as easy as can be while ensuring that your makeup stays put no matter what you put it through.
Who says we can't have it all? Whether you want to spend the day at the beach with some wicked eyeliner or you're an indoor kitty who likes to watch sad movies, all your liner problems will be solved with this absolutely adorable and purr-fect eyeliner.
Look at the kitty, that's just too cute. Their packaging is always on point.
Is there anything worse than throwing your eyeliner on in the morning and then two hours later stopping in front of the mirror to check out your situation and seeing that it has smudged all under your eyes and you look like a professional boxer just took a swing at you?
The Tarte Cosmetics Sex Kitten Liquid Liner is waterproof as well as smudge-proof, so it's guaranteed to last from morning to night.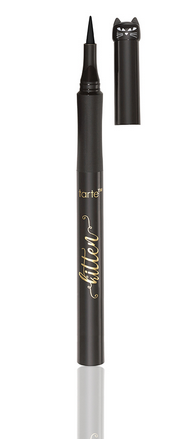 The ingredients in the liner were specially formulated to ensure that not only will your liner last all day long, but that it's got nutrients to nourish your lashline as well. It's made with water, castor oil, and glycerin to nourish, treat, hydrate, and restore skin's moisture level naturally.
Sounds like an absolute win to us. Head on over to Tarte and pick this beauty up for yourself. Nothing like some fresh eyeliner to really feel put together and cute-as-hell.