This "Harry Potter" highlighting palette will light your face up like a Lumos charm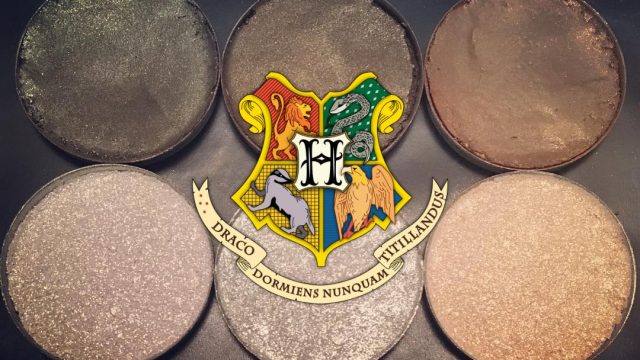 Lumos Maxima! If you're a huge fan of Harry Potter like we are, then you know that this spell is used to produce a blinding flash of bright white light from the tip of a witch's or wizard's wand. Yet, what if we could tell all you makeup lovers that you could live this spell in real life with the new Harry Potter-inspired highlight palette.
Goodbye highlight on fleek, hello highlight on MAXIMA!
Harry Potter makeup has very much been in-demand. After watching countless Harry Potter-based makeup tutorials, we didn't even know we were dying for this to happen, until it did! I mean, we already have our eye on the Harry Potter makeup palettes that were created by Etsy seller AWhimsicalWillow.
We also have great news if you're obsessed with highlighting like the best of 'em: Rebecca Recto, the shopowner, is also selling highlighting palettes!
The highlight and contouring palette features the most beautiful shades, and the formulas are all vegan. So no elves or fairies were harmed in the making of these products!
On the highlight side, we have mystical shades such as Unicorn hair, Hedwig, and Butterbeer Foam.
Unicorn hair is described as "a fantastically bright silver with purple hues and blue shimmer." Hedwig is "a pure white sheen with a satin grey sparkle and bright flecks of silver throughout." Lastly, our favorite from the palette, Butterbeer Foam, is "a bright golden amber shimmer with vibrant pearl gold shine." Seriously – imagine being able to look like a Snapchat filter in real life.
On the contour side, we have Dragon Scales, Pigwigeon, and Firewhiskey.
Dragon Scales is "an intense dark brown with a slight green and blue shimmer." Pigwigeon is "an earthy golden brown with pearl gold undertones and a bronze shimmer." As for Firewhisky, it's "a deep amber bronze with dark red hues and a sheer golden sparkle."
The palette is packaged in a plastic case, which includes a mirror and your own Kings Cross Station ticket so you can board the Hogwarts Express to Hogsmead Station. The palette cover will also be embossed with the Hogwarts school crest.
Now, we know we hyped up this palette and you are ready to drop some serious cash. And we hate to be the bearer of bad news, but the palette is currently sold out. So someone please concoct a spell and pray that Rebecca will be restocking the palettes soon!