The 11 Best Glitter Eyeshadows For Bold, Beautiful Looks
Shine bright like a diamond.
Finding the best beauty products has never been easier thanks to Pia's Picks, our weekly curated list. As the senior beauty editor at HelloGiggles, I test and examine the latest skincare, makeup, hair, and nail products so I can confidently recommend the best ones to you.
Tired of the no-makeup-makeup look? Yeah, us too. While this year has been all about taking care of our skin and hair, now, we're ready to bring bold makeup back into the mix. Glitter, of course, falls into that category, and there's no better way to add a boost of shine to your face than with pretty glitter eyeshadow.
Whether you're going for a Euphoria-inspired look or for a subtle pop of shine, there's a glitter eyeshadow that can do the trick. There are many types to choose from, and they each have different effects:
Loose pigmented glitter eyeshadow: These combine eyeshadow pigments and glitter for mega-watt shine and heavy-duty color.
Cream glitter eyeshadow: These eyeshadows have a cream base and mix in the glitter. While they may take a bit to dry, once they do, they typically stay put.
Pressed powder cream glitter eyeshadow: These are usually found in powder eyeshadows, but they have a creamy texture upon application. The cream helps them glide on smoothly, and once they dry, they have more of a powdery finish.
Loose glitter: As the name says, this is is simply loose cosmetic glitter. It can be used on its own or when mixed with other makeup products (not just eyeshadow), and can be put all over the face and body. Just note, if you're leaning towards a loose glitter, make sure it's marked as a cosmetic glitter and not a craft glitter, as the latter isn't designed for human wear and can lead to minor cuts and irritation.
These are all great choices for fun nights out (or in!). Here are the 11 best glitter eyeshadows that will make you shine all night long.
Glitter eyeshadow palettes to shop now:
Best rainbow glitter eyeshadow palette: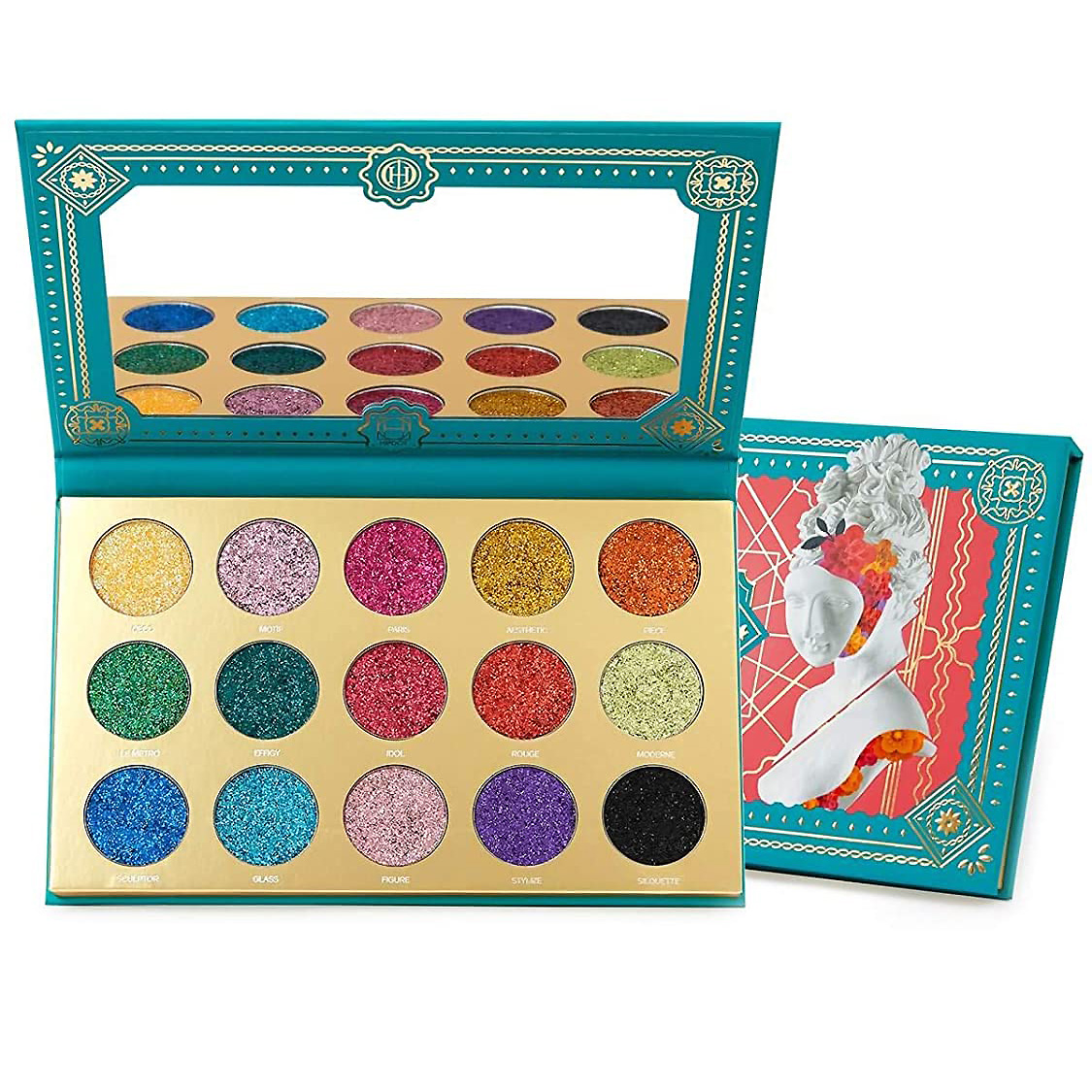 HipDot Glitter Deco Palette
Shop it
Amazon
This is the perfect glitter eyeshadow palette for the makeup lover who likes to do it all. Alternate between warm-toned and cool-toned looks, and you can opt to use just one color for a subtle pop or go all-out with full-blown shine. For best results, use either a flat-tipped brush or a clean finger to press the glitter into the lid.
Best budget glitter eyeshadow quad: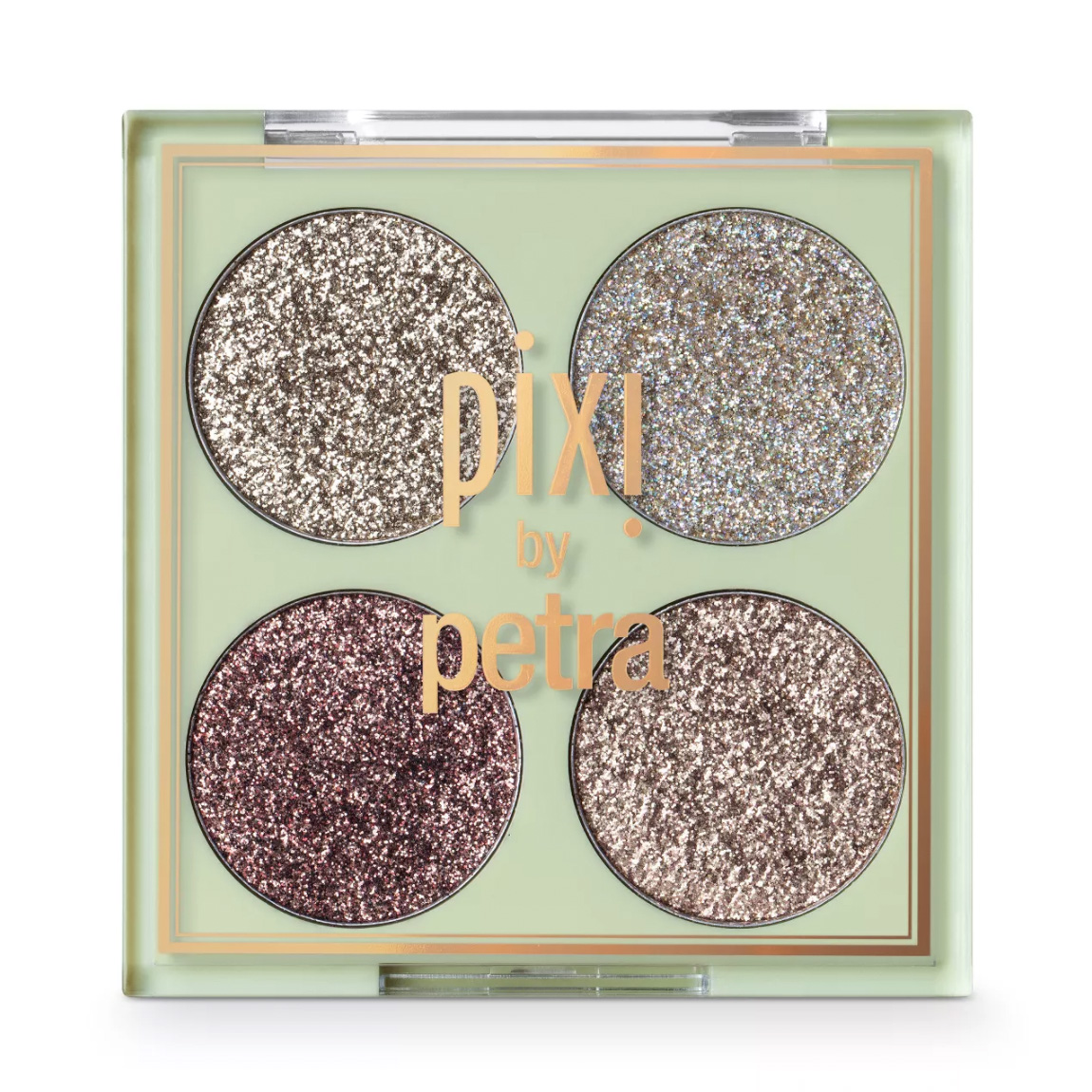 Pixi by Petra Glitter-y Eye Quad Gold Lava
$$14
Shop it
Target
If you're dipping your toes into the world of glitter for the first time and don't want to break the bank, start by testing your hand with one of Pixi's glitter quads. They come in color families, like this copper-toned one, so you can play it safe with colors that you know will play well together.
Best luxury glitter eyeshadow palette: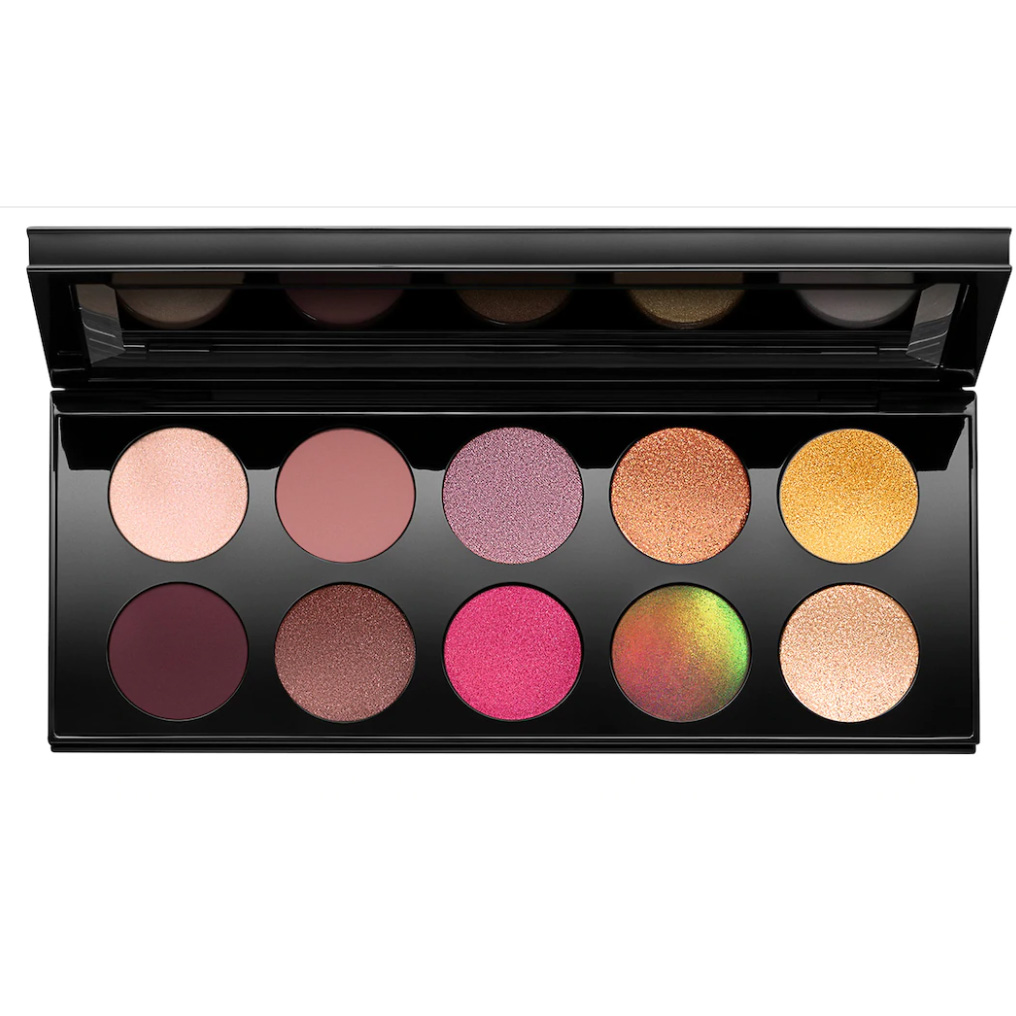 Pat McGrath Labs Mothership VIII Artistry Eyeshadow Palette - Divine Rose II Collection
$$125
Shop it
Sephora
Legendary makeup artist Pat McGrath created her cosmetics brand to bring high-quality artistry to everyone's homes, and this eyeshadow palette is an example of just that. It has two matte shades and eight glitter ones, all of which complement each other. Our favorite? The iridescent green/purple shade catches the light differently depending on the angle you look at it.
Best chunky glitter eyeshadow: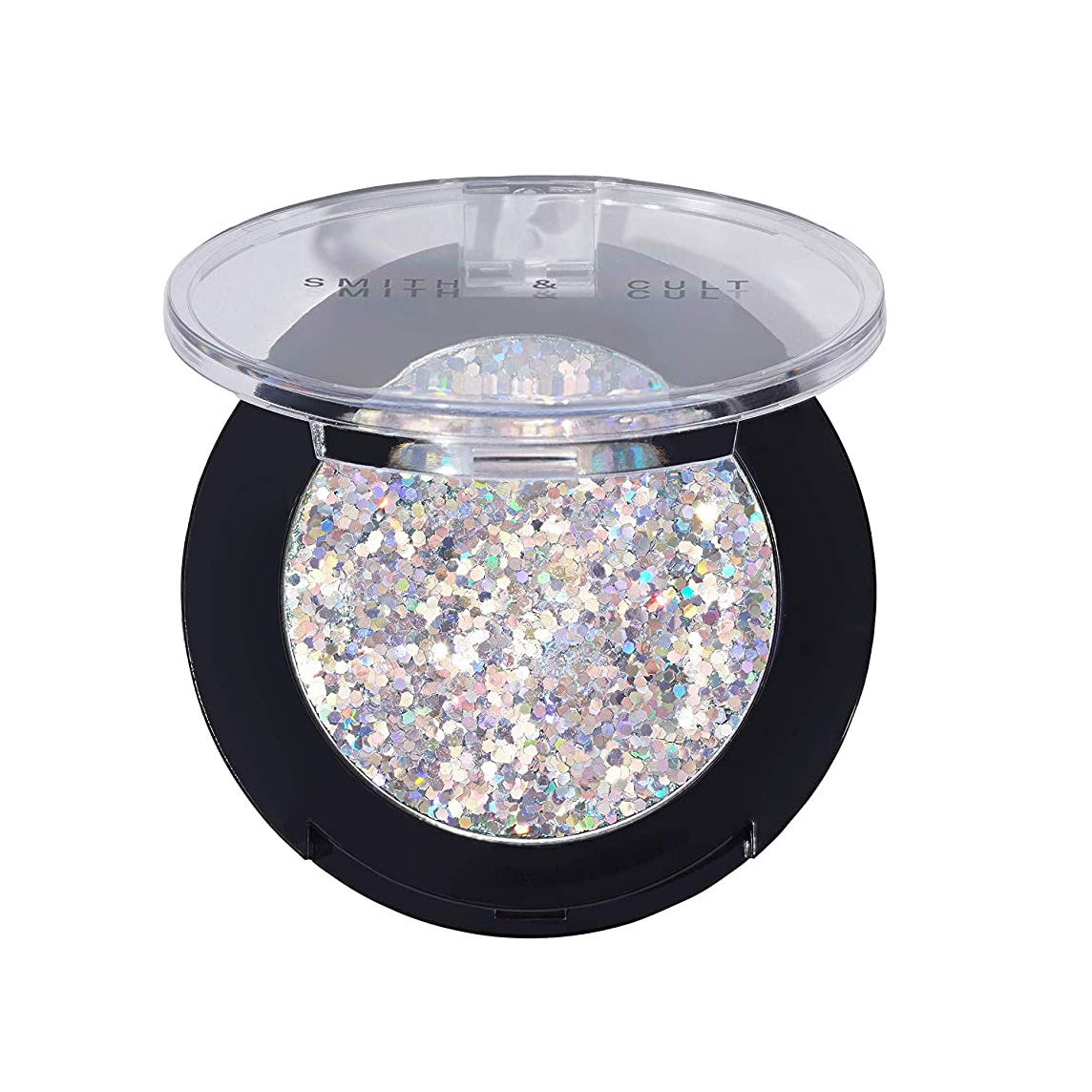 Smith & Cult Glitter Shot All-Over Glitter Crush
Shop it
Amazon
This chunky glitter paste is all about bringing the drama to any beauty look. It's available in seven shades, each using multi-sized glitter particles that are ultra-concentrated and won't budge once they dry.
Best budget liquid glitter eyeshadow: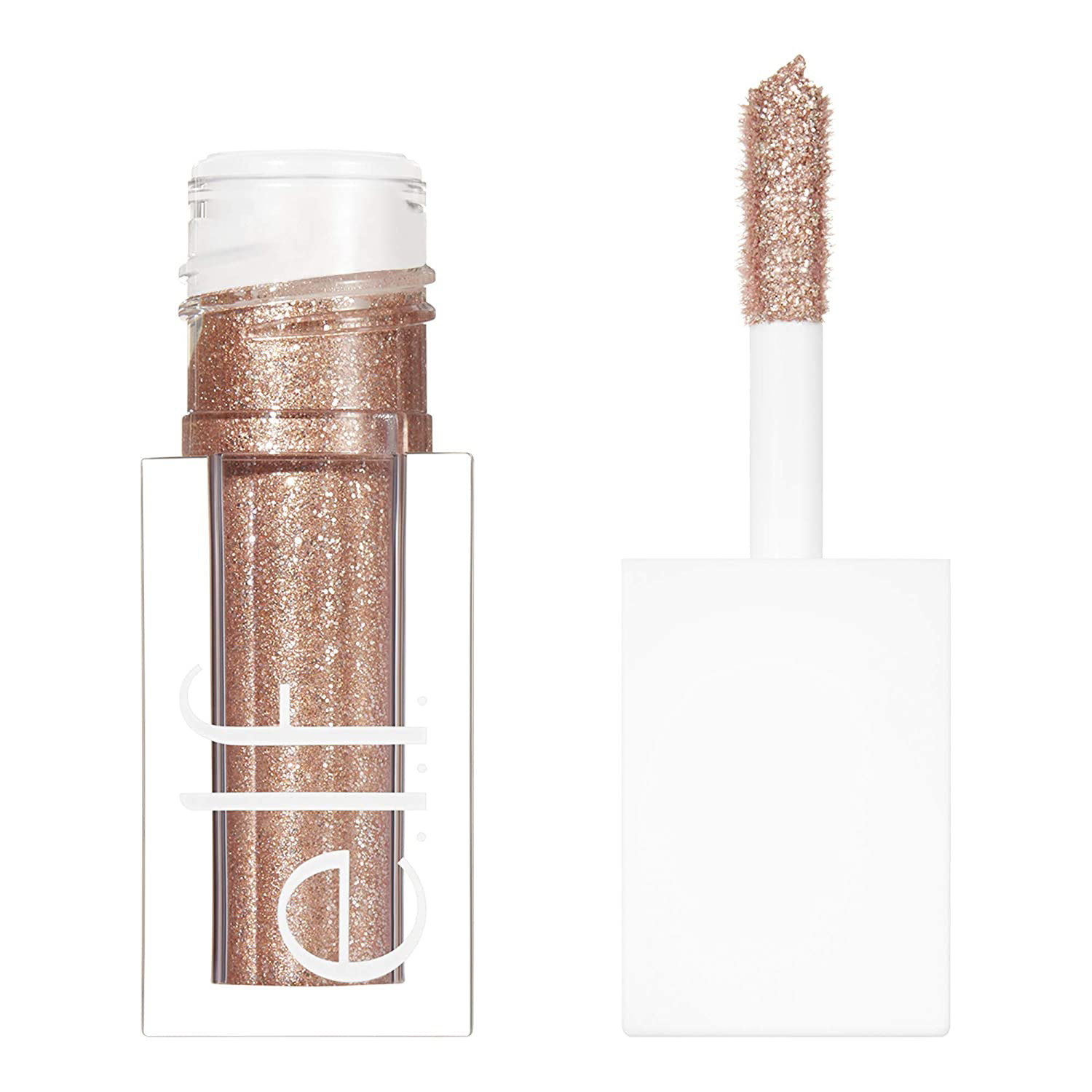 e.l.f. Liquid Glitter Eyeshadow
Shop it
Amazon
Test out glitter eyeshadow with this budget-friendly pick. It has a highly pigmented formula, glides on smoothly, and doesn't crease. However, it will wash out with the tiniest bit of moisture, so don't wear it if you're planning on going dancing or stepping out in the rain.
Best luxury liquid glitter eyeshadow: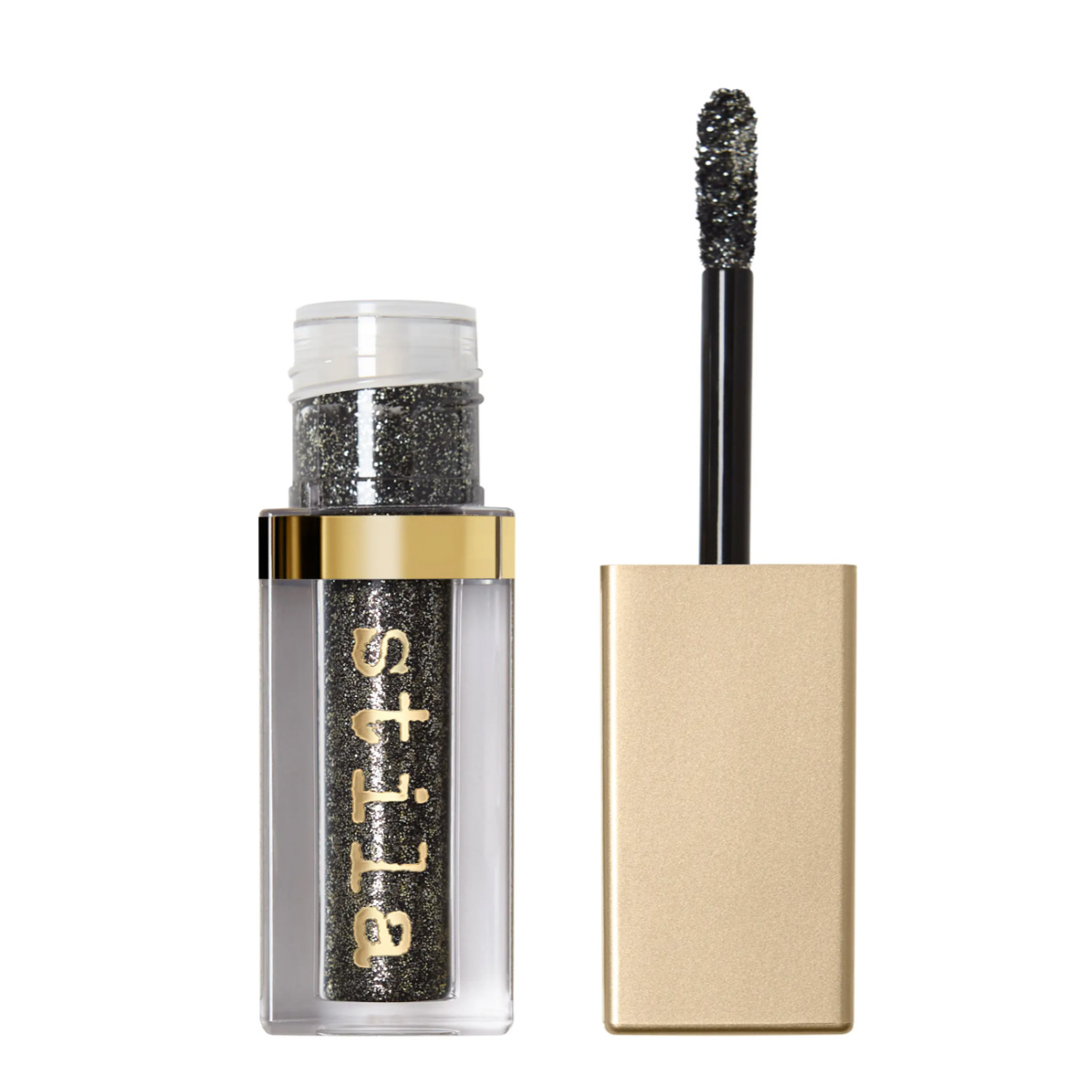 Stila Magnificent Metals Glitter & Glow Liquid Eyeshadow
$$24
Shop it
Nordstrom
This cult-favorite liquid eyeshadow has conquered the hearts of makeup artists and influencers worldwide, and considering its impressive formula, we're not surprised. It goes on smoothly, stays put all day (even if you have oily lids), and creates a sparkly, multi-dimensional effect. Buy it in one, or more, of nine shades.
Best cream glitter eyeshadow: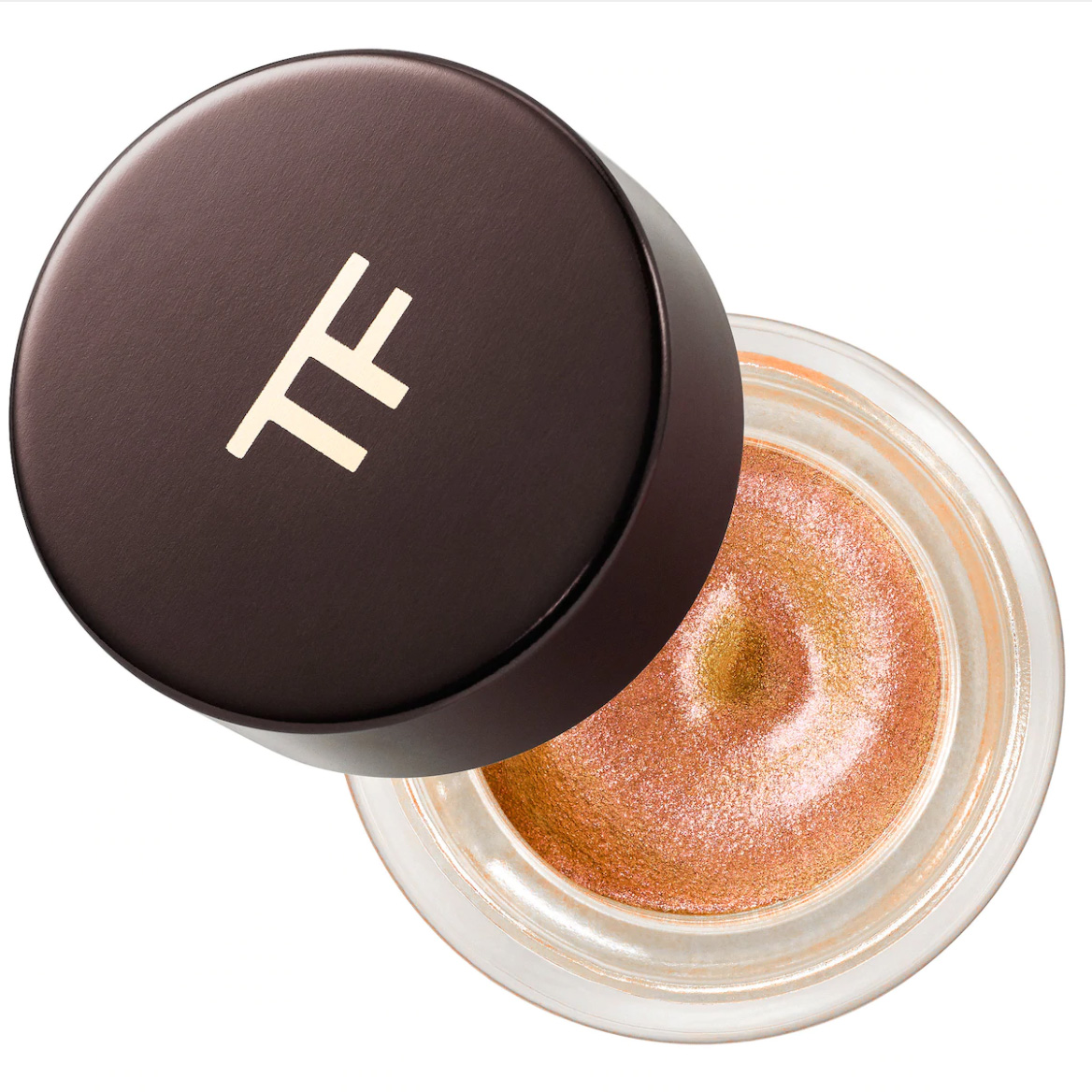 Tom Ford Cream Color For Eyes
$$46
Shop it
Sephora
This smooth, creamy glitter eyeshadow comes in three metallic finishes that don't crease, flake, or smudge. Put one on across the lid for a simple, yet chic look, or apply the three shades together to create a multi-dimensional look.
Best topper glitter eyeshadow: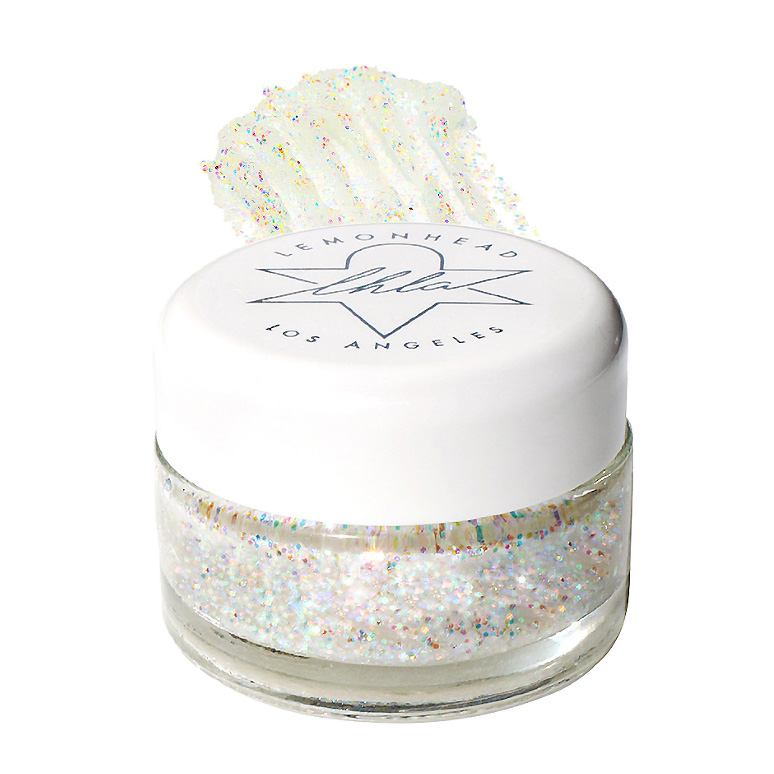 Lemonhead LA Spacepaste
$$22
Shop it
REVOLVE
Love your makeup look and just want to top it off with a pinch of glitter? Look no further than this creamy pick. Simply take a clean finger and dip it into the jar, then lightly tap it on your lid to give it extra shine.
Best budget single glitter eyeshadow:
Wet n Wild Color Icon Glitter Single
$$1.19
Shop it
Wet N Wild
Don't let the price tag fool you, this eyeshadow is the bomb. It has a cream base, so it glides on smoothly and sticks to lids. Plus, its sparkly formula is buildable, so you can add a bit for a subtle punch of shine or pile on two-to-three layers for a higher impact look.
Best eco-friendly glitter eyeshadow palette: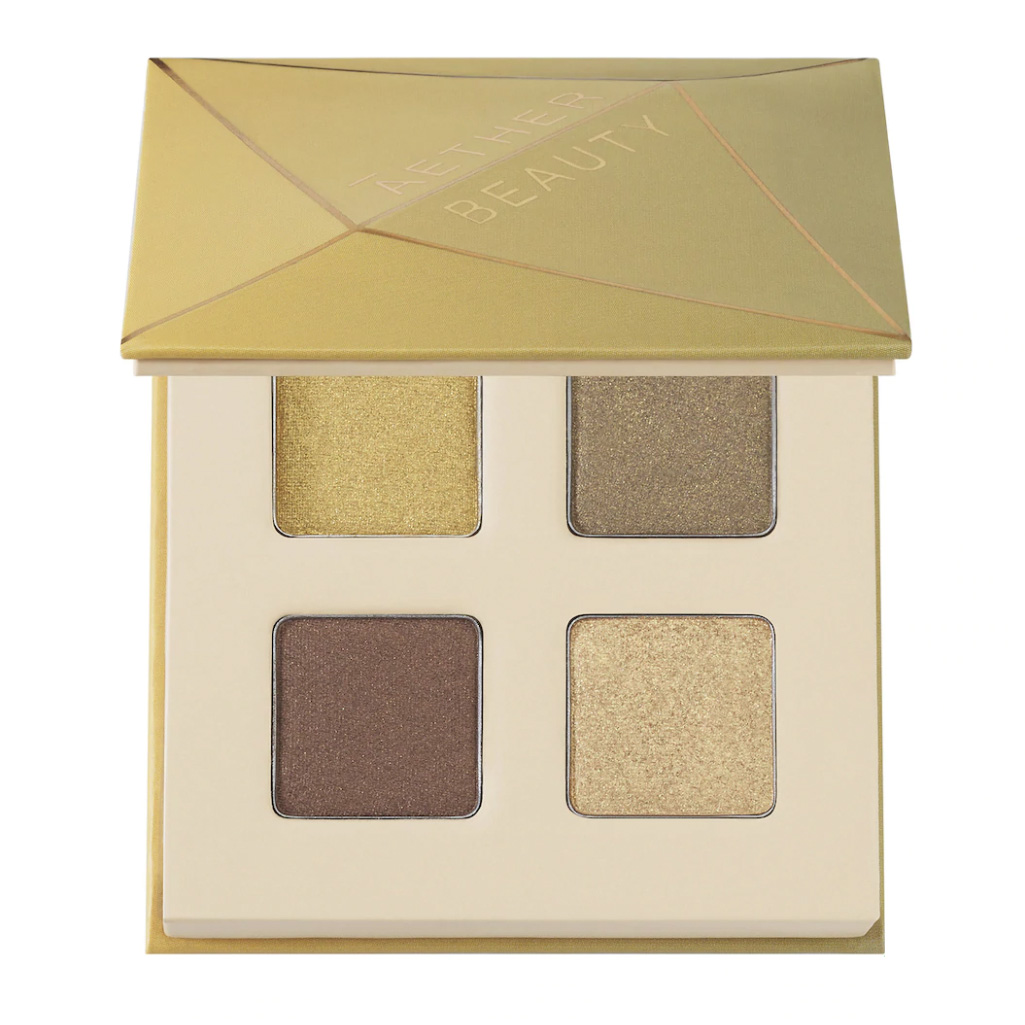 Aether Beauty Mini Crystal Eyeshadow Palette
$$24
Shop it
Sephora
This zero-waste beauty brand uses packaging that's 100% recyclable, is cruelty-free, and uses all organic, fair trade, and clean ingredients. Its warm-toned glitter shades will not only make your eyes pop, but be good for your lids, too. The formula is infused with vitamin c, moringa oil, and rosehip oil to help brighten, soothe, and moisturize the skin. Sign us up!
Best loose glitter: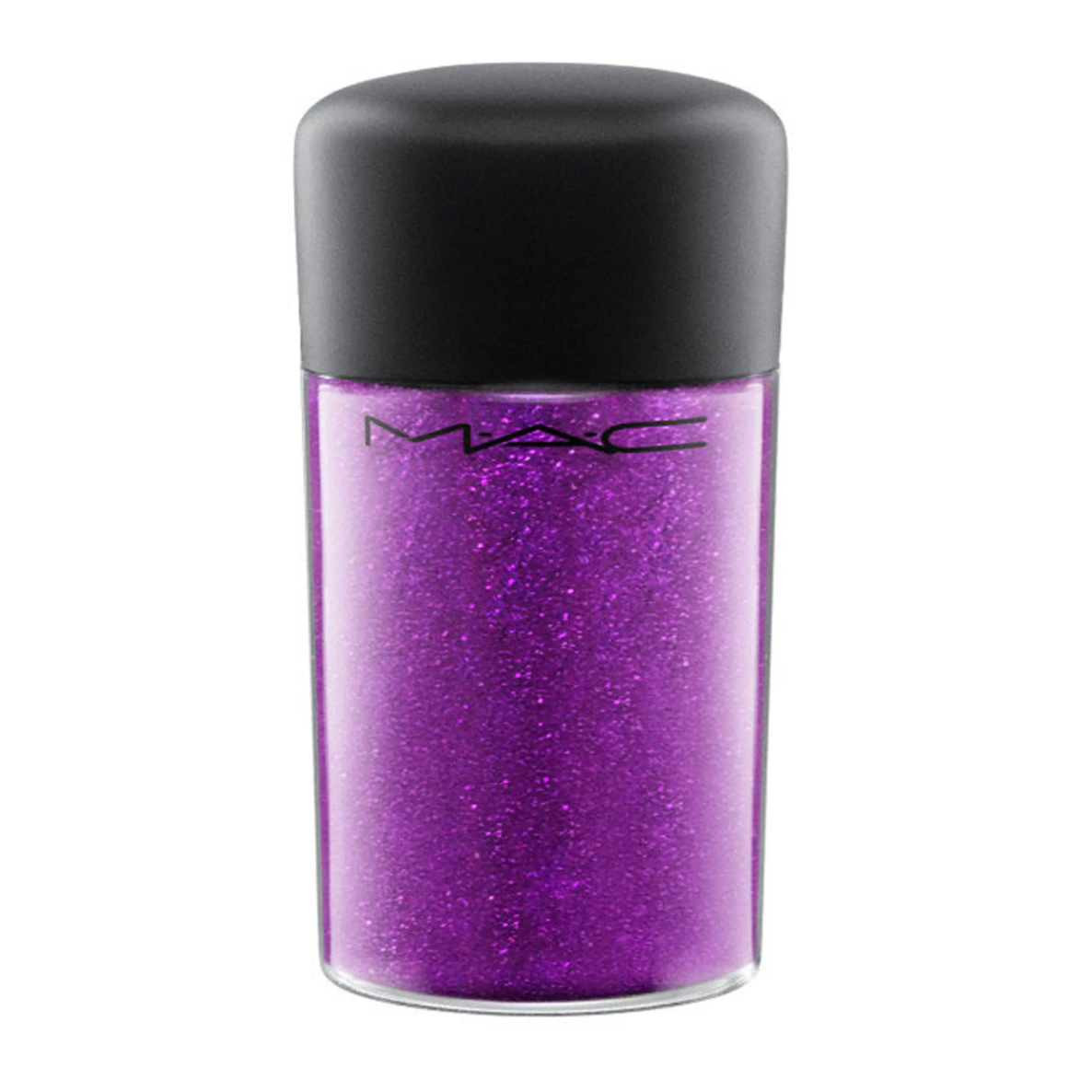 MAC Cosmetics Glitter
$$23
Shop it
Nordstrom
This loose glitter can be used all over your face and body, because MAC knows how to throw a makeup party. Make sure to properly prime the areas you want the glitter to stick to, or use a mixing liquid (we recommend the one from Mehron) to mix in the glitter and get hyper-precise application.