This vlogger filmed a makeup tutorial underwater, and you have to *sea* it to believe it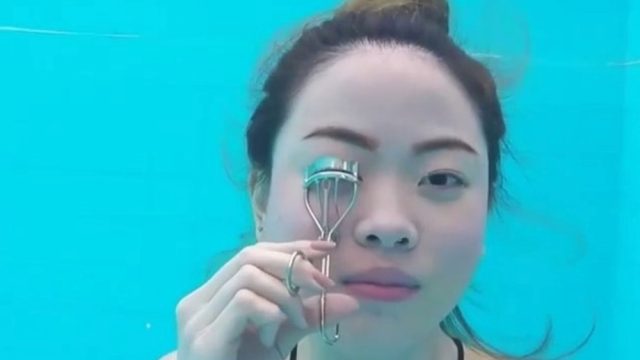 It's no secret that social media is really, really saturated with beauty talent, and that gurus who use their platforms have been forced to get seriously creative if they want to stay on top. Because of that, we've seen a lot of out-there makeup tutorials, but we've never seen a vlogger do a makeup tutorial underwater.
Yep, you read that right. Not only did this vlogger manage to film herself under water, she also managed to apply a full face of makeup while submerged, and the results were really beautiful. The vlogger behind this video goes by @meplusfashion on Instagram, which is where she posted the tutorial.
The clip shows the beauty enthusiast applying blush, filling in her brows, curling and applying mascara to her lashes and more, all while chillin' with her whole body and face in the water. She casually captioned the clip "Full Underwater [makeup] Tutorial" as though this wasn't a crazy feat (which, to be clear, it totally was).
Not surprisingly, the video has been viewed nearly a million times (and counting). How could you not be mesmerized by this video? It's all kinds of awesome.
If this vlogger looked like a total pro to you, it's worth considering that this wasn't her first attempt at an under water face beat.
Are you as impressed by this as we are? Do you think this beauty vlogger is secretly a mermaid? 'Cause we think she just might be.