The hottest makeup trend at Coachella is sparklier than we even thought was legal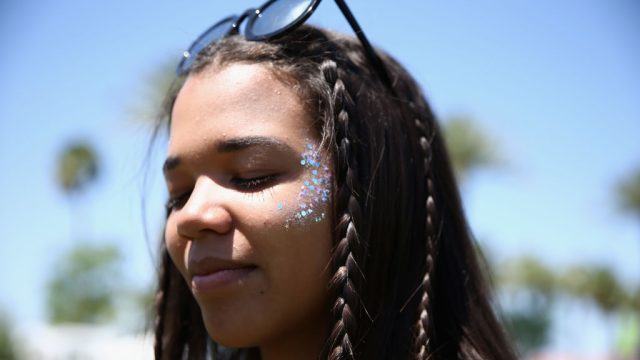 Every year, Coachella brings forth another trend in festival fashion. This year, the trend tends toward beauty, a certain highlighting technique that really captures the sun. This one belongs somewhere between Coachella, Burning Man, and Lightning in a Bottle. It blurs and blends the lines into one glistening festival mirage.
It can be worn day or night. In fact, it will be – because it gets everywhere and won't go away.
The makeup trend of the festival is clearly super-sparkly GLITTER.
Worn as eyeshadow. As highlighter. Or body paint. Or hair embellishment.
All the festival gals are doing it…And they're doing it BOLD. This is not a little subtle fairy sparkle. This is full-on, mirror-ball, take-no-prisoners glitter mania. And you can join, too.
Highlight
Brush some eyelash glue over your cheekbones or around your eyes (but don't get too close!), and then dab on that glitter. Any color will work. The sun will hit it and you'll look positively radiant.
Be Bold
Football and baseball players wear black grease under their eyes to deflect the sun's reflection. Applying thick swaths of glitter under your eyes may have the opposite effect. You might wind up with bright reflections darting right into your sensitive irises. Hence, the sunglasses.
Just the Roots
Glitter roots are all the rage anyway, but kick it up to the festival level, and it's everything.
Go Glam
Golden sparkling eyeshadow and lipstick. You're ready for the festival, and a glamorous night out.
https://www.instagram.com/p/BS7QYuwj0So
Shower
Take a glitter shower! You'll sparkle literally for days.
Go Subtle
Just a hint of color, to catch the desert light.
https://www.instagram.com/p/BS5x2u2l7Db
Isn't gold the official color of Palm Springs?
Bedazzle!
Add some jewels atop the glitter. Now your sparkles are three-dimensional.
https://www.instagram.com/p/BS9AcZ-jA2l
Whatever look you opt for, be prepared to find glitter in all the wrong places for days, weeks. A constant reminder of the magical time you had in Indio. ✨