This dream-like skeleton makeup will make you want to host a Halloween party months early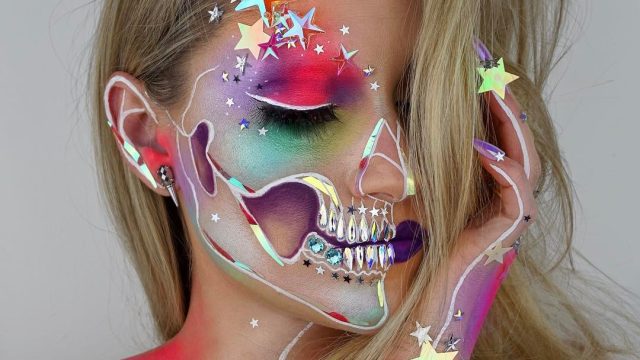 It's not even summer yet, and we're already excited about Halloween, thanks to makeup artist Vanessa Davis, who creates the.most.incredible skeleton makeup looks we've ever seen. Davis — who works as the wigs and makeup manager at the English National Opera by day and calls herself The Skulltress (amazing!) by night — uses Instagram to showcase her incredible beauty creations that feature way more than just cosmetics.
Using sequins, rhinestones, and even Swarovski crystals, Davis combines an acute artistic eye with out-of-the-box materials to build skull makeup looks that will make your jaw drop.
Here's one that she calls "Holographic Star Skull."
Stunning, right? She explained on IG that she created the look for her friend, Andy Michaels, a director and DJ with whom she's worked in the past, and used four different eyeshadows and a smorgasbord of other cosmetics to create the look.
This one's a stunner, too. Check out the detail on the sun!
She's a true talent.
https://www.instagram.com/p/BMkQBTsjEnB
Davis describes herself as Mexicana/British, and it's clear that she draws inspiration for her skeleton looks from the Mexican sugar skull tradition that's seen most around Dia de los Muertos in October.
On her YouTube channel, Davis generously offers tutorials for how to recreate these looks, including the stunning koi fish creation we showed off above.
https://www.youtube.com/watch?v=LWYLGA3-2IY?feature=oembed
We're in awe of the time and skill it takes to create each and every one of these looks, and we'll definitely be borrowing some inspiration from Davis this Halloween — but don't expect us to recreate this magic, because OMG!