This $15 Powder Foundation Went Viral on TikTok—and Now I'm Hooked
Each product we feature has been independently selected and reviewed by our editorial team. If you make a purchase using the links included, we may earn commission.
Welcome to Game-Changers, a weekly series in which we reveal the holy grail beauty products we're loving now—the ones that saved our hair, cleared our skin, and, in some way, changed our lives.
When it comes to foundation, I'm an extremely finicky person. I look for formulas that are medium coverage—not too sheer, not too heavy. They must cover my rosacea without feeling like spackle on my skin, must forgive the highly textured areas of my face and refrain from settling into my fine lines and large pores, and they must feel breathable and lightweight. Finally, they must look natural, offering a my-skin-but-better effect. As I said, I'm extremely finicky.
Despite my strict set of standards, I'm always open to testing new makeup. While it's true that I'm rarely wowed by the results, I persist in the hope that I'm on my way to finding a new favorite. The most recent formula to pique my interest came courtesy of TikTok. I'm talking about L'Oréal's Infallible Fresh Wear 24H Powder Foundation. It's only $15, and users are raving about its smooth coverage and natural matte finish.
I have rosacea, and it's mainly centered in the middle of my face, spanning across my nose and cheeks. Even though so many other foundations have failed me in the past, I held out hope for this one, since I had seen so many TikTok videos showing redness and discoloration being disguised in one fell swipe. 
The L'Oréal Infallible Fresh Wear 24HR Powder Foundation is packaged in a portable plastic compact that comes complete with a standard makeup sponge. I applied it to my bare skin using the accompanying sponge by swiping on the foundation in long strokes, before lightly patting it out to blend. Immediately after application, my rosacea was instantly disguised. It even covered post-breakout marks I have along my jawline—I was impressed.
The best part is that the texture didn't feel overwhelmingly heavy or chalky. Even though I applied a generous layer of the powder to my skin, it felt lightweight and breathable. I was able to withstand hours of wear, which may not sound like much, but for someone like me who despises the feel of most makeup, that was big.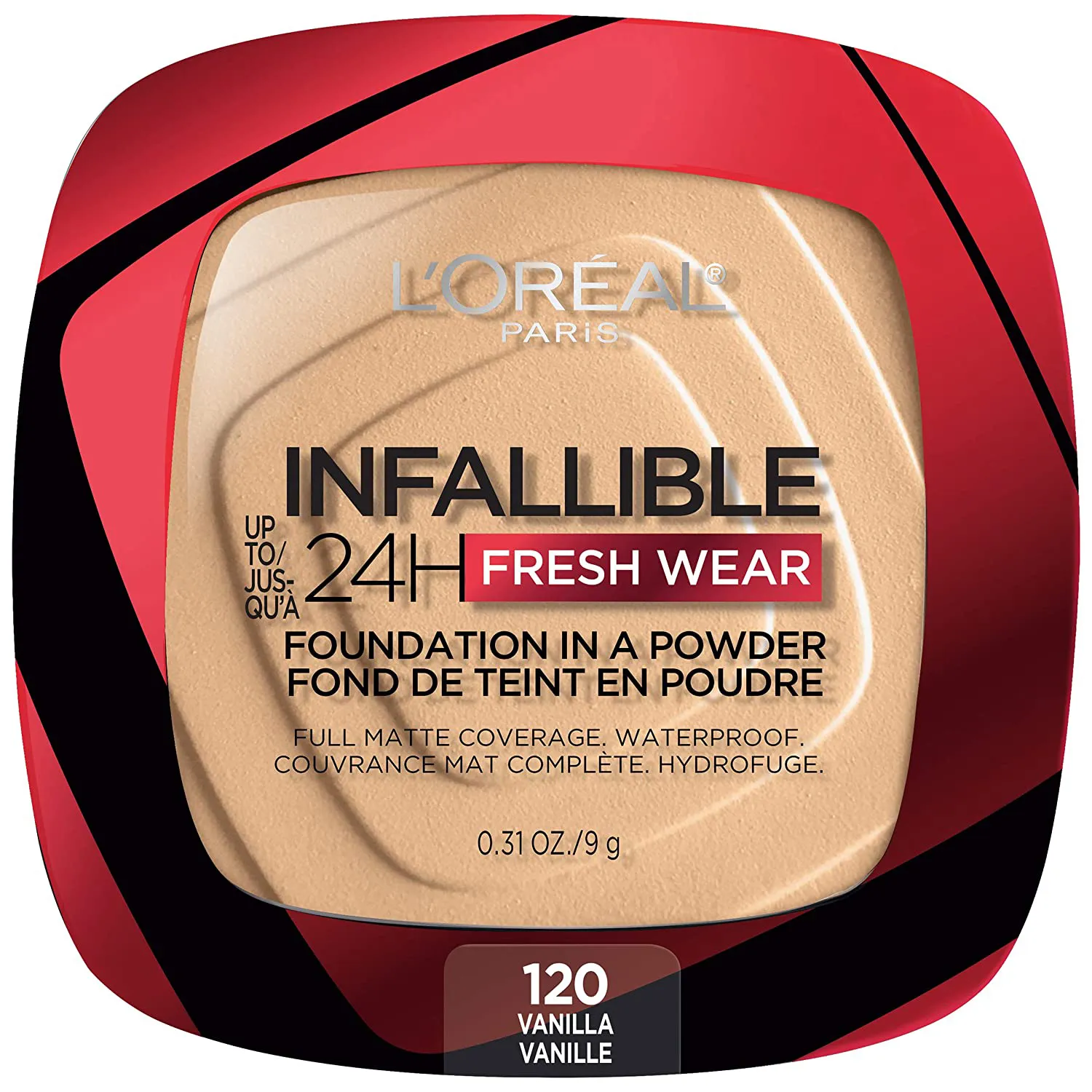 L'Oréal Infallible Fresh Wear 24HR Powder Foundation
Shop it
Amazon
I only had two concerns, but they had quick fixes. The first was that it left an intensely matte finish, and since I'm used to dewy, satin-like finishes, this took some getting used to, but it was nothing some well-placed highlighter couldn't help. My second concern was that it didn't cover my dark circles as well as I would have liked. Again, this wasn't a dealbreaker. All it took was a touch of concealer layered over the top to brighten my under-eye area. 
My bigger concern is that there are only 16 shades in total. Although there are a few options for people with deep skin tones, the majority of the shades seem to be catered toward people with lighter skin tones. Because of this lack of range, I'd like to see a significant shade expansion so more people could enjoy this amazing product. 
At the end of the day, I would definitely recommend the L'Oréal Infallible Fresh Wear 24H Powder Foundation, especially if you prefer matte finish formulas or struggle with any kind of redness or oily skin. Not only does it go a long way as far as coverage, but it's super easy to touch up throughout the day, thanks to the accompanying sponge and makeup mirror. All that's left to say is thank you, TikTok, for yet another amazing makeup recommendation.