This $9 Brow Gel is the Waterproof Boy Brow Dupe of My Dreams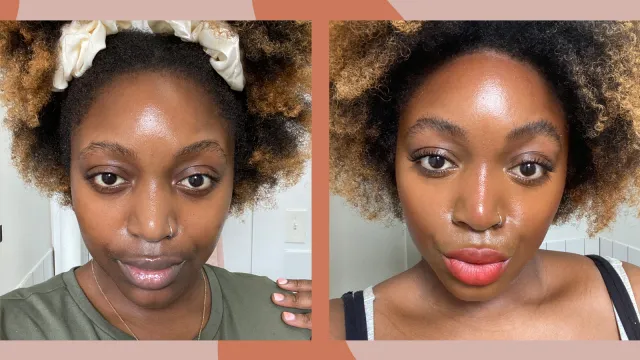 Welcome to Game Changers, a weekly series in which we reveal the holy grail beauty products we're loving now—the ones that saved our hair, cleared our skin, and, in some way, changed our lives.
Let's keep it a buck—if the product does what needs to be done, it doesn't matter if it came from the drugstore. With influencers making comparison videos deciding what high-end makeup is better than drugstore products, many assume that drugstore beauty is lower quality than pricier products—which is wrong. Case in point: the CoverGirl Easy Breezy Brow that made me realize how affordable getting blown-out brows can be.
Everybody from Normani to Beyoncé has been donning fluffed brows for years, and it was high time my baby brows got a chance to shine. Sure, I could attempt the soap brows trend, but in this heat, I sweat, henny. I want my thicc brows to last all day long, and CoverGirl's Easy Breezy Brow is that girl. This gel has a 24-hour hold on your brows and is completely waterproof, too. 
There are four shades in the lineup—I use the clear shade and the color Deep. The formula is buildable like a full coverage foundation, and a little goes a long way. Even though I've been using this stuff for years, I still manage to look like Burt from Burt and Ernie if I'm too heavy-handed on the darker colors. Just be sure to take your time and not rush the process.  
Yes, there is a plethora of other brow gels out there—I've been publicly quoted giving Glossier's Boy Brow its flowers as one of my favorite beauty products. However, it simply doesn't hit the way this CoverGirl gem does. Plus, it's more affordable.
Easy Breezy Brow has a slightly bigger applicator than Boy Brow. Plus, it has .05 ounces of more product in its packaging than Boy Brow. Not to mention, you won't spend forever digging out the formula since it sticks onto the applicator like thick butter. It applies like a gel crème and quickly dries down to give each of your brow hairs a light yet firm hold. In addition to the universal clear shade and Deep, there are also shades Medium and Light for those with lighter brows.
I love that this stuff makes my brows look like they could compete with the likes of Cara Delevingne or Brooke Shields. I could run a marathon with this stuff on and it truly wouldn't move. Every time I want to do a full-beat face on myself or a lighter natural look, this is what I go for, and people ask me all the time what's on my brows. Plus, it works for my budget.
If you already have thick brows or you're a beginner with brow mascaras, opt-in for the clear version to start you off. For one, your brows won't look scattered if you mess up and you can easily fix them if the brow shape just isn't for you. Those with thinner eyebrows can dive into the natural shades—start brushing your brow hairs out from the tips of your brows and work your way up. This way you can wipe away any excess product as you go. 
Thick, fluffy brows aren't going anywhere for a while thanks to the Easy Breezy Brow. Plus, spending $9 to achieve them in seconds makes it super easy to hop on the trend.