Beauty vlogger Laura Lee talks about failed makeup trends, what makes her feel confident, and how being an influencer is a 24/7 job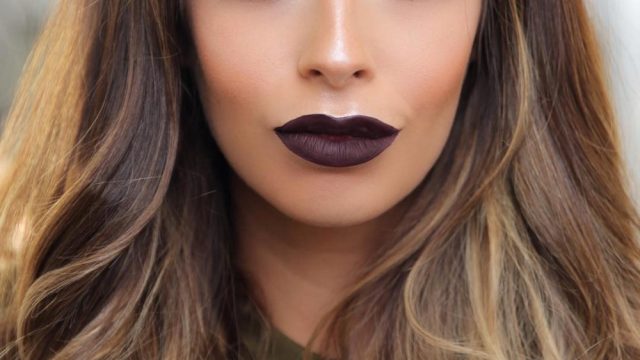 YouTube makeup gurus are taking over the cosmetic industry with their relatable AF makeup videos, (mostly) authentic reviews, and charming personalities. Beauty vlogger Laura Lee is making her way to the top as one of the biggest beauty influencers, just after starting her channel three years ago! She has over 2 million followers on YouTube, and she's only getting bigger.
If you haven't heard about Laura Lee, then you most definitely will come 2017, because she is about to have one of the biggest years yet! She recently worked on a special project with Too Faced for their Sweet Peach collection and her wildly popular Violet Voss eyeshadow palette was so coveted that the limited edition palette sold out immediately.
Luckily for her followers, the brand dropped the beloved palette again! With cute Southern names like Mama Bird and Tickled Pink, it's nice to see that Laura has stuck to her Alabama roots.
She has one of the most lovable personalities on YouTube, and it's hard to not crack a smile when you're watching her beauty videos. Not only does she add her Southern charm when sharing makeup tips and tricks, but she's not afraid to be her quirky, eccentric self!
Hello Giggles: What inspired you to start a beauty YouTube channel?
Laura Lee: At the time, I was living in Alabama as a medical assistant and I had always watched a lot of the girls that were starting up on YouTube. I was watching Kandee Johnson and Nicole Guerriero — there weren't that many beauty channels at the time — and I had always had a really, really big passion for beauty. Being a medical assistant, I wasn't even really allowed to wear that much makeup to work, so after, I would come home and do my makeup every day and post it to Instagram. It was just kind of like a creative outlet for me, and then I just went over to YouTube.
HG: What is it like being in the same circle as the YouTubers you watched in the beginning when you were inspired to start your channel?
LL: You know it's actually really, really weird just because I never ever in a million years thought that we would be in the same circle together. Of course, I'm the type of person to let them know, "Omg, I watched your videos for so long. I love you so much." But it is also really great because the people that I watched for so long are just as sweet as they are on the Internet. So, it's truly inspiring and it's surreal, honestly.
HG: What is the most challenging thing about being a beauty YouTuber?
LL: Well, the most challenging thing in 2016 would be that YouTube is very saturated. There are over 70,000 beauty channels now and it's hard to come up with fresh content because everything has already been done once. But I feel like if you put your own spin on everything and your own personality, then it will shine through.
HG: What do most people not know about you and your job as an influencer?
LL: It is an incredible amount of work. We stay up till 4:00 in the morning working. We take three hours to film a video and eight hours to edit it. I'm posting three videos a week and then I'm trying to run a vlog and Instagram. You know, get professional pictures for that, and then there's a lot of business on the back side of it. So I do have my husband helping me do that because I physically, absolutely could not do it by myself. This is not a 9 to 5. This is a 24/7 type of job.
HG: It's interesting that you say that because I feel like a lot of people just think that YouTubers are playing with makeup, but whole lot of work goes into it that people don't see.
LL: Yes, exactly! It's so crazy because I started my channel, like literally just playing with beauty, and it turned into this whole thing and it's challenging sometimes. At the end of the day, I started my channel because I wanted a connection with people.
I wanted a creative outlet, and then it turned into me being a businesswoman and an editor and an Instagram — I definitely don't want to call myself a model — Instagram fashionista and you know a role model. It just turned into all these jobs and I'm like, "Whoa, what just happened?" I just want to play with eyeshadow.
HG: Speaking of eyeshadow, what was it like creating your own palette with Violet Voss?
LL: That was one of the hardest things I've ever done in my life. That was the day I officially learned that you can never please everybody. I was like, "I'm gonna make a perfect palette and not one person is gonna hate it! Everybody in the whole wide world will love it forever."
I had to pick or create colors that represent me and the colors that I use, and they have to make sense in the palette. They can't just have these random colors all over the place. But then, they have to make everybody happy. They have to be matte and you have to have shimmers and it has to pop. So it's actually a very, very difficult thing to do. The palette was such a success, though. I would say everybody was pretty happy with it and we sold out!
HG: What beauty product can you not live without?
LL: My MAC Cosmetics Paint Pot in soft ochre ($23). It is kind of like an all-in-one. It's an eye primer, but it has a lot of coverage. If you have red eyes or if your vein shows through on your eyelids like mine, it covers all that and it is the best eye primer I've ever used in my life. I've been using it for around eight to nine years now. I literally have been using it since high school and I want to use something else, but I always goes back to that!
HG: What makes you feel the most confident?
LL: I would like to say makeup makes me feel the most confident, but it's definitely not makeup. I feel the most confident whenever I am able to be myself 100 percent. It's hard to do that actually, you know, because I'm such a quirky, weird person and it's so easy to try to be normal and act like everybody else. Whenever I'm not being myself, it actually makes me feel really unconfident.
HG: What would advice would you tell your 14-year-old self?
LL: Everybody has something special about them and I think we're also different, but I feel like in society they try to tell us to be like everybody else, and be normal, and don't be loud, don't be too silly. Be really pretty. And that's not everybody. It definitely was not me.
So, I would just tell myself, "Laura, be the weirdest version of you, you can be. Be you 100 percent, all the time." I think I would have gotten — I think I'm pretty far in life — but, I think a lot of great things would've happened for me.
HG: That's so true! I wish YouTube was big when I was in middle school. It's just nice to see people online share their quirks and beauty tips! God knows I did not know how to straighten my hair back then!
LL: Oh my gosh. At 14, I was really into straightening my hair. I would pluck my eyebrows super thin, but that was the thing at the time. I was all about the trends, like you. If I had YouTube back then, my whole world would've exploded.
HG: Who are your style icons?
LL: Kendall Jenner, I mean the girl is a fashionista. I really like the way the new Ariana Grande is dressing. She's not so much as pink and skirts anymore. It's more like ripped jeans, a grungy t-shirt, and heels.
HG: What has been the weirdest makeup trend you've followed and what trends are you super excited about now?
LL: I can tell you I tried really hard to follow non-touring, where you highlight under your cheek bones instead of adding bronzer to your cheekbones to contour. I tried it for a while and it doesn't work. It was a little silly to me. Honestly, it was a little gimmicky, too. Just contour your face if you want to contour.
I've seen a lot on Instagram that girls are wearing their glasses, but they have no lenses in them. It's hard to describe them, they're kind of like aviator's, but without the lens. So, I actually ordered a pair to see if I could pull it off. I don't know if I can. You might see them on Instagram soon.
You can watch all of Laura's fun, quirky videos on her channel, get some major fashion inspo on her Instagram, and pre-order her limited edition eyeshadow palette with Violet Voss for $45!