From Too Faced to Tarte and ColourPop to Clinique, here are 20 beauty sales to shop Memorial Day weekend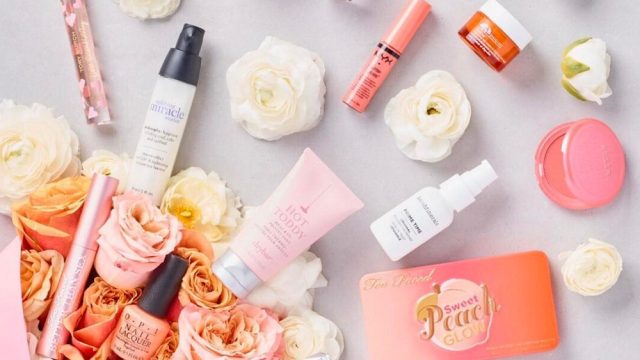 For many of us, Memorial Day weekend is all about sleeping in on a Monday before mooching food at several barbecues. However, the cunning beauty world has bigger plans for us than merely sleeping and eating. In fact, there are so many beauty sales during Memorial Day weekend that you can find one for literally any of your makeup needs. As with most tempting beauty deals, the sheer quantity of Memorial Day weekend beauty sales is both a holiday blessing and a curse.
But if we're being honest with ourselves, we love peeking our heads in at all of the possibilities. Especially with the online shopping, which makes window shopping 100% less stressful, and actual shopping 100% more convenient.
Anyways, without further ado, we present to you 20 beauty sales to shop during Memorial Day weekend!
https://www.instagram.com/p/BTmp7LXj4He
Peter Thomas Roth is celebrating Memorial Day weekend by offering huge sales on all travel-size products on the website! This means you can grab a travel-size of the Retinol Fusion PM Night Serum for only $5 — yes you read that right (it's normally $35). The prices start as low as $2.50, and offers last until midnight EST on May 31st.
Everything on the Sigma Beauty website is 25% off this weekend, and they even offer two free gifts with purchases over $30. All you have to do is enter the code MEMORIAL25 at checkout. We recommend you grab the Smoke Screen Eyeshadow Palette for just $30 (instead of $39). This offer lasts until midnight CT on May 29th.
Ulta Beauty actually has a handful of different deals going on right now. All products from the Ulta Beauty Bath section are part of a buy two, get one free sale until June 3rd. Also, a long list of brands sold through Ulta, such as Shea Moisture, Pacifica Skin Care, L'Oréal, Cerave Skin Care, Nivea, Matrix Biolage and more, are holding buy one, get one 40-50% off sales until June 3rd, with a few lasting until June 24th! We recommend grabbing the Dual Action Cleansing Brush for $25, and then grabbing another of equal value for 40% off!
You can check the website to see if your fave brands are included in the long list of deals.
Benefit Cosmetics also has a handful of deals going on right now. All of the concealers on the website are currently 25% off. You can receive free shipping on any full-size Porefessional products with the checkout code POREFESSIONAL. We'd loooove to get free shipping on their brand new POREfessional pore minimizing makeup ($30)! They currently don't have the end of these sales listed. Grab their items while you can!
Clinique is having a killer sale, just in time for our three-day weekend. For a limited time only, select products on the site are 50% off, which means we can grab the Super City Block BB Cushion Compact Broad Spectrum SPF 50 for only $17.50 instead of $35! The sale only lasts as long as the products, so move fast.
https://www.instagram.com/p/BUgjt4MFbbv
Up until midnight (EST) on Sunday, you can receive the Grab and Go Hand Care (which includes Shea Butter, Almond, and Rose-scented hand cream) set for free with select purchases over $55! All you have to do is enter the code SUN at checkout. This is only for the weekend, so cash in now. We recommend you grab the Almond Milk Concentrate for $50 with the Reine Blanche Illuminating Mist ($16) so you can receive that free gift blessing.
https://www.instagram.com/p/BUUazzclGLp
Right now, Modcloth is having a killer Memorial Day weekend sale that ends midnight EST on May 29th. You can save 15% off sitewide, 20% off on purchases over $100, and 30% off purchase of $200. We recommend you mosey on over to the beauty section and grab some Bésame Rip-Roaring Radiance Cream Rouge in Apricot, which normally costs $18, but you'll get 15% off!
Cover FX has a very special Memorial Day treat for us. For this weekend only (offer ends Monday at midnight EST), they are relaunching their Glow Getter set (which includes six custom enhancer drops) for $199, rather than the regular retail price of $252! Grab it while it lasts.
If you wander over to the Dr. Brandt website you will quickly see yourself greeted with a Wheel of Fortune scenario. All you have to do is enter your email address, and click the "play" button, and a wheel of possible savings (ranging from 5% to 35%) spins for you. When it lands, you're given a promo code for savings on your next purchase! Regardless of what savings you personally receive, we recommend the Pores No More Pore Refiner Primer (full price $45) for your next treat.
All weekend you can receive free shipping on all domestic orders (no minimum required) from the ILuvSarahii x Colourpop Collection. You can also receive free international shipping on orders over $35! We recommend picking up the Saucey Pressed Powder Eyeshadow Palette ($18) while the shipping is free, and supplies last! The offer ends on May 31st.
Origins is offering some killer deals right now. You can receive a free travel-size 6-piece anti-aging kit and free shipping on orders over $35 if you enter the code: GETRESULTS. For purchases over $55, you can receive a full-size Plantscription Powerful Lifting Cream jar. We recommend grabbing the SPF 40 Age-Defense Moisturizer With White Tea for $44, so you can receive free shipping and the anti-aging kit! This is all while supplies last.
Memorial Day weekend only, La-Tweez is offering 30% off all their products sitewide with the promo code THIRTY. We recommend the Gold Pro Illuminating Tweezer w/ Diamond Dust Tip from their new Diamond Dust collection. Full price is $32, but you'll save 30% at checkout while the sale lasts (it doesn't have an end time listed).
Tarte Cosmetics is blessing us with 15% off their makeup all weekend long! All you have to do is enter your email address to unlock the access code, then voila, you're in! We recommend grabbing 15% off the limited-edition Tarteist Contour Palette (full price $45) before the sale ends (midnight May 29th, EST)!
Too Faced is having an early summer sale, and we're totally on board! If you enter your email address on the website you can receive a checkout code for 25% off your purchase. If you don't feel like entering your email, you can still save 20% by using the code GET20! We recommend picking up the popular Better Than Sex Mascara (full price $23) with your savings!
BH Cosmetics is having a huge haul in honor of Memorial Day weekend. If you shop on their website, you'll see you can get 35% off eye products, 30% off brushes, and 25% off all studio pro products! We suggest going for their Studio Pro Dual Wet/Dry eyeshadow palette, on sale for $7.14.
CVS has been working hard to expand their beauty section, and that is made apparent through their Memorial Day weekend deals on skin care. Customers can currently buy one, get one 50% off select products from Cetaphil, La Roche-Posay suncare, Neutrogena, and Hawaiian Tropic. We recommend grabbing the La Roche-Posay Anthelios Daily Tinted Primer SPF 50 for $40, then grabbing another item for 50% off!
Stila is offering free shipping on all orders this weekend with the checkout code SUMMER! We recommend you grab free shipping on one of their 2-in-1 lipstick and blush Convertible Color compacts (for $25) before the sale ends Monday at midnight (EST)!
This weekend only, Vamp Stamp will let you grab their Vink Eyeliner Ink + Brush as well as their VaVaVoom Eyeliner Stamp for $39 with free shipping. Normally, this would cost $45 before shipping!
Smashbox is currently celebrating the beginning of summer by offering $10 off purchases over $50, $15 off purchases over $75, $25 off orders over $100, and $50 off purchases over $150. We recommend you grab the Covershot Eyeshadow Palette ($29) and the photo-finish Radiance Primer ($39) so you can save $10!
Pixi Beauty is currently offering free shipping on orders over $25, and if you sign up for their email list you'll also receive 10% off! We recommend shopping their new Glow Tonic (full price $29).
Happy shopping!