The beauty products that writer Christina Pellegrini, a recovering glitter addict, swears by
Welcome to The Beauty Files, where HelloGiggles editors and contributors share what exactly they put on their faces, and why. We want to take you on this voyeuristic journey because we believe makeup means something different for every single person — applying makeup is a conscious, intimate decision we make almost every single day, and there's usually a method behind the madness. Join us every week as we spill the beans on beauty products, and feel free to submit your own Beauty File. E-mail us at [email protected]!
Ever since I could twist a lipstick tube, I've been fascinated by makeup. Like most preteens in the late '90s/early 2000s, I would blow all my hard-earned babysitting cash at CVS on cosmetics and nail polish. My spoils would often include shimmer, glitter, and colors that make me shudder to think about today. And I had a lot of frosted Bonne Bell lip gloss that smelled like straight up vanilla frosting.
It's been a full decade and a half since then, but that doesn't mean my love for beauty has waned. Sure, my palette is a lot more minimal and my tastes are a little more discerning (although I still keep sparkly Urban Decay Heavy Metal Eyeliner in Midnight Cowboy [$20] in my Glossier Pink Pouch [3 for $12]). But I still LOVE to experiment with new brands, formulas, and colors. It's just that these days, there's not quite as much baby blue eyeshadow. Read on to find out what I keep in my beauty arsenal.
Morning, 7:30 a.m: wake up and wash
Waking up is not an easy task for me, so in the AM, I try to keep my routine as simple as possible. After I roll out of bed, I wash my face with Desert Essence Thoroughly Clean Face Wash ($8)—I love how clean the tea tree oil cleanser makes my skin feel, and it never leaves nasty residue behind. At the request of my facialist (yup, I'm that chick), I follow up with a granular exfoliant, Image Skincare's Iluma Intense Brightening Powder ($22). (It has a smell that Mary Berry would most definitely describe as "scrummy.")
Next up is June Jacobs Revitalizing Eye Gel ($96) to depuff my peepers. Full disclosure, normally this would be wayyy outside my beauty budget, but I received a sample of this potent stuff at a media event and am still working my way through it. But don't freak out—there are plenty of other cooling (and more affordable) eye gels on the market that also work well.
Some days, I'm feeling lazy running late so I throw on SPF and walk out the door. Image Skincare Prevention+ Daily Ultimate Protection ($37), blends in super easily, and smells floral and clean. It's a lotion I don't mind wearing on its own, but today, I'm trying to look fresh-faced and bright-eyed—so I need the hard stuff (makeup, that is).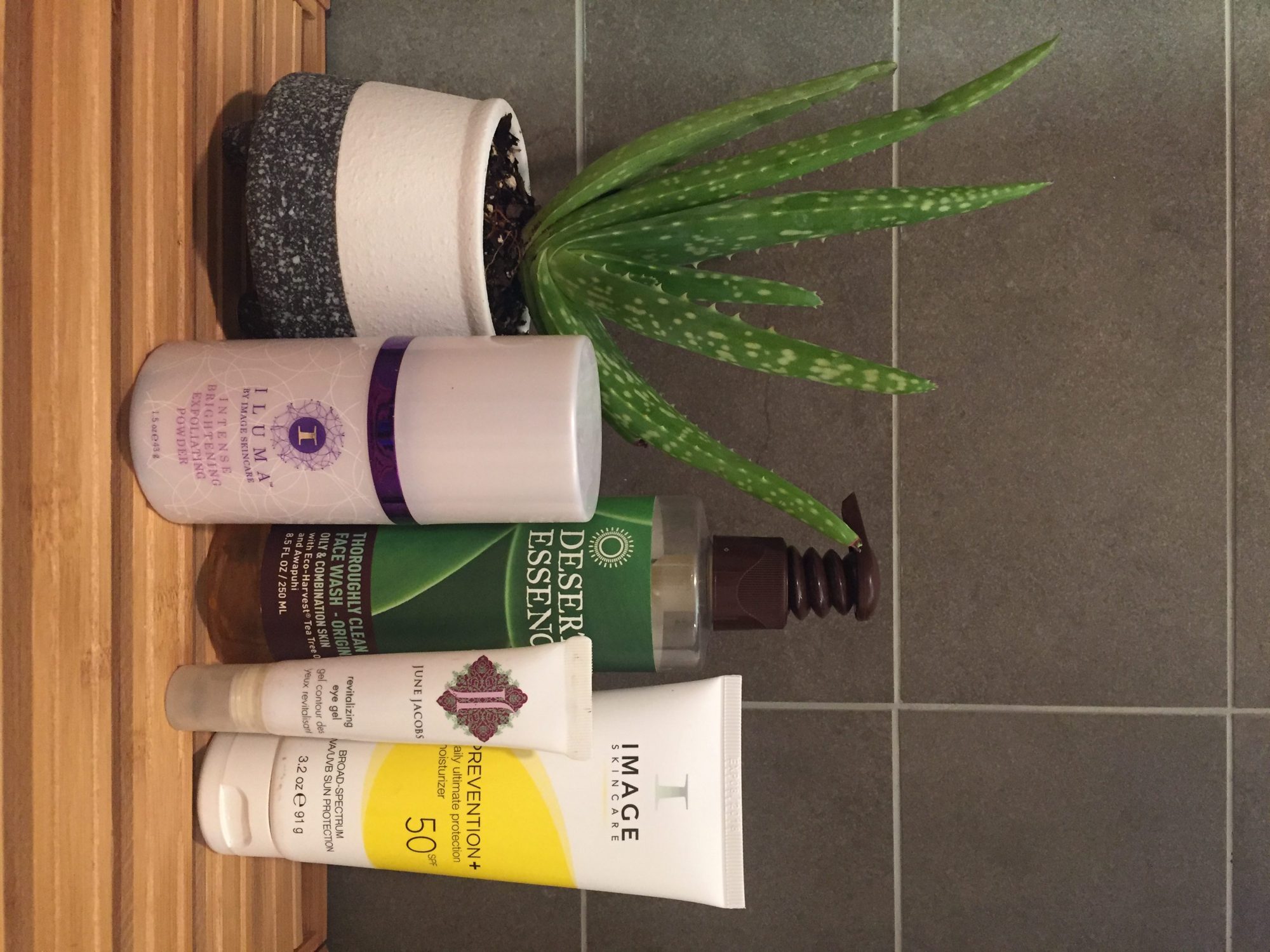 Still morning, 8:00 a.m: face time
I start with Dermalogica's velvety SkinPerfect Primer ($50). The tinted formula smoothes over and evens out the skin, which is great for me, since I prefer to follow it up with just a few drops of Glossier's Perfecting Skin Tint in Medium ($26). I'm deathly afraid of any makeup that is noticeably makeup (re: heavy, cake-y foundations), and this combo effortlessly makes my skin look like my own, just, well, prettier.
Then comes my biggest problem area — my undereyes. Genetics has cursed me with puffiness and dark circles (hi, Mom!), so life is a constant battle against my inherited, ahem, baggage. My defense plan comes courtesy of Onomie, a little indie beauty brand that ingeniously blends skincare and makeup in one heaven-sent product. So their cosmetics actually improve the quality of your skin while they're making it look more glowy. Amazing, right?
I dab a teensy bit of Onomie Bright Concealing Elixir in Montagu ($25) under my eyes — believe me when I say a little goes a looong way. Then I blend Onomie A.C.E. Illuminating Eye Treatment in Piscopia ($35) around my brow bone.
While I'm up there, I swipe on Glossier Boy Brow in Brown ($16) to make my über light eyebrows pop a little bit more. It's such a subtle change, but it's the kind of thing that will earn you compliments, even though people can't put their finger on what's different about you.
Like my eyebrows, my eyelashes are very fair, so my lash game has two steps. First, I apply It Cosmetics Tightline 3-in-1 Black Primer ($24) to lengthen and define. Then, I swipe on some mascara for a more wide-eyed look. My friend in beauty school swears by Neutrogena Healthy Volume Mascara in Carbon Black ($9) and who am I to argue with a pro?
I finish off the whole thing with a sweep of blush. Stowaway Cosmetics's Lip & Cheek Rouge in Burnt Rose ($16) adds a non-candy-colored flush—and the little compact lasts FOREVER.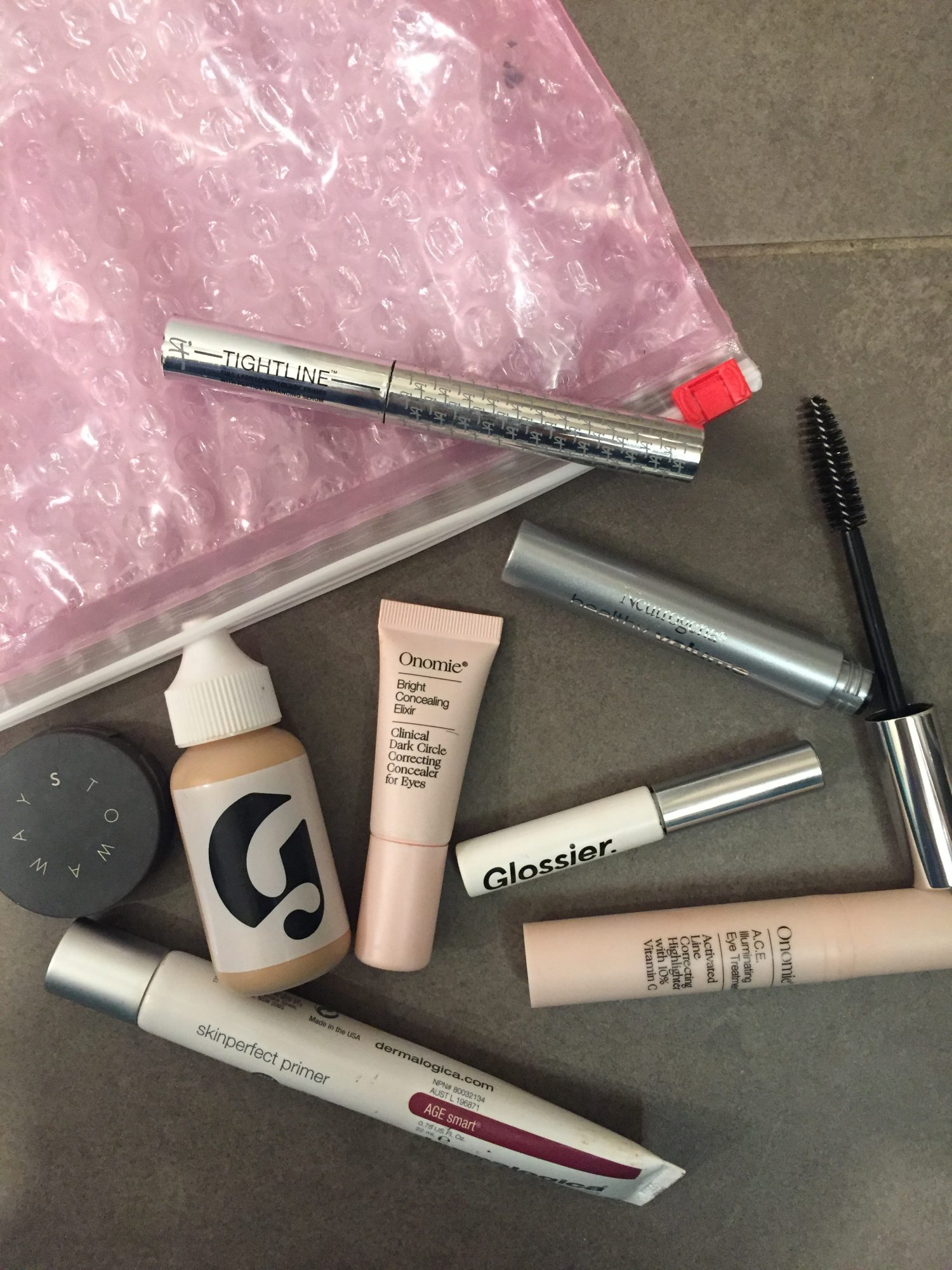 Morning, 8:30 a.m: Long hair, quite literally don't care
But actually. When it comes to my hair, the least amount of effort, the happier I am.
My hair is long and straight, so I usually just run a brush through it and let it be. If I'm in between wash days, I'll comb some Keratin Complex Volumizing Dry Shampoo ($35) into the roots. Then I pump a tiny drop of Bumble and Bumble Hairdresser's Invisible Oil ($40) between my fingers and run them through my strands. The idea is to get that cool, undone hair thing that all the models have going on. Tbh, some days it works better than others.
Hmm, I guess my morning routine isn't quite as "minimal" as I thought. ¯_(ツ)_/¯
But don't I look like I'm barely even trying?!
After lunch, 2 p.m: Lip service!
Besides trying to drink as much water as possible, I'm pretty low maintenance throughout the workday. I do, however, apply loads and loads of lip balm. Especially in the winter and early spring, I need something that can heal intensely chapped lips, so I reach for Kiehl's Lip Balm #1 ($7). It's super soothing and has a great, non-medicinal minty flavor.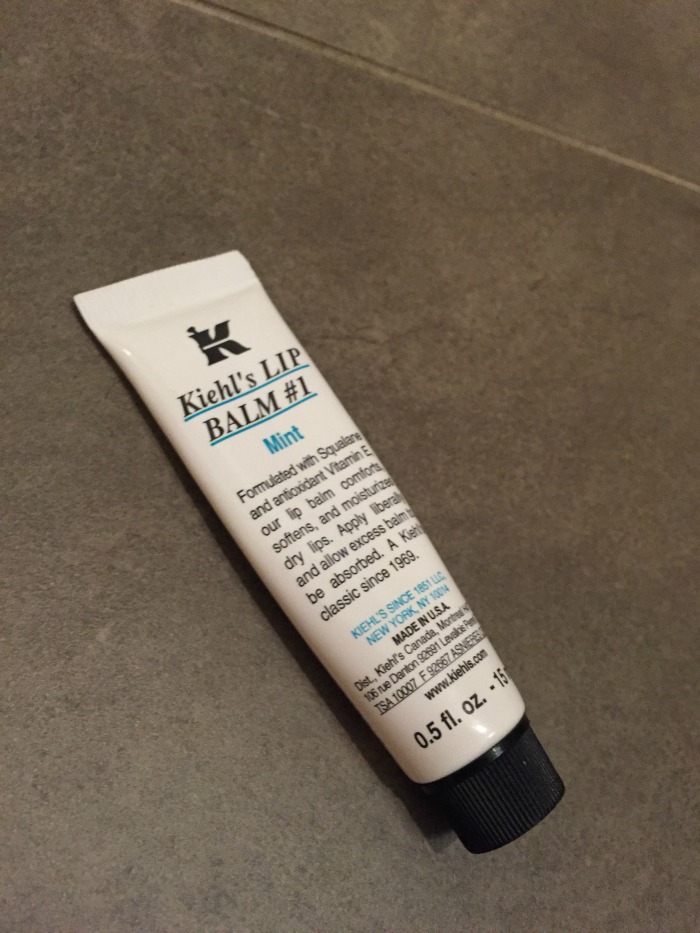 Evening, 8 p.m: Post-working on my fitness
Exercising is super important to me, but given my proclivity to oversleep, I have to work out after office hours. That means I usually get home a gross, sweaty mess and hop in the shower immediately.
My new favorite thing to wash my hair with is R+Co Cactus Texturizing Shampoo ($24). It gives fine hair like mine a little grip, so if you braid it or curl it or whatever, your hair will actually hold the desired shape far longer than it might naturally. You're actually NOT supposed to use conditioner with it, and every time I skip the creme rinse I feel a little badass.
After I step out of the shower and towel dry my hair, I spritz on R+Co One Prep Spray ($20), which does many lovely things to your hair, like level out the "porosity" (their word, not mine) so it better absorbs the other stuff you douse your head with. Personally, I like its detangling and moisturizing properties.
Next I spray a shit ton of Herbivore Sea Mist Texturizing Salt Spray, $20, into my hair and flip it up into a bun on top of my head, so it dries with a little shape to it. I say that I use the sea salt stuff for texture, but one major perk is that my boyfriend always tells me I smell good when I wear it. Booyah.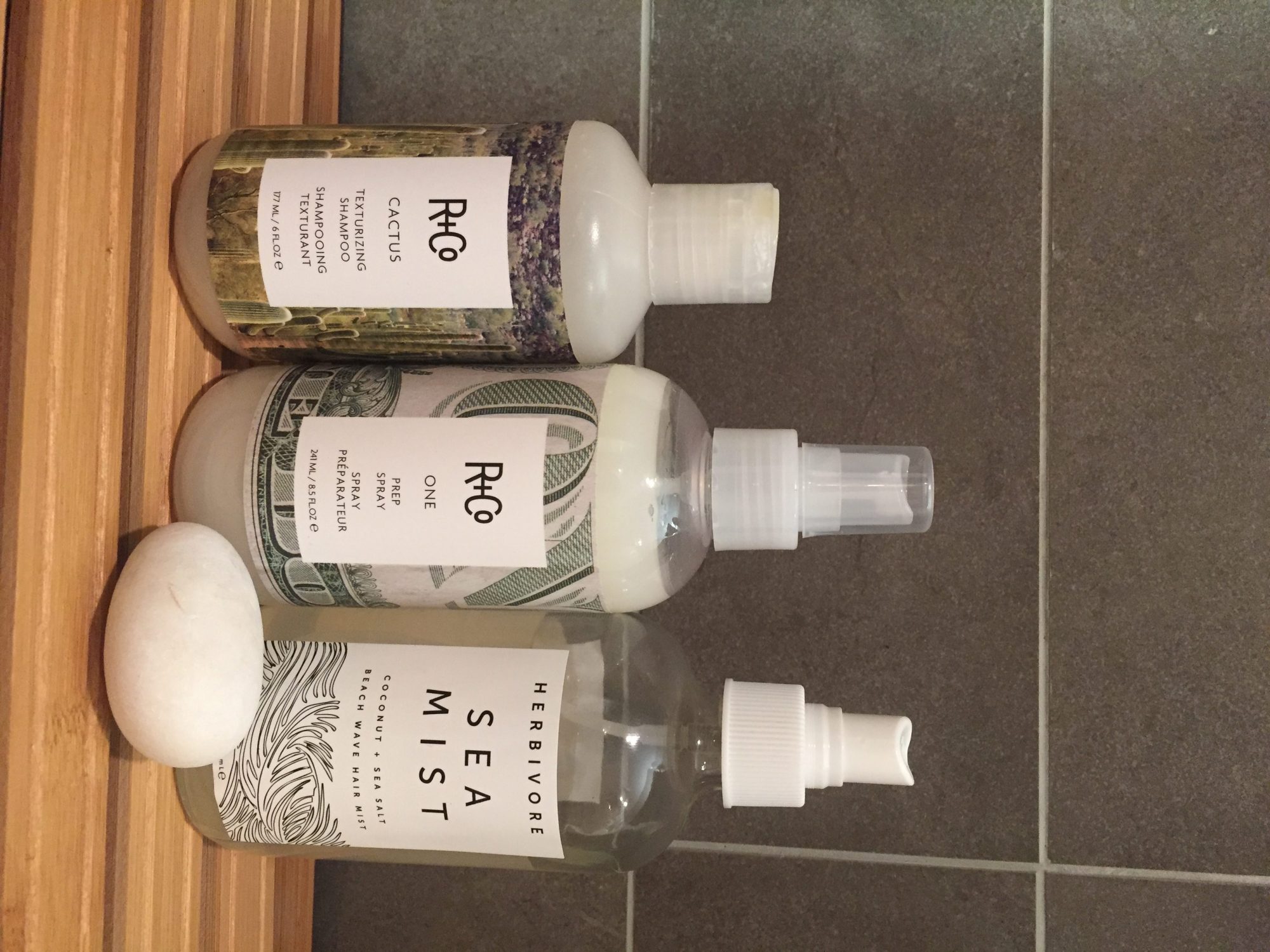 Then it's time for post-shower moisturizing. First, I take off any residual eye makeup with Eau Thermale Avène Micellar Water (3.3 oz, $10). Once I'm totally clean, I apply Mizon All-in-One Snail Skin Repair Cream, $38, a Korean cult fave which is truly magical. It's made from 92 percent snail extract, so if you're a vegetarian, definitely stay away from this stuff. But it evens out and firms skin like no other, and honestly, I think it's kind of rock and roll to use snails in my beauty regimen.
Last but not least, I smear on some Image Skincare Balancing Bio-peptide Créme ($53). Remember when I used to buy icing-esque beauty products in my preteen years? WELL, here's the crossover. It smells like vanilla and spiced citrus, and has a luxuriously thick yet airy texture, just like frosting. Like I said, my esthetician Rivka at Heyday recommended this natural skincare line to me, and I cannot get enough. Seriously, if you take nothing else away from this article, put this stuff on your face. You'll feel like a cupcake.
Finally, I apply Dermalogica Multivitamin Power Firm ($60) around my eyes to lock in their youthfulness.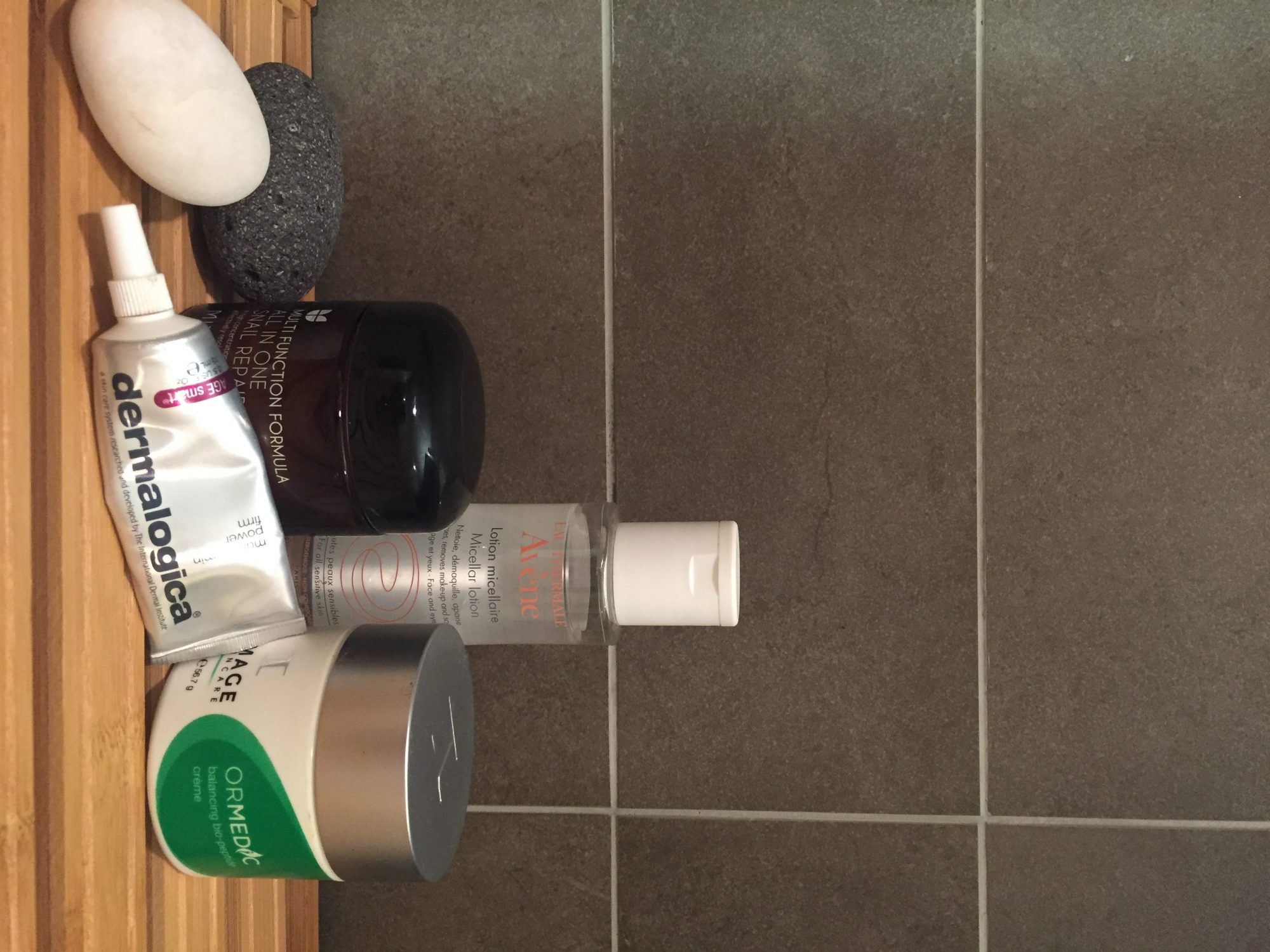 Night, 11 p.m: Goodnight, moon!
Having a bedtime ritual is super important to me. When else do you have the opportunity to disconnect and decompress? Lately, I've been powering down with a cup of Yogi Tea Soothing Caramel Bedtime Tea ($4.89/16 bags) before I apply a slick layer of Herbivore Moon Fruit Superfruit Night Treatment in Ylang Ylang ($58) to my face. According to the site, it contains resurfacing enzymes as well as hydrating butters and hyaluronic acid, meaning it basically makes you more attractive while you sleep. (I'm all about lazy beauty.) When I wake up, my skin feels insanely soft and smooth — and honestly, I kinda just like that it's purple.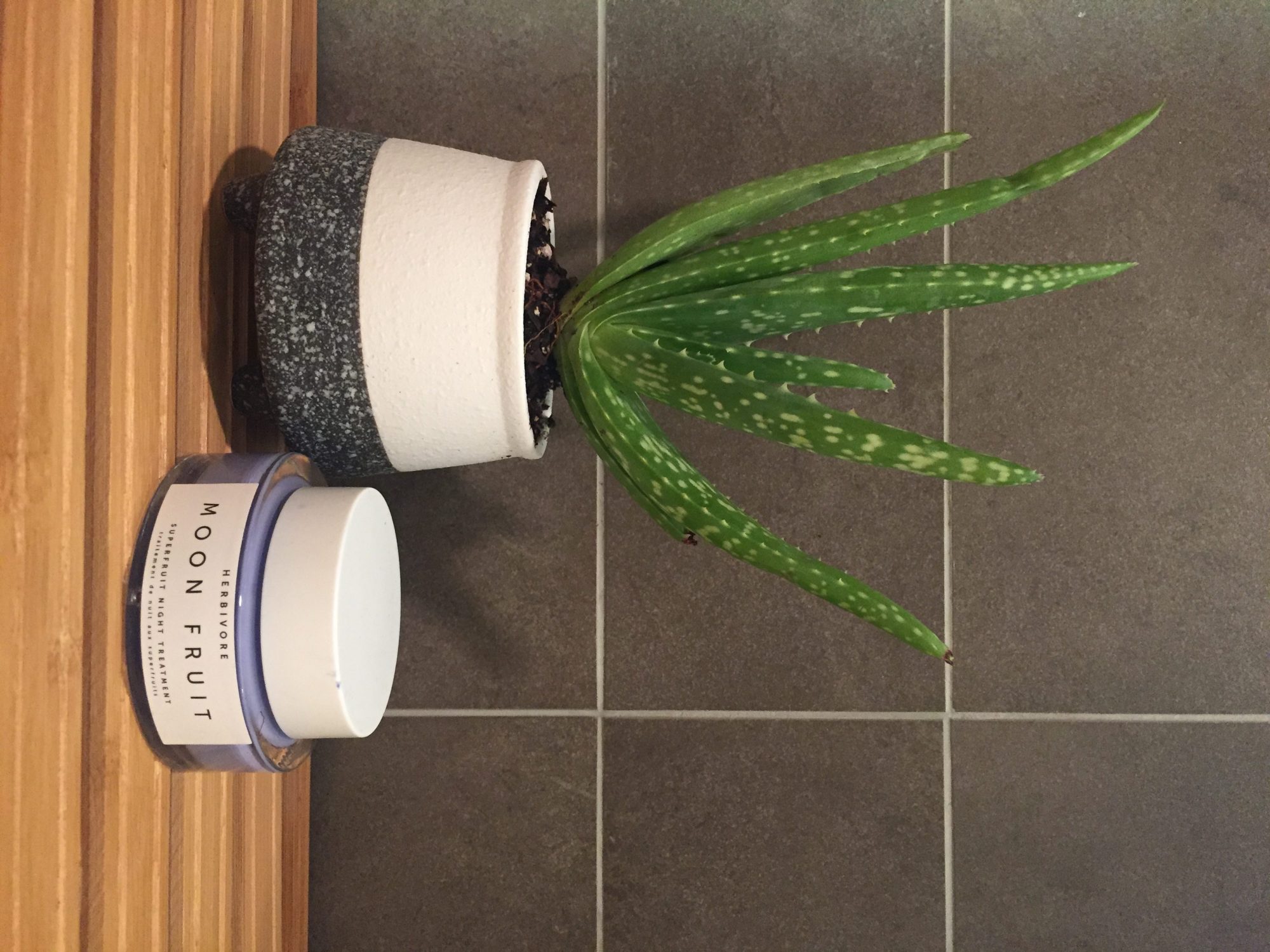 Some things never change.
Indulge in beauty-themed voyeurism by reading all of our past Beauty Files here.