These are the beauty products one mad-about-makeup writer swears by
Welcome to The Beauty Files, where HelloGiggles editors and contributors share what exactly they put on their faces, and why. We want to take you on this voyeuristic journey because we believe makeup means something different for every single person — applying makeup is a conscious, intimate decision we make almost every single day, and there's usually a method behind the madness. Join us every week as we spill the beans on beauty products, and feel free to submit your own Beauty File. E-mail us at [email protected]!
Until my junior year of high school, I truly believed that I looked better without makeup. Not that I looked great without it by any means, but I really felt like makeup always made me look worse. Subjectively speaking, of course, because we are all beautiful and there is no looking good and looking bad, only feeling good and feeling bad. Beauty is a construct and you should just do what makes you feel good, no matter what anyone says. Okay, now that I've gotten that out of the way. This was mostly because I was horrible at actually applying makeup.
My relationship with makeup has always been about feeling pretty. I grew up, like most women, with a long list of things that I hated about the way I looked. Too much this, not enough that. I wanted to put on makeup and then magically turn into the version of Me that I saw in dreams or in the mirror when I walked out the door, only to later be assaulted by a flash photo of myself at some party where I suddenly did not look like Me and had transformed into Not Cute Me.
Around the beginning of my college years, I started blogging about beauty. I started binge-watching YouTube videos about applying winged eyeliner, and honestly, the rest is history.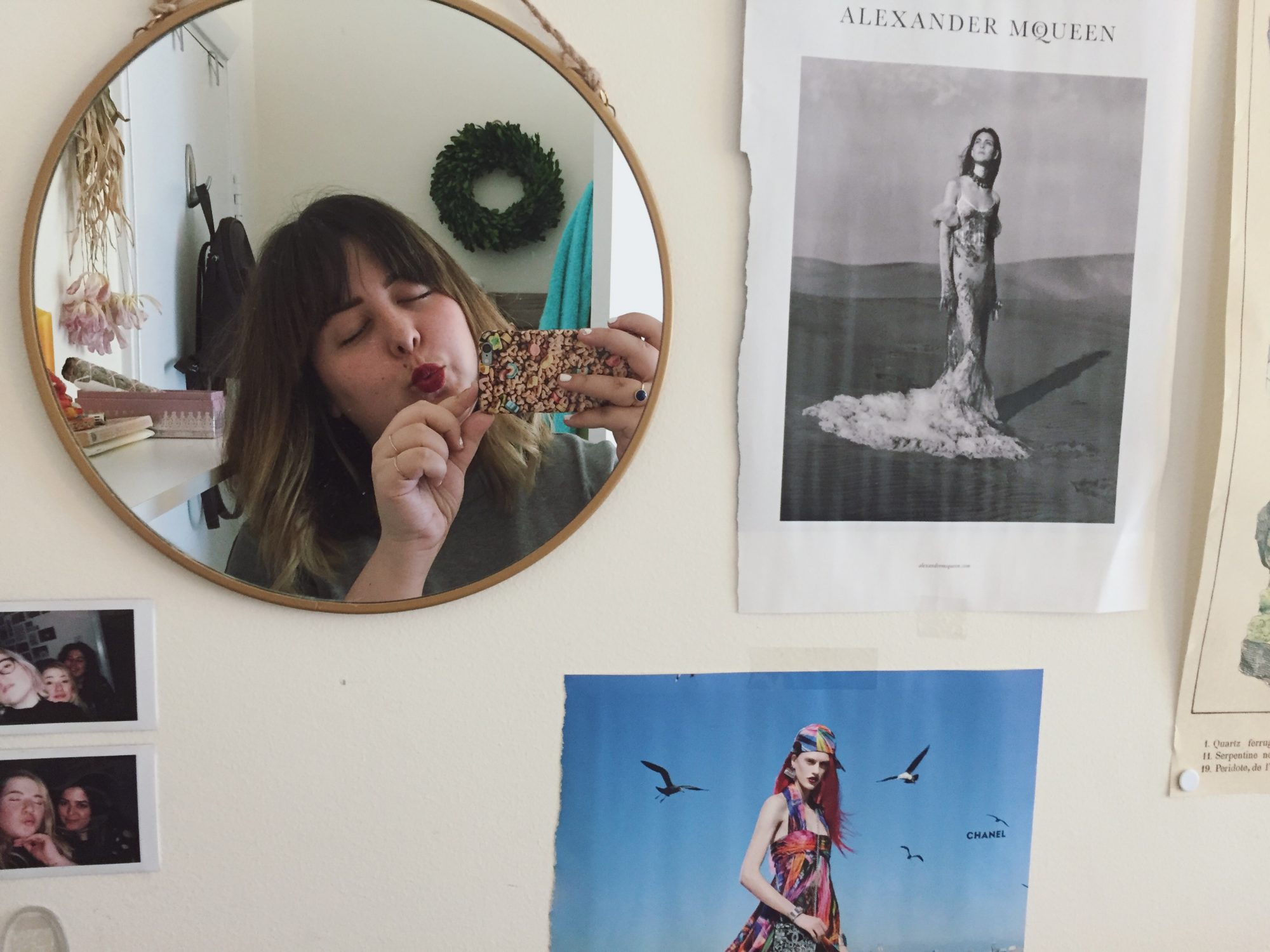 Sometime after my interest appeared, makeup transformed from being something that hid my flaws to something that showcased my personality. I started using makeup (and hair dye) to feel more confident and to tell people ~*who I was*~ (god, could I be any more of a Taurus?). I started researching products that might help me to work on specific skin issues I was seeing. I monitored the effects of my diet and sleep patterns on my face. I dove deep into the science of beauty and spot treatments and acids and pH. I was hooked.
And now, here I am today with a too-big beauty collection, while wearing little to no makeup everyday. But I still squeeze in time to do fun makeup on my friends.
https://www.instagram.com/p/BH3ljbxBTlt
Oh how the turn tables. But enough with the reflection, let's get to the shelfies.
Morning: 8am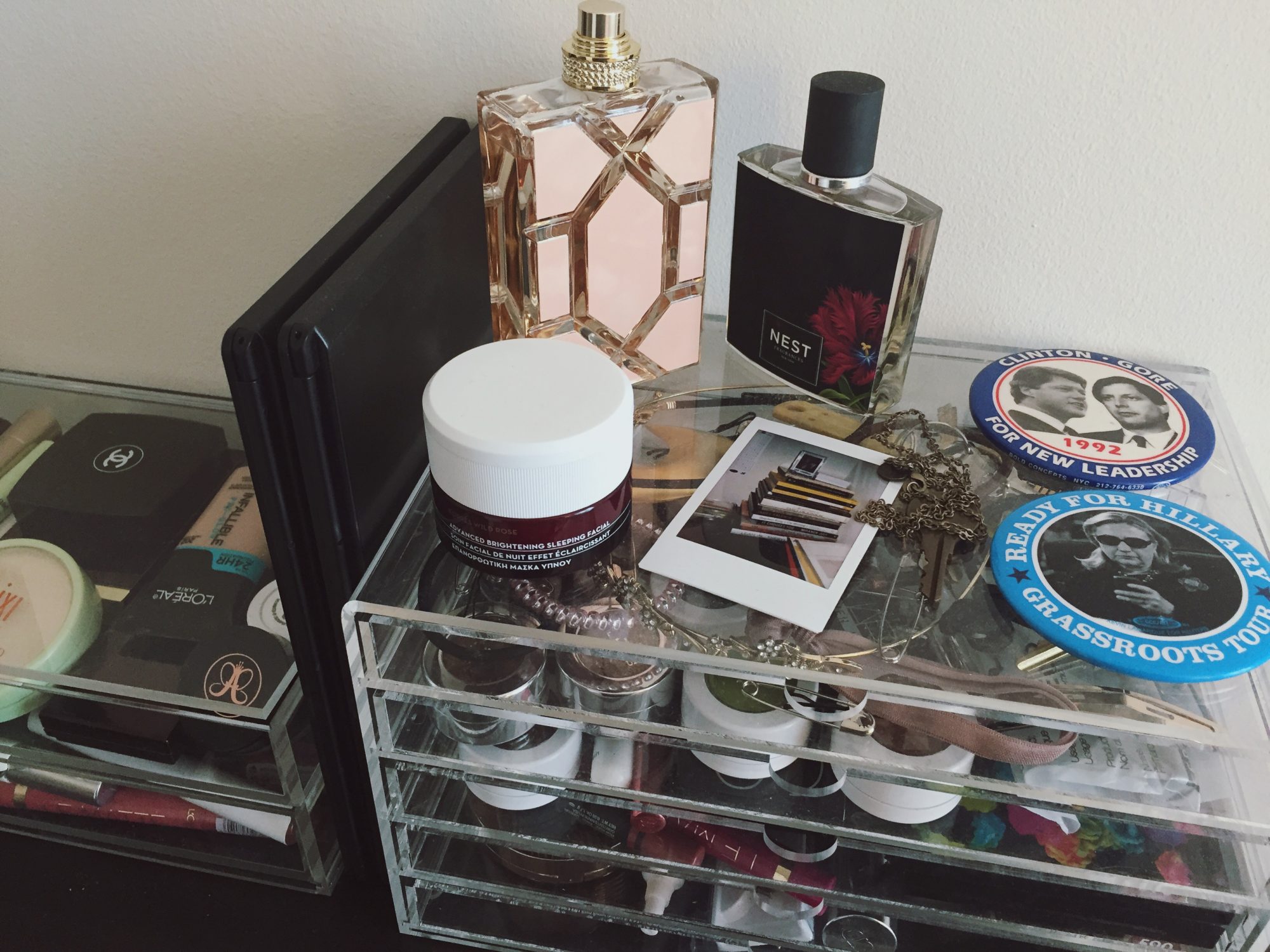 Mornings are a problematic fave for me. On the one hand, I truly hate waking up early. On the other hand, I feel so productive when I wake up early and accomplish things. One of life's many contradictions, I suppose.
When I finally drag myself out of bed, in a manner not unlike the way people in Paranormal Activity are dragged out of their beds, I go straight to my bathroom. With half-open eyes, I wash my face with cold water and brush my teeth. I swipe over my skin with a MUJI Cotton Pad ($5 for 60) soaked in the Garnier SkinActive Micellar Water ($9), to do a quick cleanse.
I return to my room and make the Very Difficult Decision of whether to do my hair or makeup first. I go back and forth, but lately I've been doing my hair first because it takes less concentration and gives me some time to wake up.
I curl my hair using a flat iron, and I fix whatever has happened to my bangs in the night. I will usually squeeze a dollop of the Bumble and bumble Brilliantine Cream ($24) into the palm of my hand and run it through the ends of my hair. It gives my hair a nice soft shine, which I love because my hair is super bleached and can often appear dull and frizzy. If I'm on Day 2 hair, I'll spray my entire scalp with the Sexy Hair Concepts H2NO Dry Shampoo ($17), which is seriously the best on the market for thicker hair.
Once my hair is done, I'll clip it back and put on some music, since by this time my brain can take it. I'll flick on whatever my current playlist is and start working on my mug.
I will usually swipe one more cotton pad of micellar water over my face just for peace of mind, and then I'll go in with a few spritzes of the Pixi Beauty Hydrating Milky Mist ($15). I don't want to make any wild claims, but I'm pretty sure this stuff both changed and saved my skin. The skin on my face is very dry and this spray contains hyaluronic acid, which pulls moisture from the air onto your skin, keeping it feeling plump.
Then I apply the KORRES Wild Rose + Vitamin C Advanced Brightening Sleeping Facial ($48) as my daily moisturizer. Hear me out on this: Yes, it's a night cream, but it's got amazing hydrating powers and my makeup applies so well over it. Small warning — Vitamin C makes your skin burn more quickly, so make sure you're applying something with SPF over it if you use this during the day (I either go with the Pixi Beauty Sun Mist ($18) or a foundation with SPF).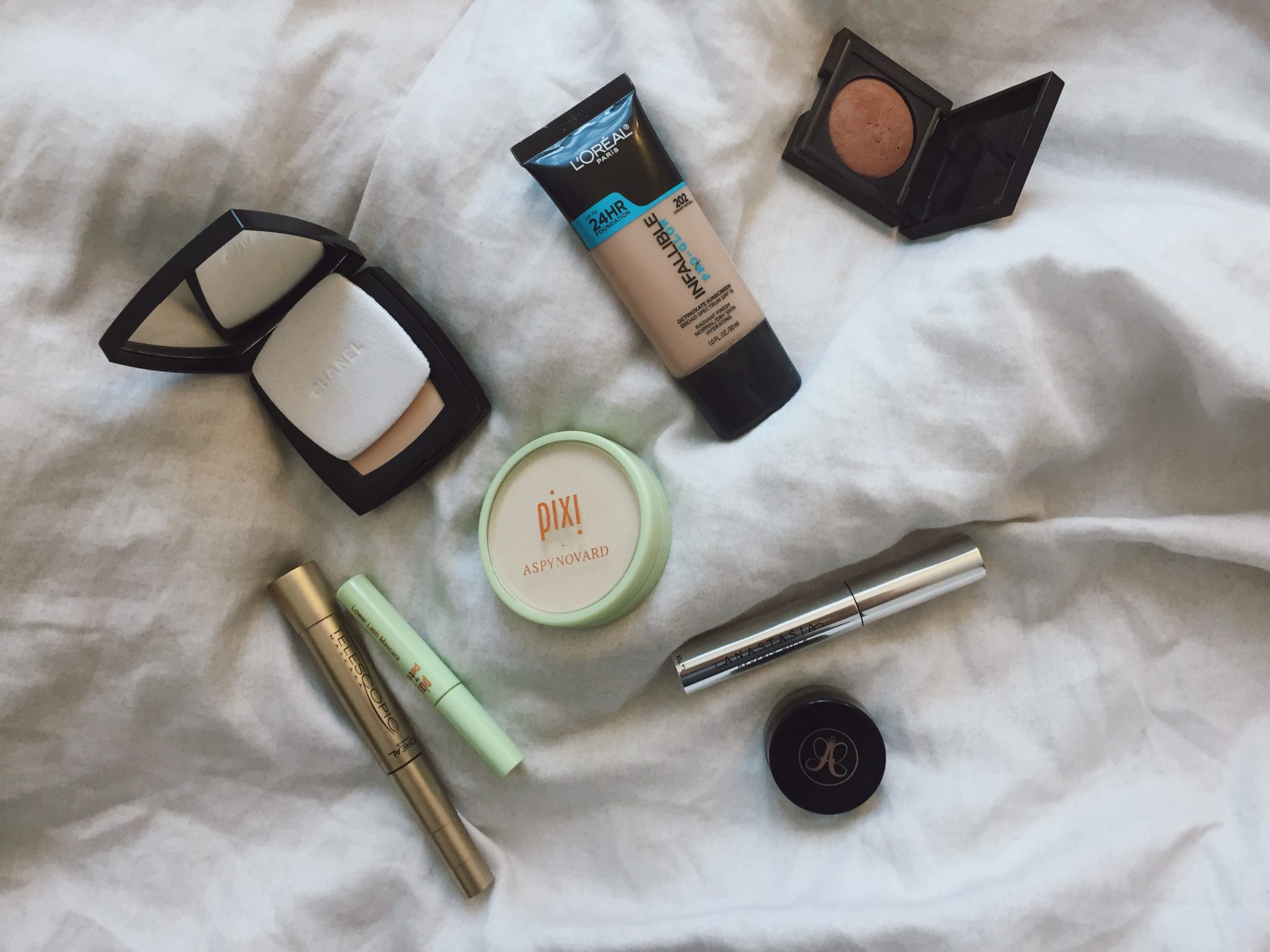 After I'm all moisturized, I'll apply the only foundation I have ever truly loved — the L'Oreal Infallible Pro Glow Foundation ($13) either all over the face, or just over redness and blemishes, depending on how much coverage I want. I'll set that foundation with powder — I splurged on the Chanel Poudre Universelle Compacte ($45) in a treat yo 'self moment, but I also love the Rimmel Stay Matte Pressed Powder ($4), which is much more affordable.
Lately, I've been skipping contour and just going for bronzer. I've been loving the Laura Mercier Matte Radiance Bronzer ($42), which is pricey for a full-sized product, but is sometimes available for around $15 as a mini at Sephora. I apply it to the points of my face that the sun would naturally hit — my cheekbones, nose, chin, and forehead. Face makeup done!
I've never been a big blush girl because my face gets bright red with about a two degree temperature increase, so my body has it covered. I've been highlighting lately with the Pixi Beauty x Aspyn Ovard Glow-y Powder in the shade London Lustre ($16). I run it over my cheekbones and across the tip of my nose.
For eyebrows and eyes, I've been keeping it relatively simple. I use the Anastasia Beverly Hills Dipbrow Pomade ($18) on a small angled brush to fill in my eyebrows, and set them with the Anastasia Beverly Hills Clear Brow Gel ($22). I have never gotten more brow compliments in my life than I did when I first started using these two products. For eyes, I have been skipping shadow lately and going straight to mascara.
When I do wear shadow though, I use the NARS Pro-Prime Smudgeproof Eyeshadow Base ($26) as a primer, and then generally either go into my Morphe 35O Palette ($23) for a neutral look, or my Urban Decay Electric Palette for a fun look. Those are the only two palettes I ever need. Morphe and Urban Decay shadows both have great pigmentation, and blend easily.
For mascara, I curl my eyelashes like six times (I should probably just get eyelash extensions, tbh, I have a problem), and apply the Pixi Beauty Lower Lash Mascara ($11). This stuff has a super tiny wand, which I love, because I like to define each individual lash with a neurotic level of precision. Once that coat dries, I go over it with a layer of the L'Oreal Telescopic Mascara ($8), which is another favorite for definition and length.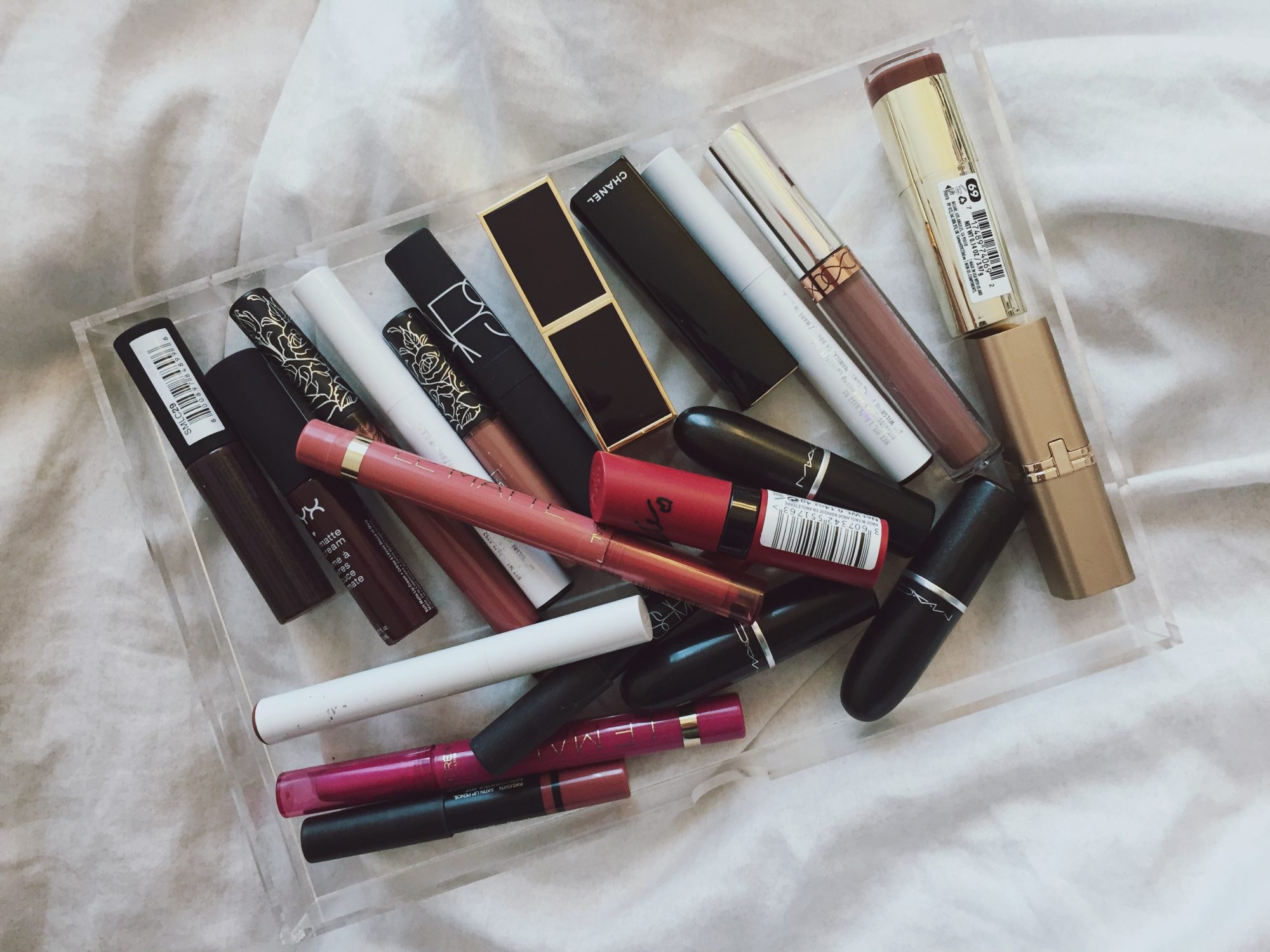 For lips, I just choose a color depending on my mood. I love lipstick and lip products, since they're usually relatively affordable and they can really change up a look. Some of my all-time favorites include: Rimmel Lasting Finish by Kate Moss in 107 ($4), Anastasia Beverly Hills Liquid Lipstick in Sepia ($20), ColourPop by Kathleen Lights Lippie Stix in Taurus ($4), and the NARS Velvet Matte Lip Pencil in Cruella ($27), which is what I went with today!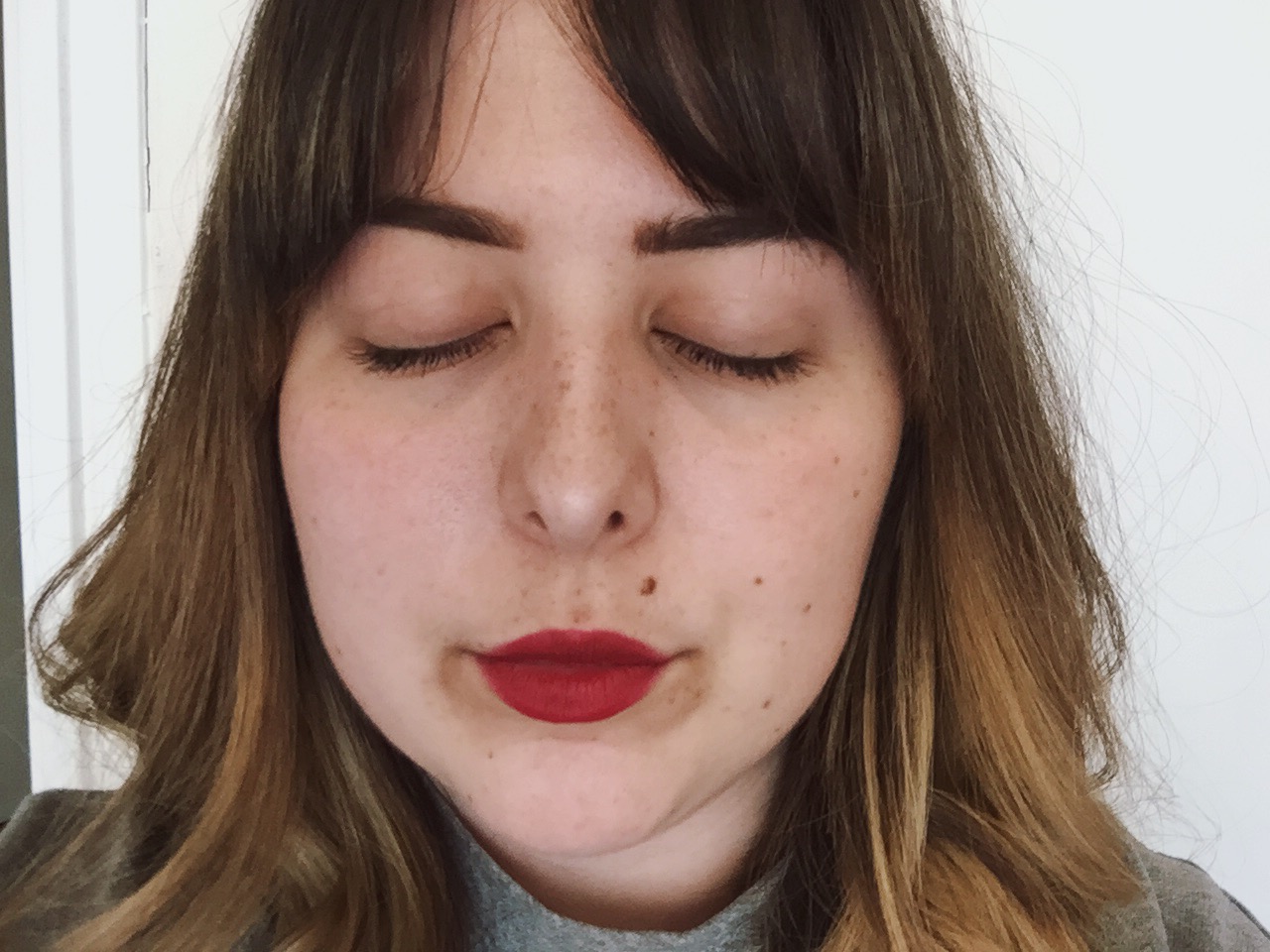 After everything is on and ready to go, I'll spritz myself with the MAC Fix+ ($24) setting spray, which will ensure that my makeup doesn't move all day. I've also been loving the Wildfox Eau De Parfum ($64), which was kindly gifted to me by a good friend. A spritz of that on my neck and wrists, and I'm out the door.
Night: 12am
I literally don't touch my makeup between putting it on and taking it off. A midday touch up? What's that?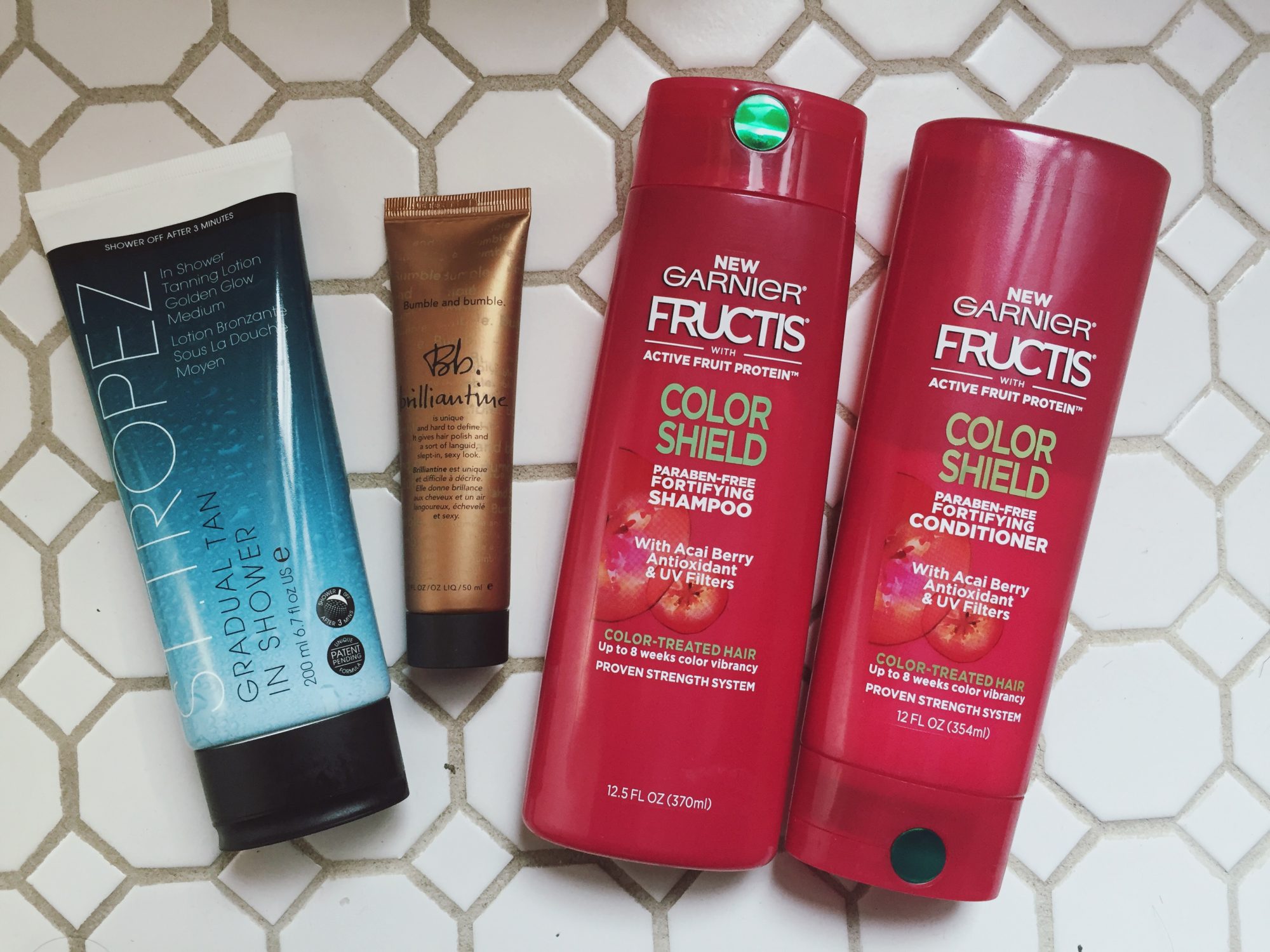 Usually, by the time I take my makeup off, it's midnight or later (I am a bad, bad, night owl), and I haven't looked in the mirror in hours. Before I jump in the shower, I go in with the Garnier SkinActive Micellar Water ($9) on a cotton pad, again, and wipe everything off. I hop in the shower and do the whole routine. I use the Garnier Color Shield Shampoo ($4) and Conditioner ($4) because it smells great, and helps retain the cool tone of my blonde ombre.
In what is literally the only element of my summer prep routine, I've started using the St. Tropez In Shower Gradual Tan ($25). I feel much more confident in my bare skin when I have a little color, so I love using this stuff. Plus, it's so easy to apply and rinse off! No fuss is key.
Once I'm out of the shower, I let my hair air dry and apply the same skin care I use in the morning. I'll go in with the Pixi mist again, along with the KORRES cream. The only thing I change up is applying a little Aquaphor ($4) to all of my red areas. I find that the intense moisturizing quality of Aquaphor really helps with my dry patches, and it doesn't clog pores!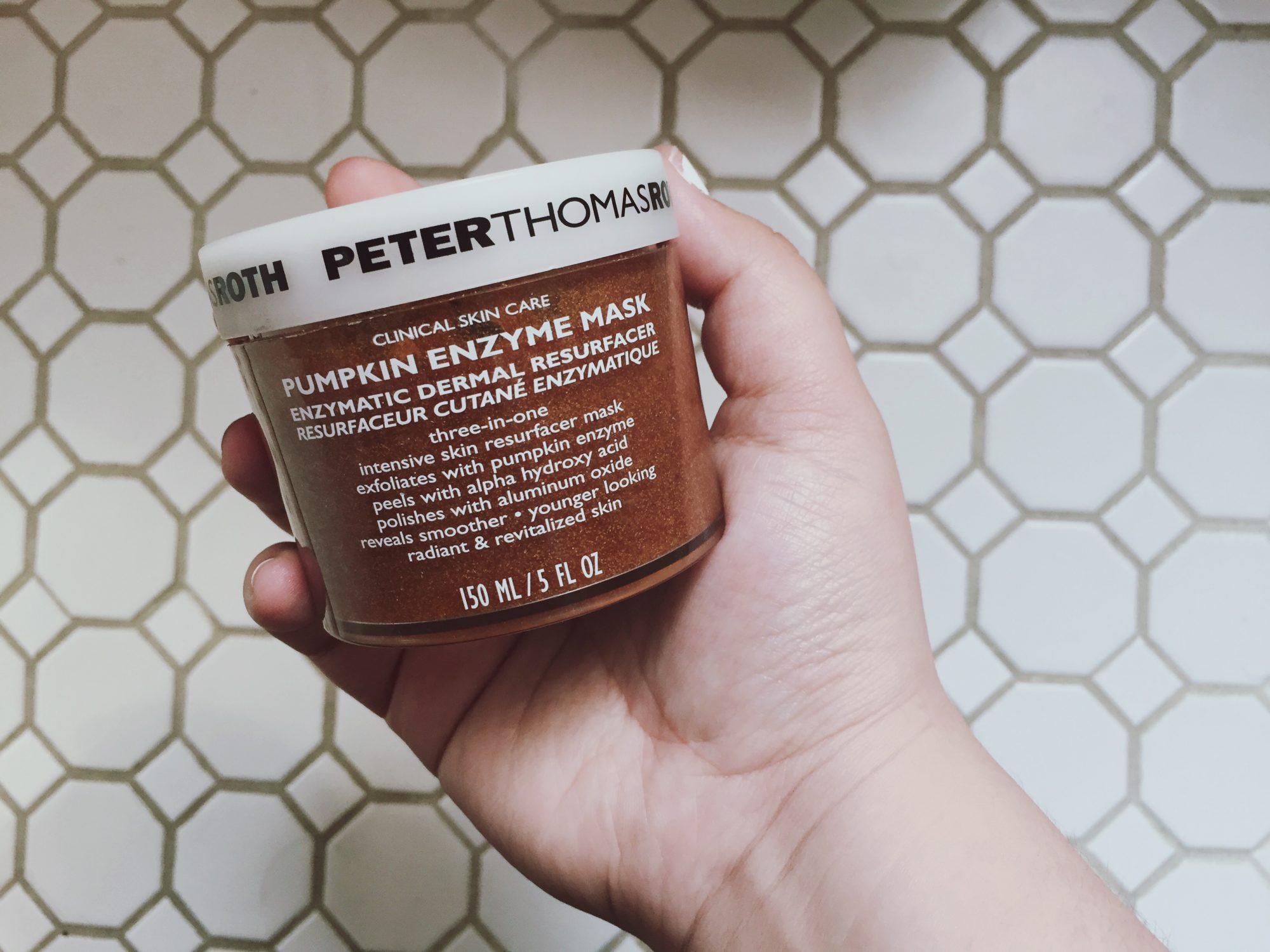 On days when my skin is looking dull or bumpy, I'll use the Peter Thomas Roth Pumpkin Enzyme Mask ($58), which is the Shangri-La of exfoliation. It's a physical and chemical exfoliant that will leave your face feeling as smooth as a baby's bum, and I'm not exaggerating. It's the one lavish skin care product that will remain in my routine until the day I die.
My sensitive, dry skin has really improved with a simpler skin care routine. I think "less is more" might be the key to my skin's success. Where I go overboard on makeup, I go simple on skin care. It's all about finding the balance that works for you. I want to emphasize that you don't need all or any of these things to look or feel beautiful. Emotional changes manifest physical ones. Sometimes, though, we just want to give our bodies a little TLC, and when that moment comes, I've got an arsenal ready to charge.
Indulge in beauty-themed voyeurism by reading all of our past Beauty Files here.