Here are all the beauty products our cat eye-loving Social Media Producer can't live without
We're starting a new series called The Beauty Files, where HelloGiggles editors and contributors share what exactly they put on their faces, and why. We want to take you on this voyeuristic journey because we believe makeup means something different for every single person — applying makeup is a conscious, intimate decision we make almost every single day, and there's usually a method behind the madness. Join us every week as we spill the beans on beauty products, and feel free to submit your own Beauty File. E-mail us at [email protected]!
"Oh my GOD, that'swhat you look like without any makeup on?" is a question at least three of my best friends have said to me in the last year. These friends knew me when I wouldn't DARE to be seen without makeup on, even at sleepovers in high school or on overnight trips in college. So my newfound confidence in my bare face was a bit of a shocker.
You see, my dependency on winged eyeliner developed around 8th grade. It became my ~thing~. In high school, I was rarely seen without a carefully crafted cat eye — except for those terrible mornings of swim P.E.
Luckily, now that I'm out of college, I no longer commit the cardinal sin of sleeping with my eye makeup on. I've recently become obsessed with getting my face as clean and moisturized as possible at night. I've finally figured out my tried-and-true beauty routine, and it's been a long time coming.
Here's me on the regs:
https://www.instagram.com/p/BM75Fm8ju0k
If I only have time for three products in the morning, my go-to's are definitely foundation, brow gel, and mascara, as you can see.
Morning: 8:30 a.m
After hitting the snooze button a shameful number of times, I drag myself out of bed and into my sunny bathroom. I remove any remaining drying lotion (more about that later) from my face with Garnier SKINACTIVE Micellar Cleansing Water ($6.99). Then, I wash my face with warm water and my Neutrogena Deep Clean Cream Cleanser ($4.29). I've found that this cleanser is gentle enough for me to use twice a day but effective enough to keep any major breakouts at bay.
After toweling my face completely dry, I smother it in four drops of Josie Maran 100 percent Pure Argan Oil ($48). This is one of my few pricey items, but the way it leaves my skin feeling hydrated all day and night makes it #worthit.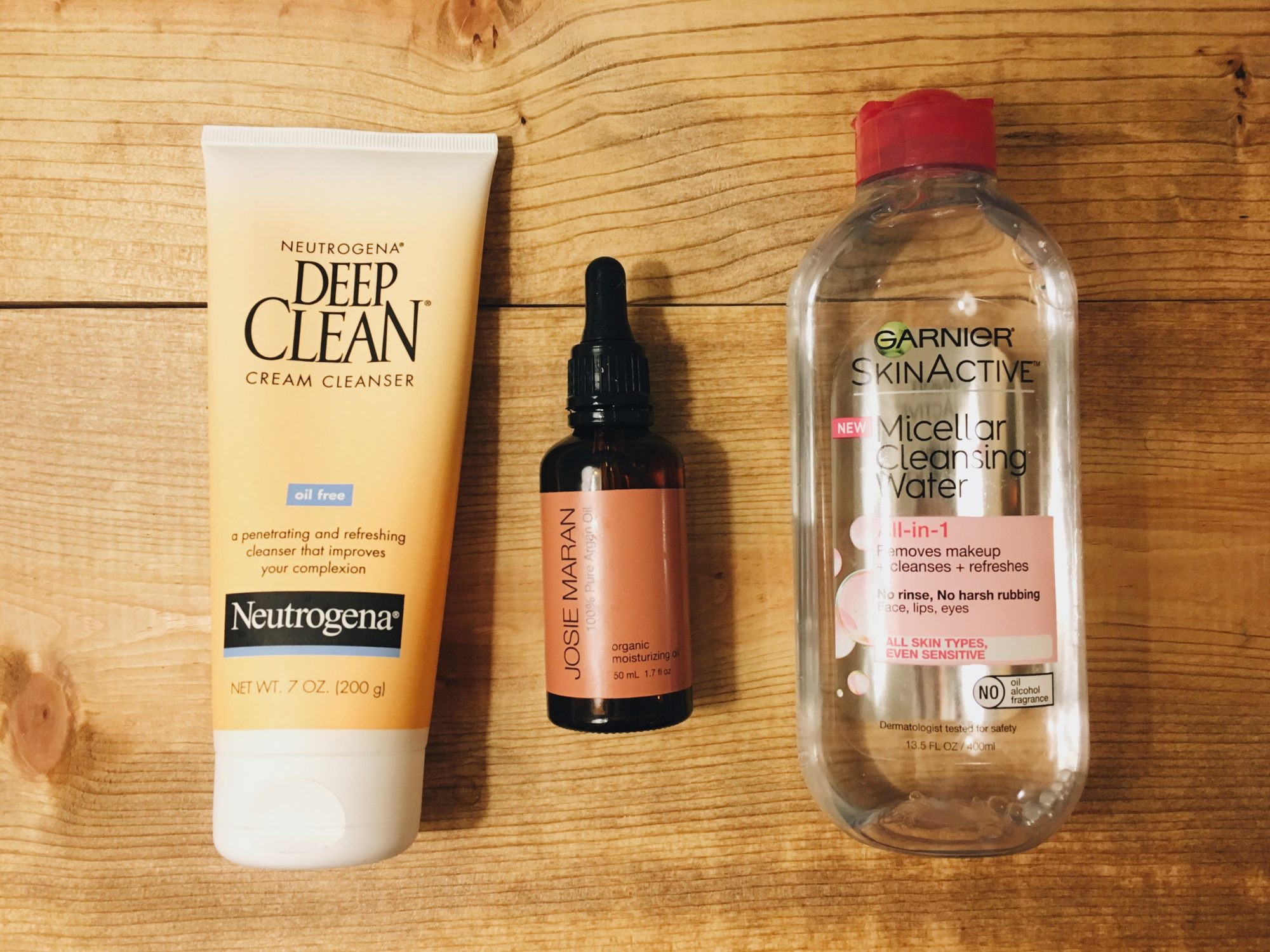 After I let my oil soak in while brushing my teeth, I start to prep my face with Benefit Cosmetics' The POREfessional Face Primer ($12). I have large pores on my nose, so I decided to test this product out, and it does not disappoint. I cover my dark circles (oops, good thing it's Friday) with Rimmel Match Perfection Concealer ($4.99). Then, I cover my face in Almay Smart Shade CC Cream ($6.89) using my Beauty Blender ($20). I top that off with bareMinerals BarePro Performance Wear Foundation powder ($30). I've worn bareMinerals for YEARS, and I love that it covers my acne scars while still being a light enough formula to keep me from breaking out.
After my foundation is set, I add a few swipes of Wet n Wild's Color Icon Ombré Blush ($4.99) and then highlight with Glossier's Haloscope in Quartz ($22).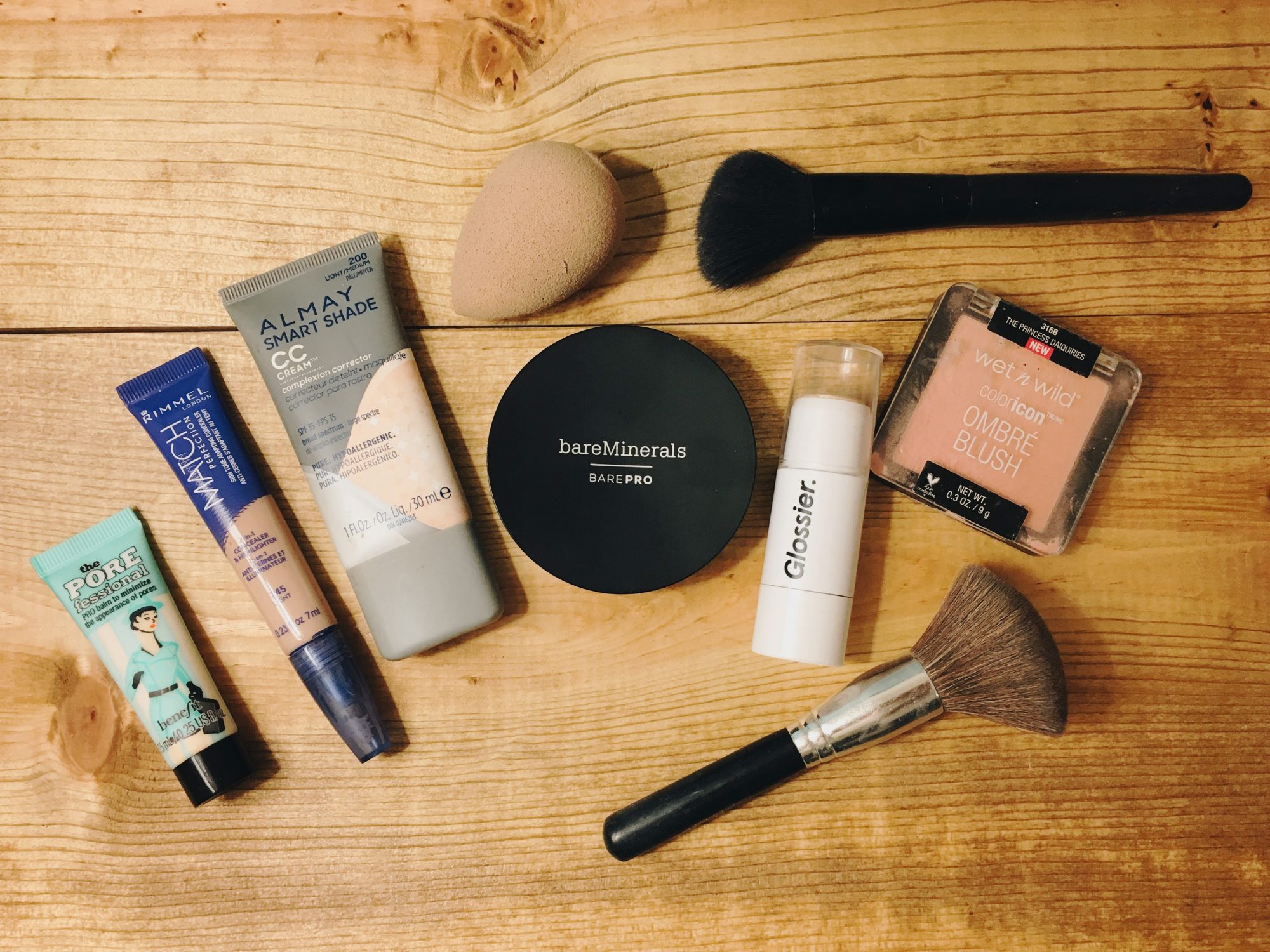 Next, I fill in my brows. I used to feel embarrassed by my ~thick browz~ and would get them regularly waxed, until I realized that bold is beautiful and my bank account was less depressing when I opted for my own tweezers instead. Now, I love to fill them in and Glossier's Boy Brow in Brown ($16) helps me achieve the perfect balance of fullness. ?
If I wear any eyeshadow, I tend to keep it pretty neutral, and lately, I've been very into MAC's Soft Serve Shadow in Cushy Life ($13.20). Then, I carefully draw on my cat eye with an angled eyeliner brush and e.l.f. Cream Eyeliner ($3). In all my years doing my winged eyeliner, using gel and applying it with an angled brush is by far my preferred technique. I then lightly line my bottom lid with a pencil (specifically, Physicians Formula Eye Definer Automatic Eye Pencil in Midnight Black for $5.95).
I top my eyes off with a few swipes of Too Faced Better Than Sex Mascara ($23). I have truly never loved a mascara more, whether the name is true or not. Finally, I swipe on one of ColourPop's Lippie Stix in "I'm Yours" ($5) for a subtle hint of color. Once everything dries, I seal the look with Urban Decay's De-Slick Oil-Control Makeup Setting Spray ($31).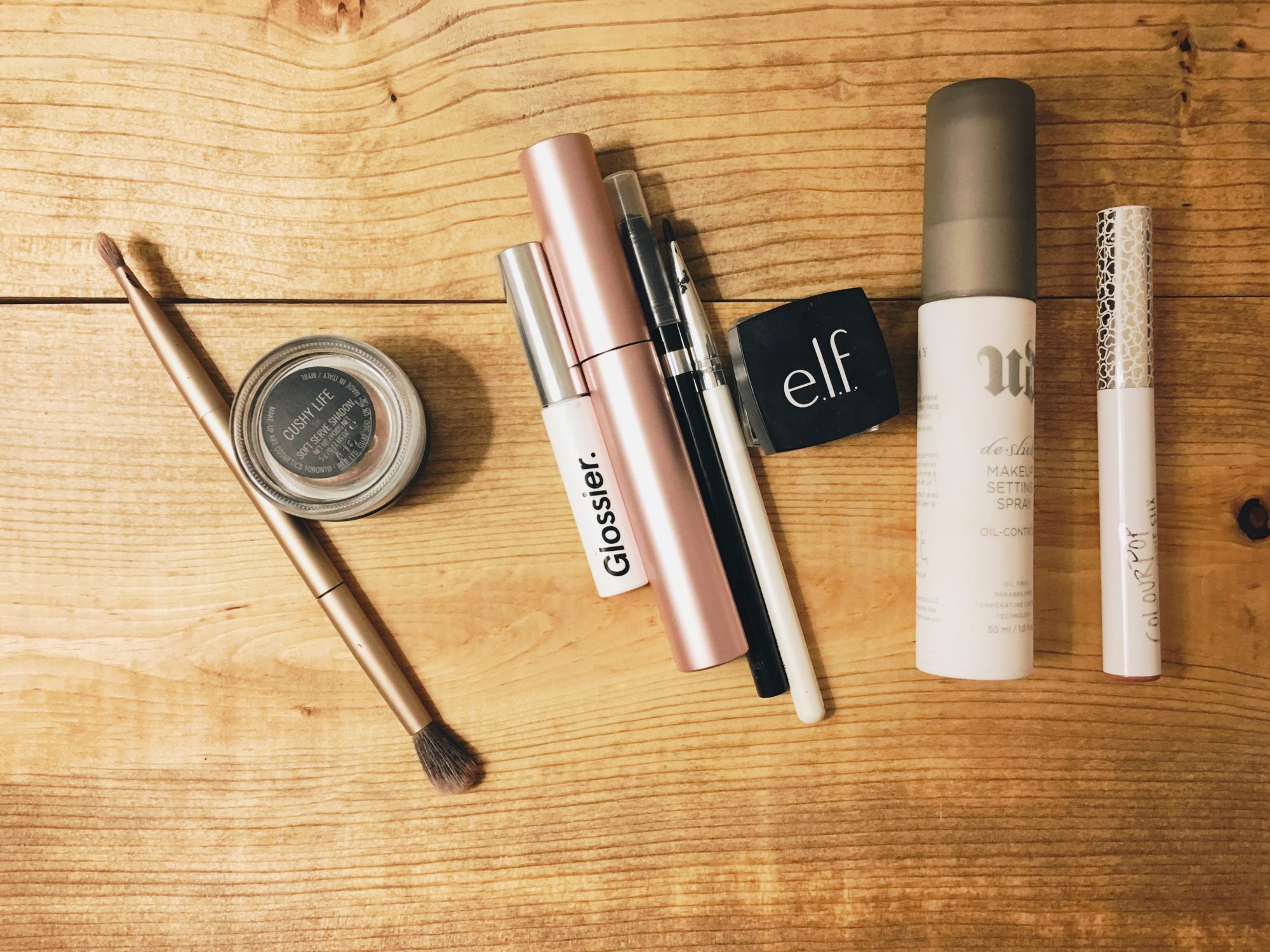 Once my face is done, I spread a pump or two of Kérastase Nutritive Oleo-Relax Serum ($25.99) throughout my hair as a heat protectant, and then use my 1.5 inch Conair curling iron ($17.49) to add subtle waves. (The bigger the barrel, the wider the wave. Also, I don't use the clamp.) I finish my look off with a few sprays of TRESemmé hairspray ($2.74), and I'm finally done (and release my monopoly on the bathroom so my roommate can finally pee, oops).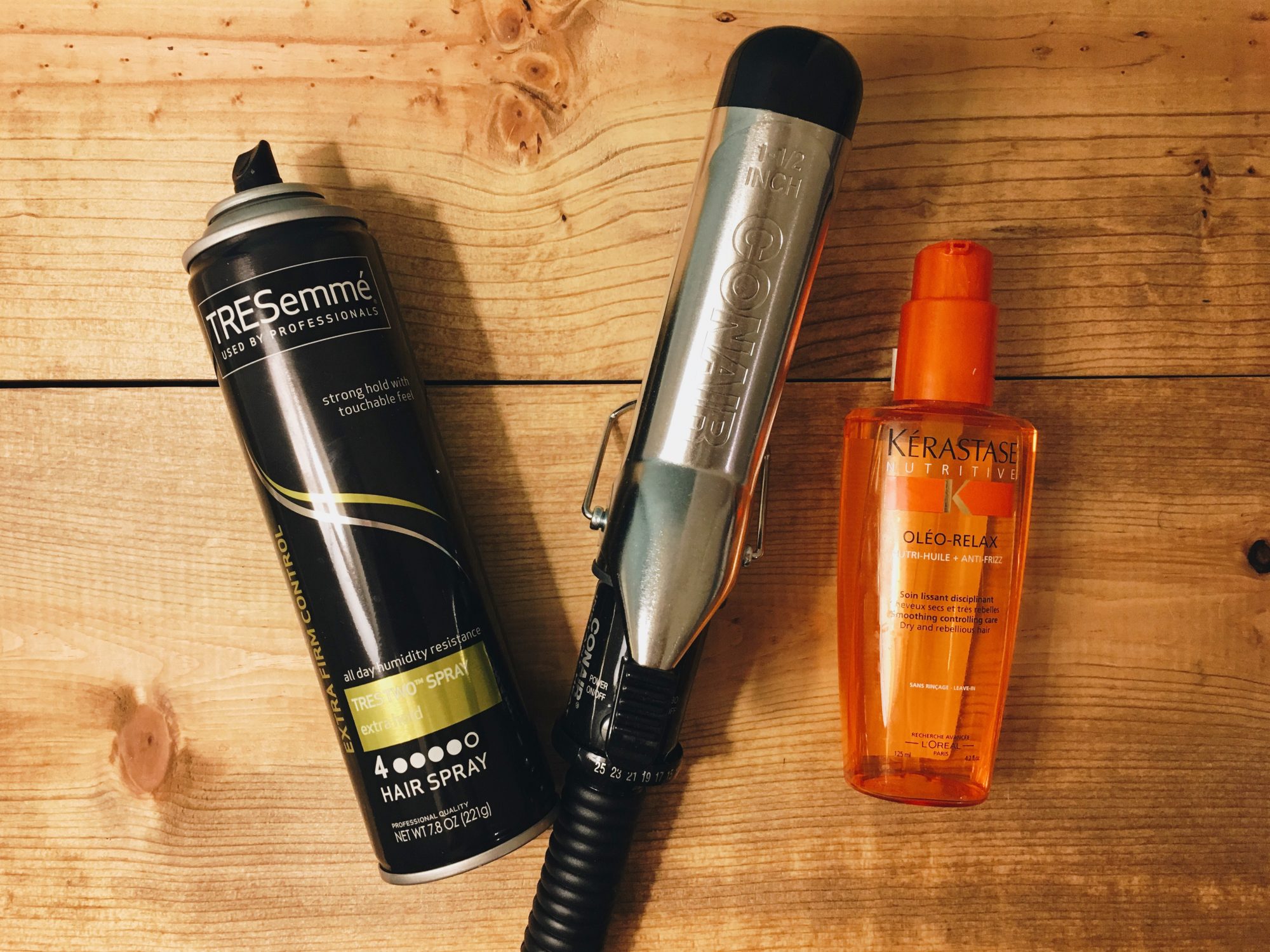 This is what I show up to work looking like:
https://www.instagram.com/p/BReU7pgjbbB
Afternoon: 6:00 p.m.
After work, I spritz on a little bit of Mario Badescu's Facial Spray with Aloe, Herbs, and Rosewater ($7) for a refresher. That magical elixir is on my Top 3 Favorite Smells list, behind redwood forests and the smell of my mom's fresh baked Kahlúa cake. (Just saying.) I also swipe on some Urban Outfitter's Petal Perfume Oil in Rose ($18) so I smell less like an 8 hour day at the office and more like a meadow, and then refresh my foundation and lip color from earlier.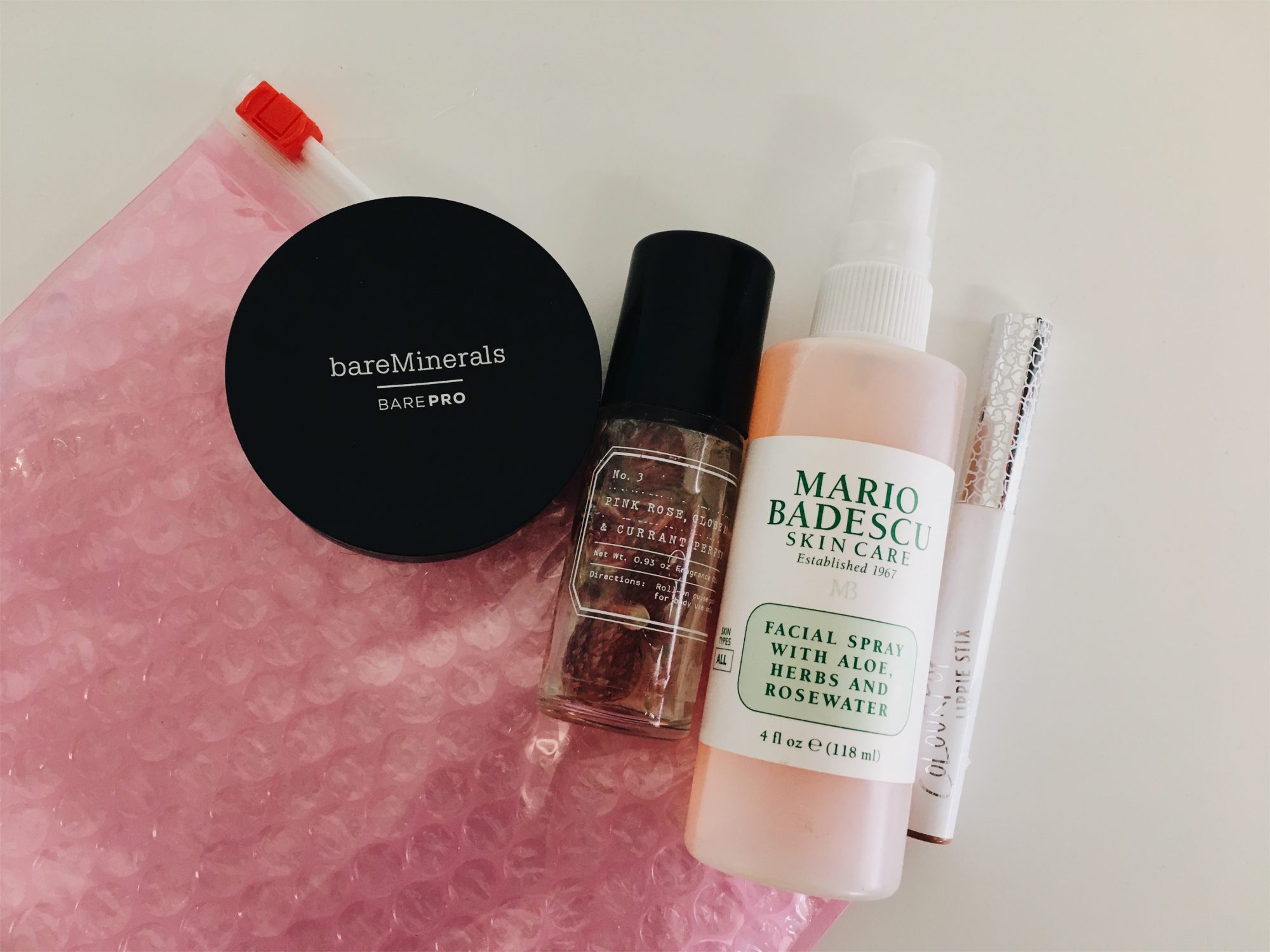 Evening: 10:30 p.m.
My nighttime routine is much like my morning one, except I use Almay's Eye Makeup Remover Pads ($4.99) to fully remove all of my eye makeup. These lil things are SUPER oily, so they get the job done, but I always use a tissue to remove any excess oil afterward.
Then, I wash my face with my Neutrogena cleanser again and apply my Josie Maran oil. If I have any looming breakouts, which I do, because my acne is mainly hormonal and whaddayaknow, it's about to be my time of the month, I spot-treat with Mario Badescu's Drying Lotion ($17) because that stuff is actually magic and I can't get over how well it works on my stubborn little pimples. Then, because this dry winter has taken a toll on my lips, I apply Lansinoh HPA Lanolin Tube AKA nipple cream ($8.39). Sounds weird, sure, but that stuff WORKS. Also, sounds weird, but I got it as a gift from one of my best friends because that's her go-to gift. And tbh, that stuff IS a gift.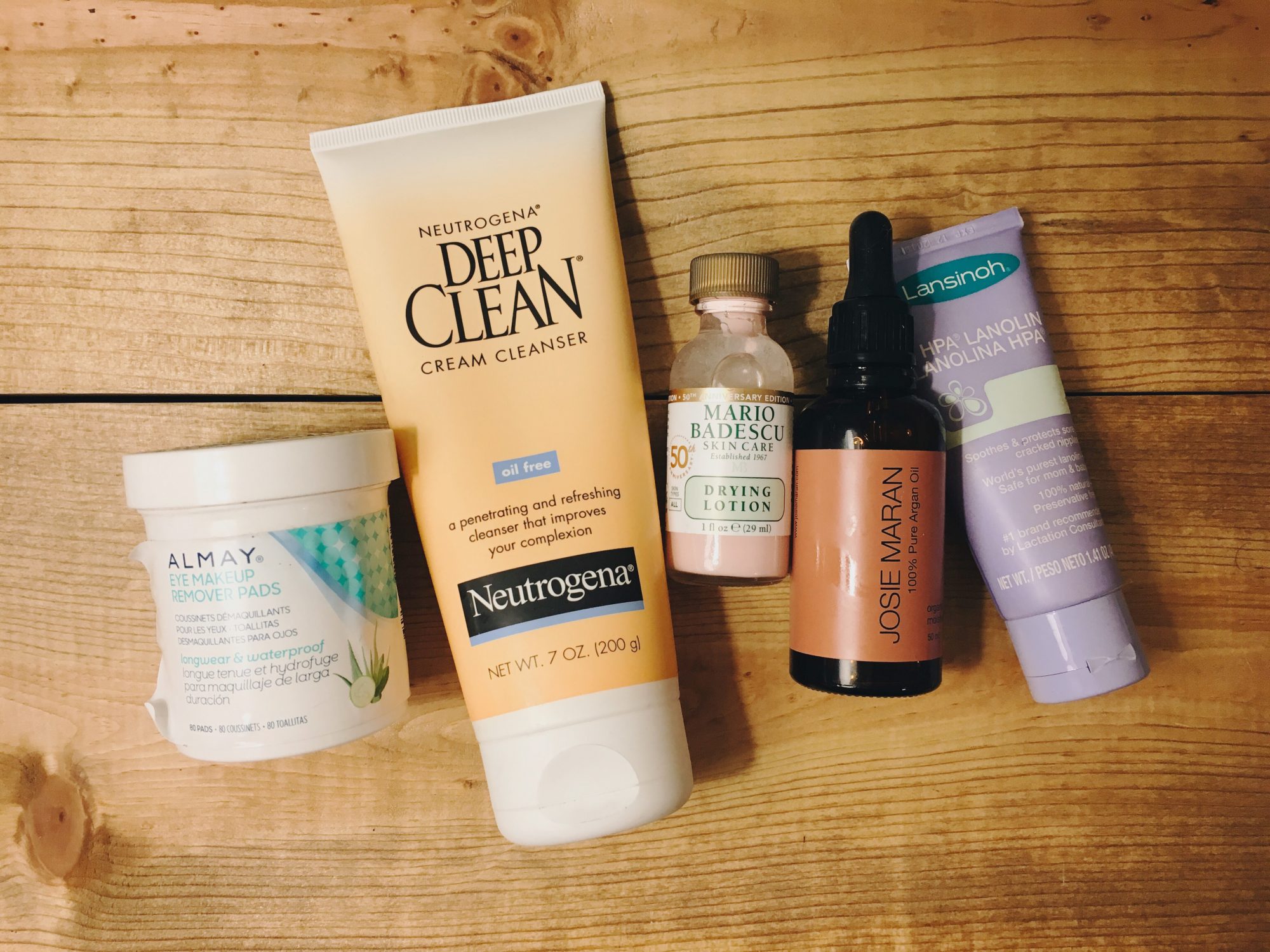 After brushing my teeth, my squeaky-clean and well-hydrated face and I are ready to curl up in bed with The Great British Bake Off for some beauty sleep and dreams of petit fours.
Indulge in beauty-themed voyeurism by reading all of our past Beauty Files here!