These are the beauty products one Atlanta-based music writer uses for clear and glowy skin
Welcome to The Beauty Files, where HelloGiggles editors and contributors share what exactly they put on their faces, and why. We want to take you on this voyeuristic journey because we believe makeup means something different for every single person — applying makeup is a conscious, intimate decision we make almost every single day, and there's usually a method behind the madness. Join us every week as we spill the beans on beauty products, and feel free to submit your own Beauty File. E-mail us at [email protected]!
Hello, there! I'm Erica, and I'm a music writer based in Atlanta, Georgia. Two things have happened pretty recently that have impacted my need for a skin care and makeup routine.  First, I left my startup gig last year and now write full-time from home. Second, I'm officially living in the land of thirty.
Those two life-changers combined have forced me to embrace a routine that doesn't always involve sweatpants,  Chinese food delivery, and last night's gig makeup still caked on the morning after. It's been a learning experience, but I've found what works for me. My regimen not only prevents my three-decade-old skin from flaring up in adolescent breakouts, but makes me feel like a subpar Instagram model.
9:00 a.m. Here comes the sun.
I am not a morning person. I know people think that, but like, I'm also not even an afternoon person. I'm more of a late-night-dive-bar-until-2 a.m. person which is probably another reason I need a skin care routine — but I digress. Here's the part where I hit snooze on "RU Mine?" played loudly through my phone or sleep through the snooze, dreaming of guitar solos before finally waking up and scrolling through Twitter. (This is also when I share my best Twitter content, completely uninhibited in a dreamlike haze.)
9:30 a.m. Why you gotta say good morning?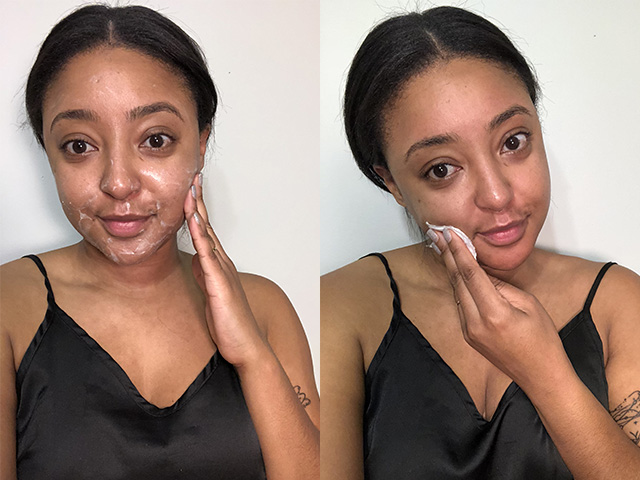 I don't know how I found Clearasil Ultra Daily Face Wash ($5.99), but sometimes I think it found me. It legit is the only thing that keeps my skin clear. Once I accidentally bought the wrong cleanser and let me tell you, the results were devastating (August 2016, never forget!). It claims to get your skin clearer in just 12 hours, and for someone with zero patience, it puts my mind (and face) at ease. Next, it's time for Thayers Alcohol Free Cucumber Hazel Toner ($10.99), it gets all the yuck (that's a scientific term) out of your pores. Then, it's time for my favorite cheap AF beauty secret, Walmart's Equate Beauty Acne Treatment System ($11.97). It comes with three steps, but I only use the repairing lotion after the rest of my morning routine.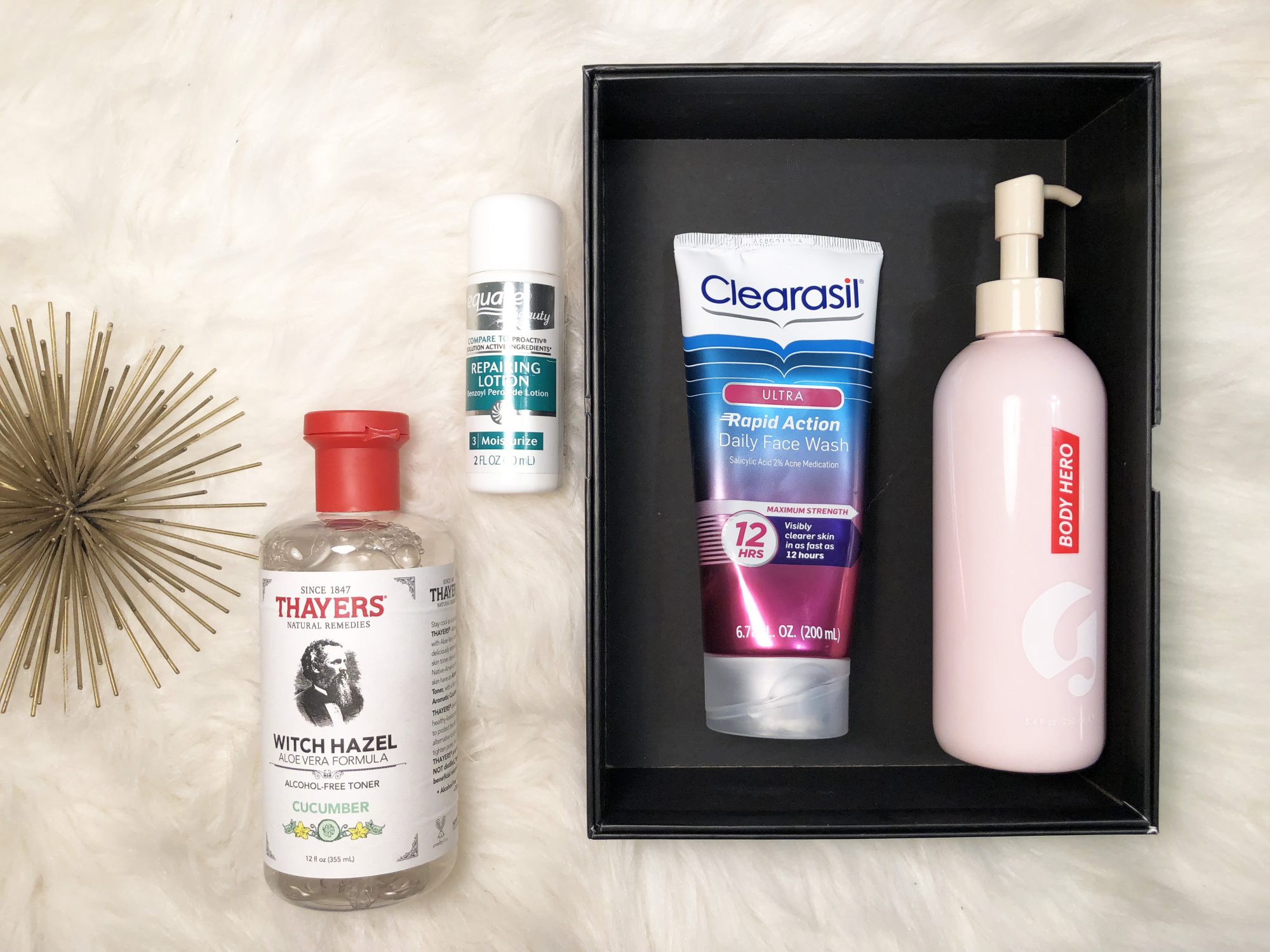 11:00 a.m. Can I kick it?
Around now, I head to the gym to see my trainer or to a kickboxing class. Working out can be detrimental to your skin care routine, so post class it's important that I get all the sweat off. I hit the shower, usually implementing an abbreviated version of my morning routine, then cleaning off with Glossier's Body Hero Daily Oil Wash ($18). I love this stuff so much, it gets you clean but doesn't strip your body of all those oils that keep your skin soft, not to mention is smells exactly like what heaven smells like, trust me.
2:00 p.m. Breaking on through to the other side.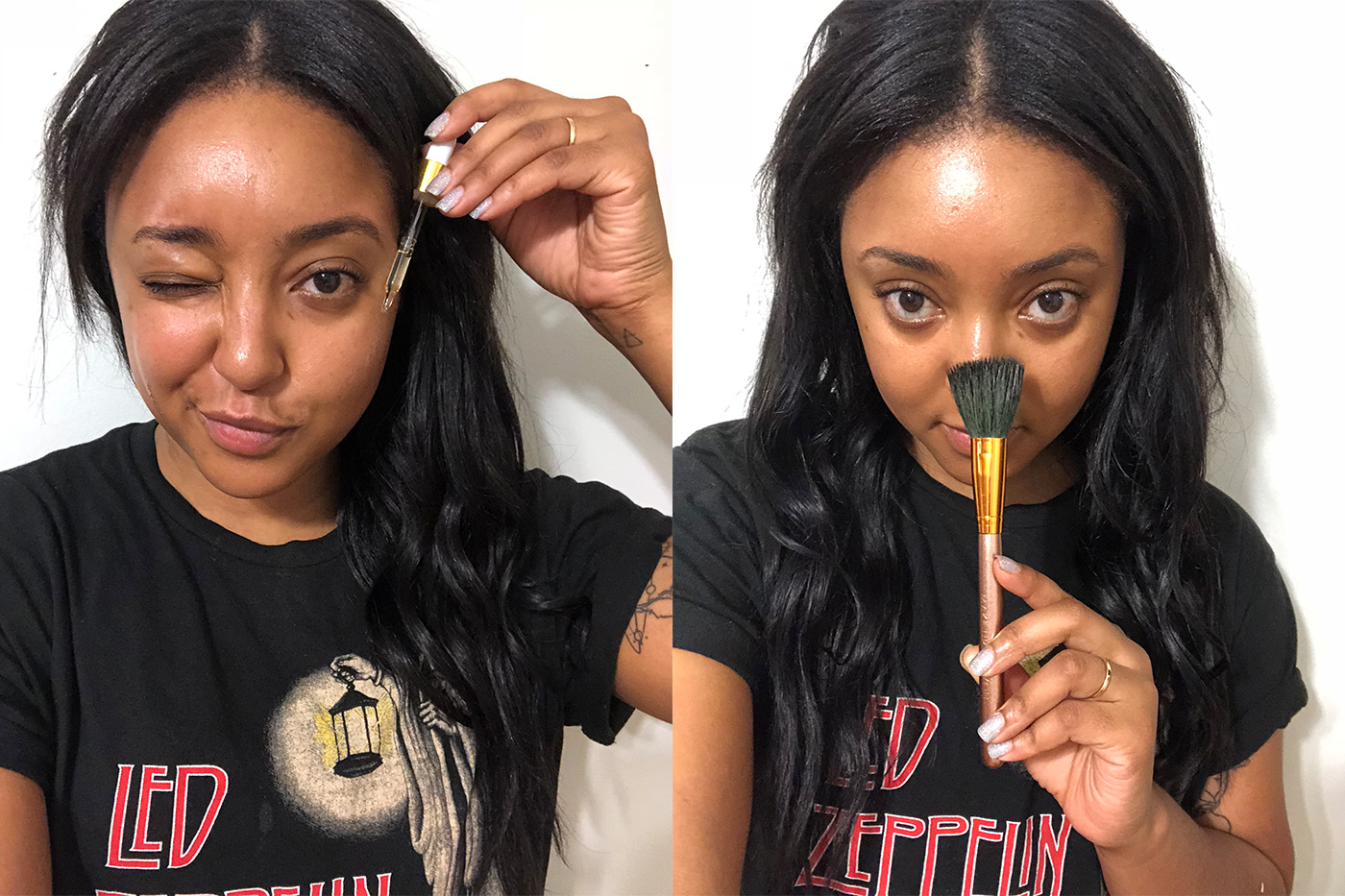 I'm someone who doesn't like to fully commit to a full face unless I have to. So, if I actually leave the comfort of my desk because I'm meeting someone to co-work, or going to a coffee shop for a change of scenery, I don't go without these dewy face essentials. First, I dabble on Rose Gold Elixir by Farsali ($35). You may think this is a strange choice for someone who using Walmart-brand face cream, but it sounds like some sort of Harry Potter potion for your face and has actual gold in it, and sometimes you just need to slather your face in gold, ok? Ok.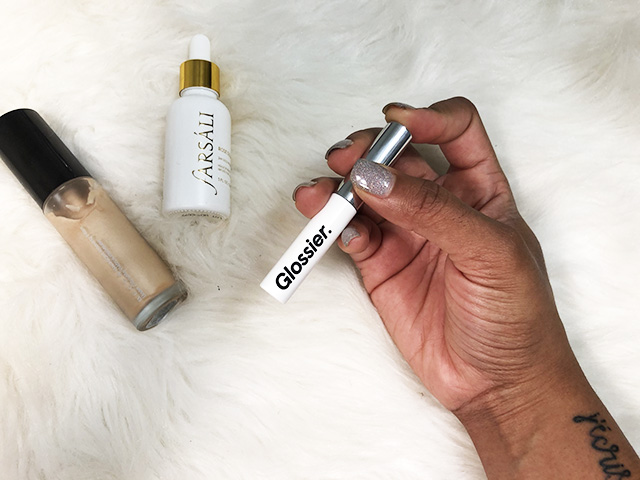 Meet your new best friend, Becca Backlight Priming Filter ($38). You know how some people are so charismatic they just radiate positive energy? Well, with this primer you will look just as bright as them, no personality needed! Next is arguably the most important part of my makeup routine.  You know how you would never leave the house without brushing your teeth? Well, I am of the firm belief that you should not walk outside without brushing your eyebrows. That's why I have very boarding on unhealthy feelings for Glossier's Boy Brow ($16).
7:00 p.m. Feeling electric tonight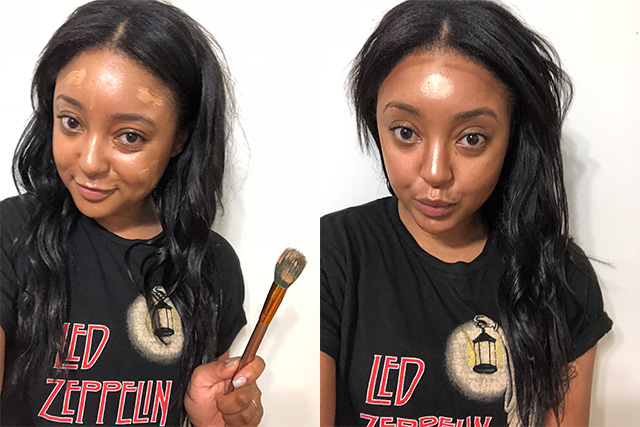 Full disclosure, I don't always get to this point. But let's say I'm going out to review a show or getting drinks with friends — then it's time to bring out the big guns. After I've got my primer on, I brush on Laura Mercier's Tinted Moisturizer ($45). It's great for light coverage if you don't like concealer, plus it's got SPF, and it last forever so the price tag is worth it. Then comes the fun part: pretending to be a YouTube makeup artist and contouring with Fenty's Match Stix Trio  ($54) by our lord and savior Rihanna. I set it with MAC Mineralize Skinfinish Natural ($34).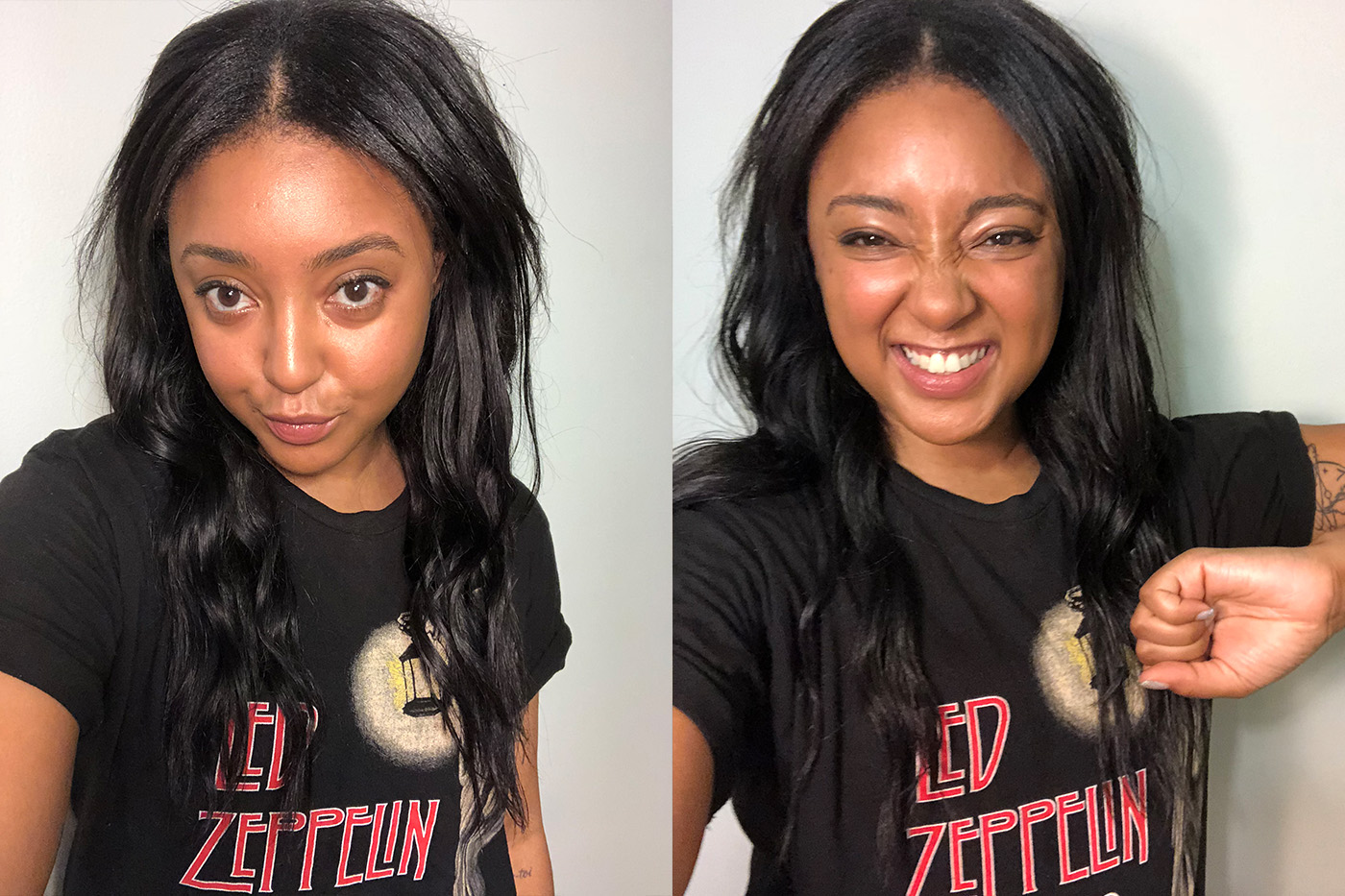 In my next life, I plan on being really good at eye makeup, like Alexa Chung cat-eye good, but for this one, I mostly just use a bunch of free samples I've received from Sephora. I lather my lashes with MAC's Upward Lash Mascara ($23). Then it's time for blush, and depending on the day I go with NARS Dolce Vita ($30) or Beauty Counter's Color Pinch Cream Blusher ($37). Finally, I purse my lips for MAC's Creme in Your Coffee ($17.50).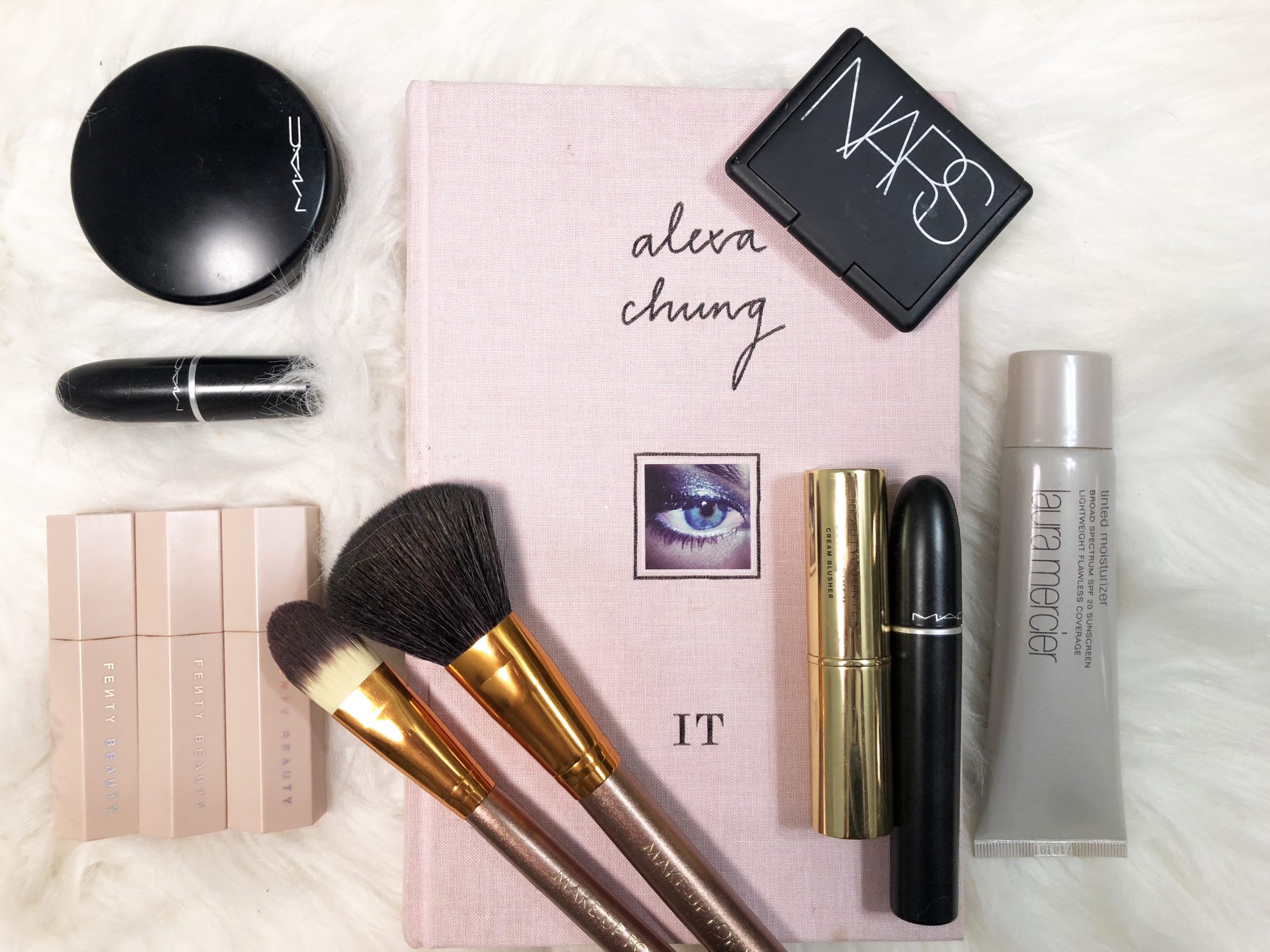 11:30 p.m Sweet dreams are made of this.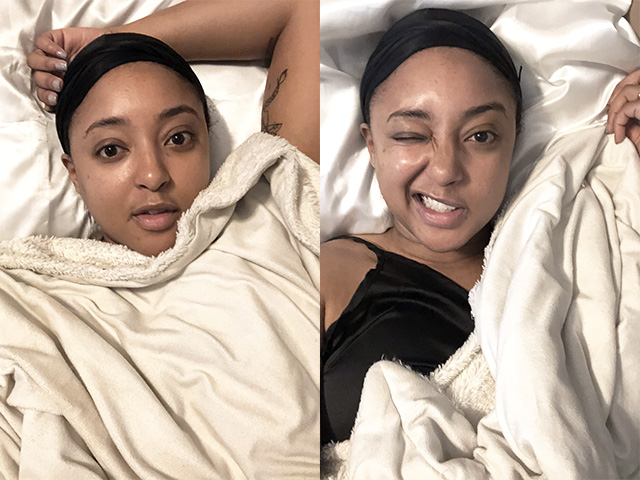 One of the magical things that happens when you turn 30 is your bedtime routine becomes automated. No amount of bourbon and Cokes can get in the way of this process. First things first is makeup remover wipes, like these from Target ($2.49). I usually get the witch hazel back out again as well. Then it's all about the satin. I cover my hair with a satin head wrap like this one from Evolve ($3.99) to lock in all those necessary natural oils and keep my hair in healthy condition between blowouts, and I sleep on a satin pillowcase, like these from Morning Glamour ($24.99), which are not only good for your hair but your skin and complexion.
Every now and then.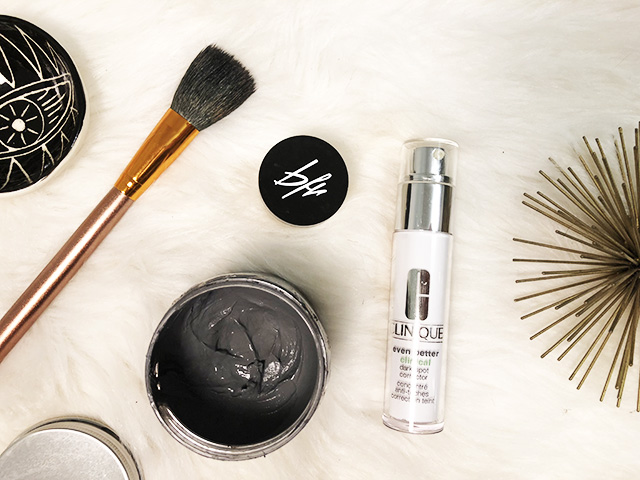 These are not my everyday staples, but without them, none of this could be possible. First I wanna give a shout-out to Lip Revival natural sugar scrub ($14) for keeping my lips on point. Next, I wanna thank Clinique's Even Better Clinical Dark Spot Corrector, ($50) for evening out my complexion regardless of breakouts. And last but not least, I wanna send mad love to my Purifying Dead Sea Mud Mask ($14.95), for getting rid of my blackheads and having my back since day one.
Indulge in beauty-themed voyeurism by reading all of our past Beauty Files, here.