The beauty products that keep this LA-based music editor sane while she works from home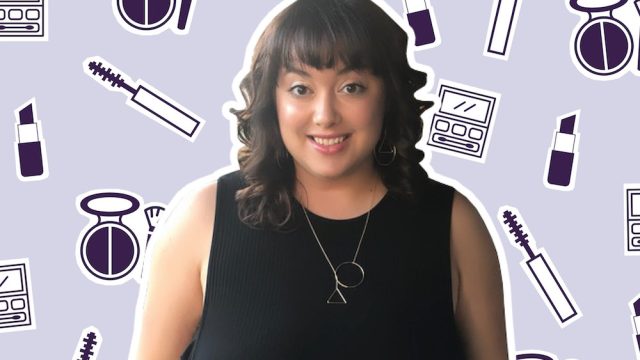 Welcome to The Beauty Files, where HelloGiggles editors and contributors share what exactly they put on their faces, and why. We want to take you on this voyeuristic journey because we believe makeup means something different for every single person — applying makeup is a conscious, intimate decision we make almost every single day, and there's usually a method behind the madness. Join us every week as we spill the beans on beauty products, and feel free to submit your own Beauty File. E-mail us at [email protected]!
Hi! My name is Caitlin White, and I'm currently the Editorial Director of music at a culture site called Uproxx, and a beauty newbie who is thrilled to be getting into my girly phase at the tender age of 30. Uproxx's audience skews male, so part of keeping myself connected to my feminine side has been embracing skin care and makeup, which I previously avoided, first as a tomboy in my teens, and then as exceedingly broke in my early twenties.
After living in New York for a solid five years — on a shoestring budget and an even tighter schedule — I moved out to LA, and now I work mostly from my own apartment. This freedom also allows me the flexibility to indulge in serums and masks while working, but conversely, the West Coast time difference means I'm up really early in the morning on most days. Luckily, there's a cream for that.
6:30 a.m. — My first alarm is more of a warning than a wake-up call.
6:30 a.m. in LA is 9:30 a.m. in New York, which means the rest of the music world is already up and buzzing with the news of the day. I usually manage to pry myself out of bed around 6:45 a.m., put my contacts in, and swipe a quick dash of Glossier Solution Exfoliating Skin Perfector ($24) across my face. I had problem skin as a teen, so the toner step always feels familiar, but what I love about Glossier's Solution is that it isn't as harsh as some of the astringents I've used in the past — and no benzoyl peroxide ruining my pillowcases and T-shirts.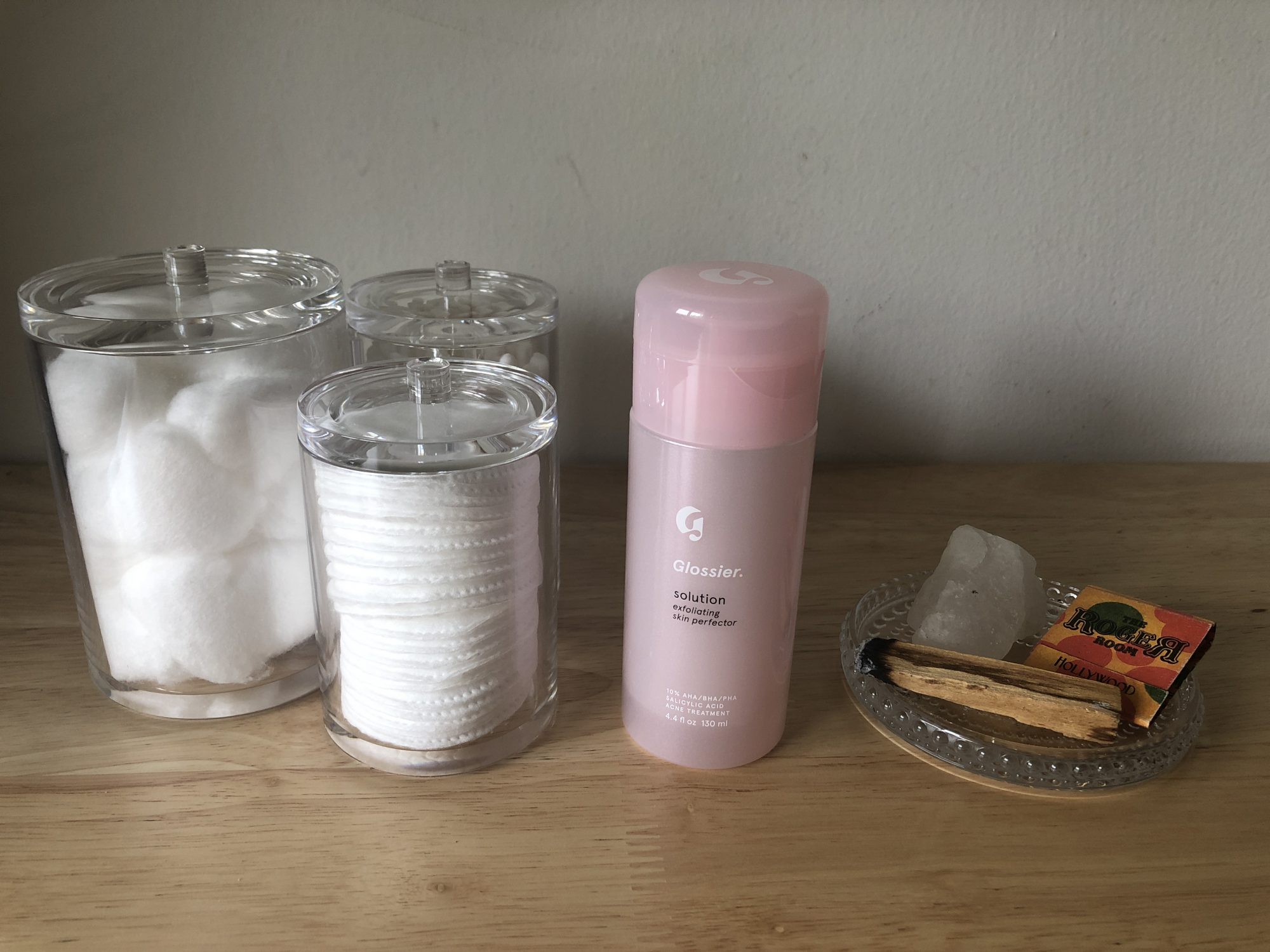 8:30 a.m. — Early morning break to indulge in more skin care.
After the initial wave of news, and making sure all our features are up and looking beautiful, I usually take a little time for myself. Taking 15 minutes to make coffee, check my personal email, and like a couple of my friend's Instagrams from the night before is a game-changer for my mood. This is also when I take the time to carefully apply my new favorite skin care products from The Ordinary. These super cheap, super chic little serum bottles are making waves, apparently both for their inner-company drama as well as their insanely low price point and fabulous results.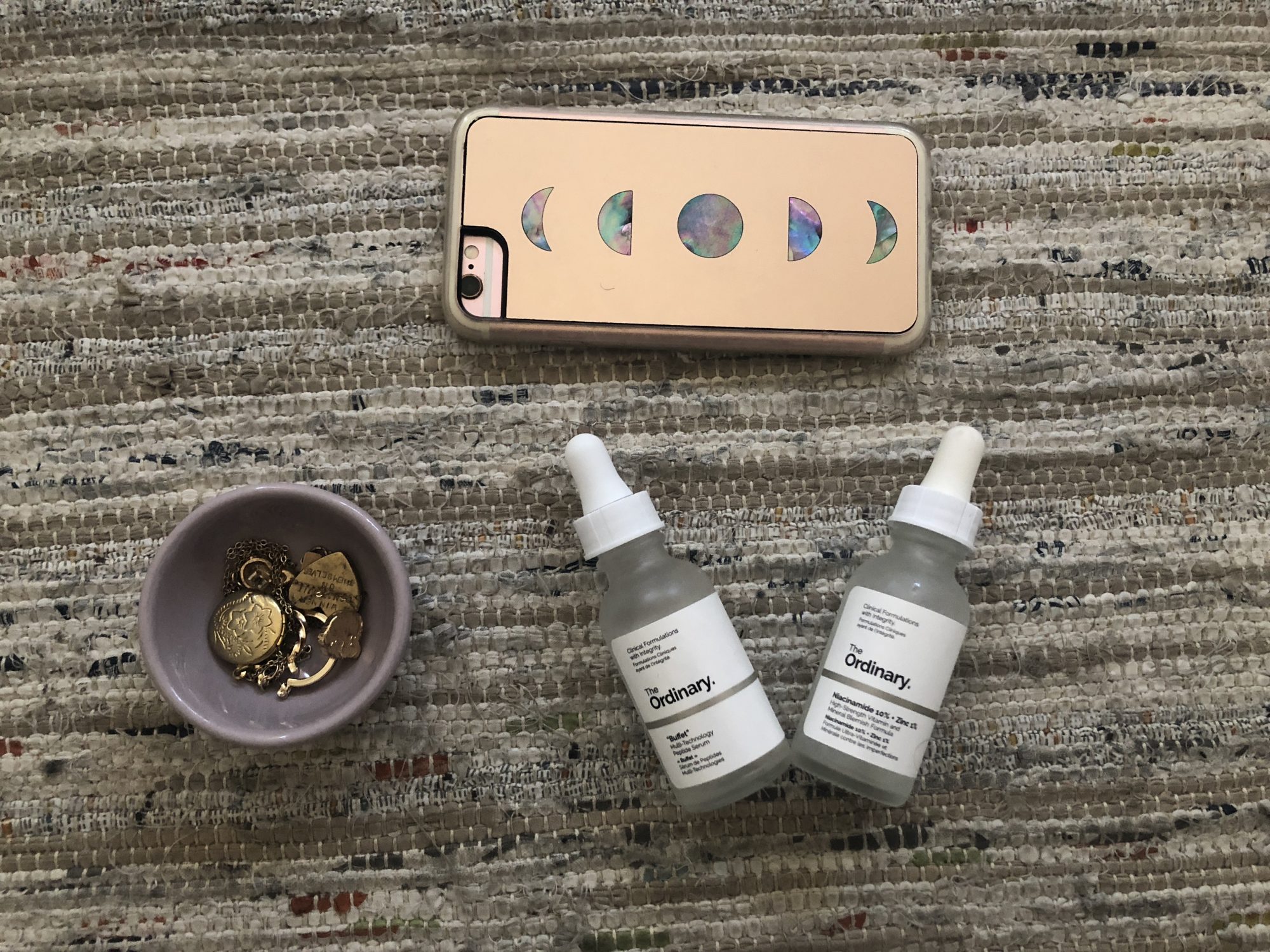 I found out about them from my friend Lauren, who saw them on Audrey Gelman's Instagram, so never say social media killed community. I use the Niacinamide 10% + Zinc 1% ($5.90) to brighten and combat blemishes, followed up by Buffet ($14.80), which offers a range of peptides and amino acids that help combat the effects of aging. The fact that I even know what a peptide is now is proof that I'm learning from my foray into beauty. Beauty is science, really.
11 a.m. — Getting ready to enter the real world, which means it's shower time.
After about four hours of news and emails, if I'm going to venture out into the world for a lunch meeting, an appointment, or swing by the Uproxx office in Culver City, I tend to do so around noon. It's lunch on our end, and 3 p.m. for the East Coast, a generally more chill time of day. In the shower, my first step is to apply the Glossier Milky Jelly Cleanser ($18). Honestly, the accessibility and aesthetic of Glossier are what helped me get into skin care and makeup. I was always a little intimidated by the other brands with their endless options and strange names. I love how down-to-earth and no-frills Glossier products are, and the fact that they actually work. I now swear by this gentle, conditioning wash.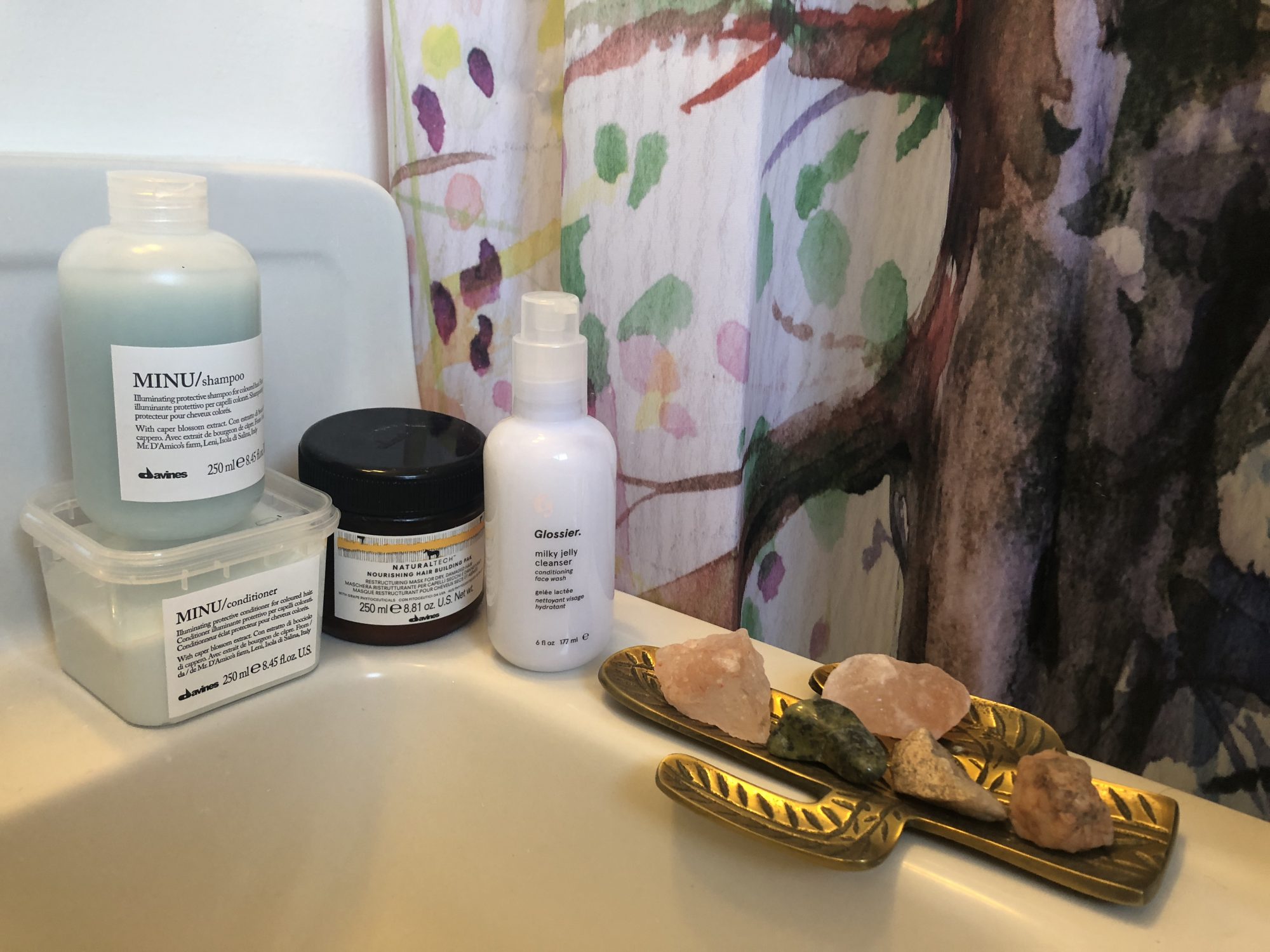 As for my hair, it's fine with a tendency toward wavy and includes a prominent cowlick in the middle of my bangs. What can I say, nature just blesses some of us. My natural color is a dark, ashy brown, but I've been playing with coloring my hair since I was about 12. Currently, I've been laying off foils or fun bright colors like hot pink for a deep, chocolatey semi-permanent brown that's low-key enough to allow my hair to rebuild strength and sheen. The pink and the blonde before that were great, but they fried my follicles.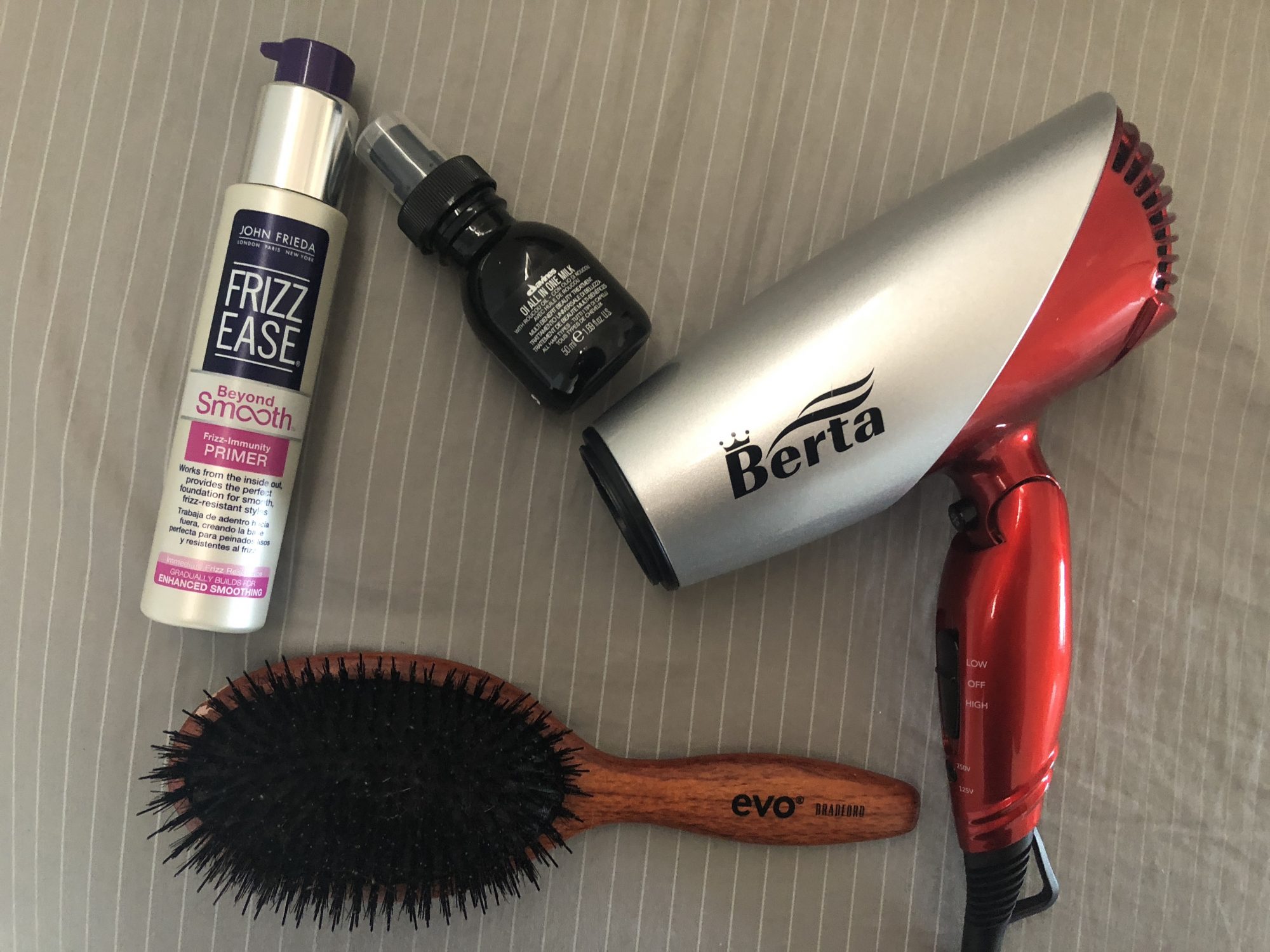 Now that I'm hooked up with Andrew at The Hive, who I swear by and will totally recommend to anyone who needs a good hairdresser, I almost exclusively use Davines products. Right now I'm using its Minu line for daily shampoo and conditioner ($26 for 250 ML shampoo, $30 for conditioner), which is geared toward colored hair. It smells like orange blossoms and helps my hair look shiny and dark, which I love. On deep-conditioning days, which for me are usually Friday or Sunday nights, I will leave in the Nourishing Hair Building Pak ($36), either for 10-20 minutes in the shower or I'll sleep with it the whole night. This stuff seems to have single-handedly cured me of split ends and using it once a week means it lasts for several months at a time.
11:30 a.m. — Hair and makeup. Get ready for the rundown.
Once I'm out of the shower, I run a dab of John Frieda Frizz Ease Beyond Smooth Frizz Immunity Primer ($12.49) through my bangs and quickly blow-dry them. Then, unless it's a special occasion, I rub a couple pumps of OI All In One Milk ($17 for 50 ML) through my damp hair and let it air dry.
https://www.instagram.com/p/Bfrex9DHvXU
Since I did my serums in the early morning, my skin care routine before makeup is simple: I've been loyal to the Clean & Clear Dual Action Moisturizer ($4.99) since college, and while a lot of other things have changed, this hasn't. It hydrates my skin without leaving it greasy or sticky, going on easily underneath my makeup primer and fighting breakouts. If it's a special occasion, or I feel extra puffy, I will dab some of my coveted, hallowed La Mer Moisturizing Cream ($170 for 1 oz) on my under eyes, but given the price point, you can see why I'm stingy with that shit.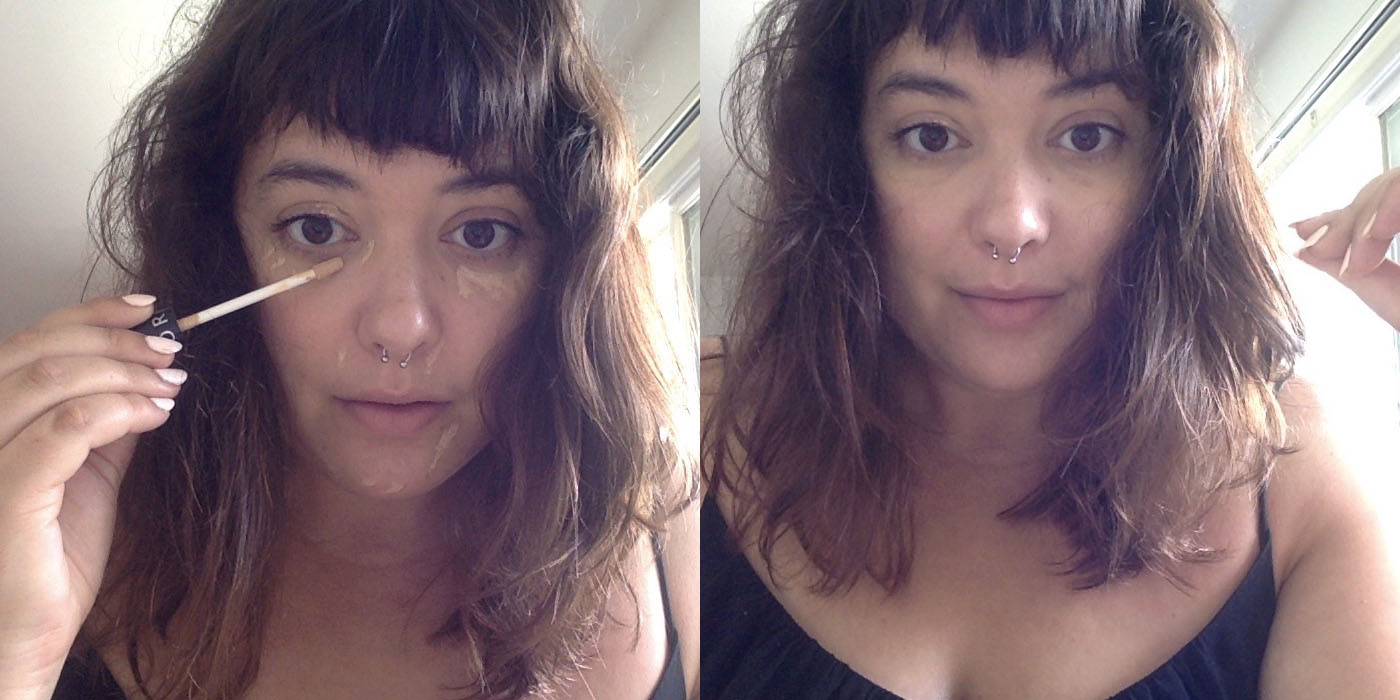 Then comes makeup. Lately, I've been using Glossier's Priming Moisturizer ($22), which I picked up along with its face wash as part of its Phase 1 Kit ($40), which also includes a lip balm. But my tried and true primer is Tarte's Poreless Mattifying Primer ($32), which I've been using since my former college best friend taught me what a primer was (she was doing everyone a favor, we went to school by the beach and my makeup would wear off in minutes).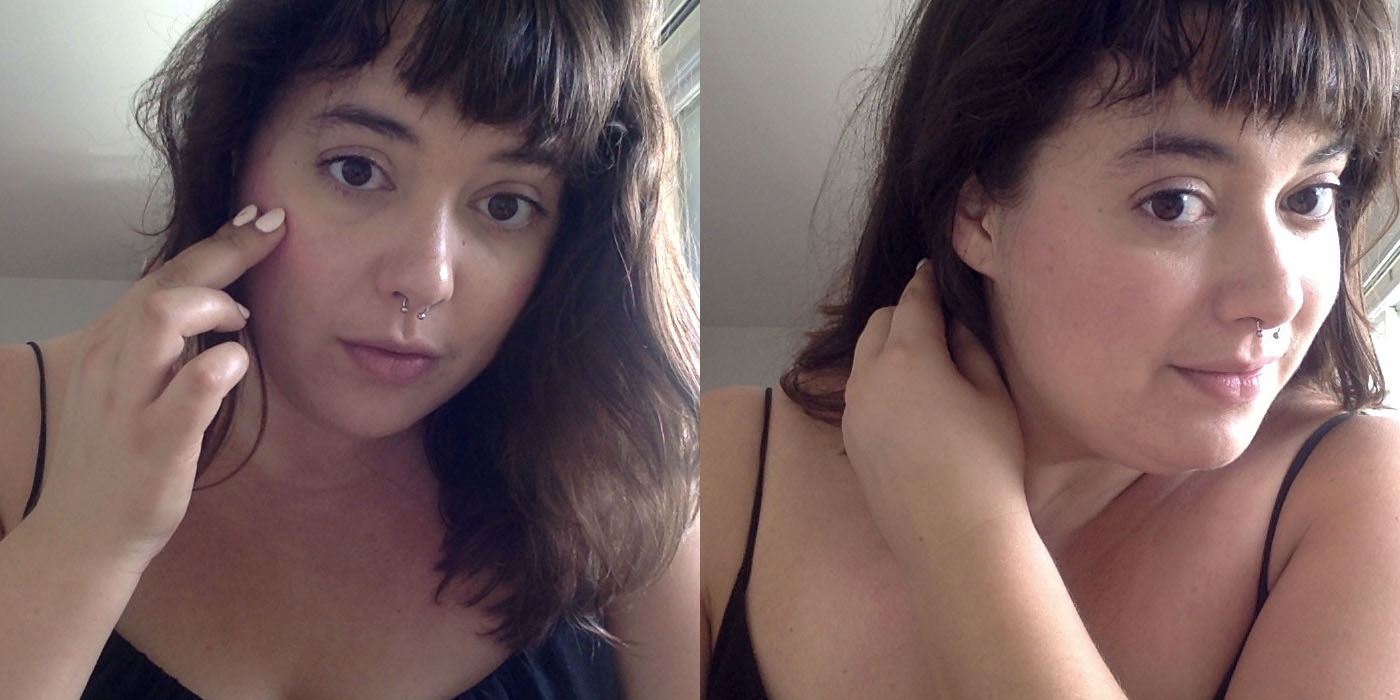 Next, I use a mix of Sephora's Bright Future Gel Serum Concealer ($14, but my shade in Madeleine is currently $7) and the Bare Minerals Complete Coverage Serum Concealer in Medium ($21) to deal with any blemishes. I follow that up with a swipe of Glossier's Cloud Paint ($18), a creme blush I have come to love dearly. I'm really feeling the shade Puff, a light, baby pink that feels summery. If I'm in a hurry and don't have time to do highlighter, I'll use Sephora's Blush & Luminizer On the Go Stick ($6), which is more sparkly than the Cloud Paint and even easier to apply. When I do use highlighter, it's Becca's Shimmering Skin Perfector Pressed Highlighter in Rose Gold ($38) swiped across the brow bone and high on my cheekbone.
I top this off with a nice dusting of Glossier's Wowder ($22), a finishing powder that helps cut through my shine, and a couple of coats of Too Faced's Better Than Sex Mascara ($23), which my girl Tia recommended to me last fall, and finally got me off the CoverGirl Volume Mascara ($6.29) tip. Though, I swear that CoverGirl's mascara works just as well as anything Dior or other high-end brands put out. Again, if I'm feeling extra I'll swipe some the Sephora Collection Eyeshadow ($5) in the beige/gold color Walking In The Sand all over my lid. A final touch of MAC Cremesheen Lipstick in Crosswires ($18.50) or MAC Lustre Lipstick in Lustering ($18.50) and I can finally head out the door. I swear to you, this process is much quicker in person.
https://www.instagram.com/p/BhsWX6Wl5H9
3 p.m. Time for touch-ups.
After all that, touch-ups are, of course, necessary. I like to do a quick sweep of Wowder back over my nose and cheekbones. Also, my go-to lip product, if I'm looking for a refresher, is Rosebud Perfume Co.'s Minted Rose Balm ($6). It freshens your breath, gives a touch of shine, and soothes your lips all-in-one. Plus, it comes in an adorable little tin.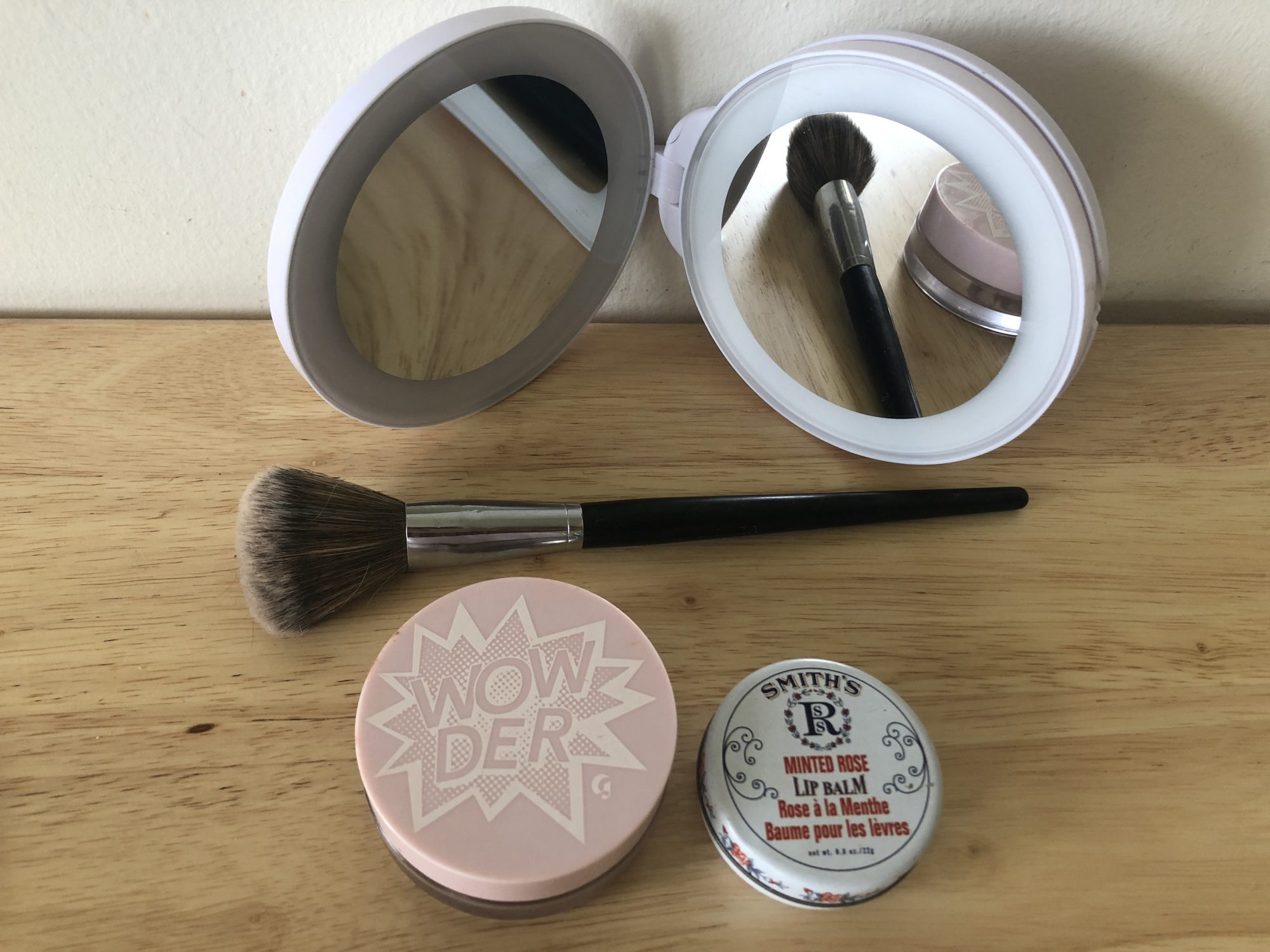 6 p.m. — Taking it all down a notch.
Once I get the chance to be back home, I usually wash my makeup off. Generally, in the late afternoon I go to hot yoga, so wiping my face before heading to the hot studio is essential. I use Neutrogena's Oil-Free Cleansing Wipes ($6.69) because they're formulated for acne-prone skin, which I definitely have. They are lifesavers, and I love the freshness of the pink grapefruit scent, because it isn't at all harsh.
My favorite thing to do upon returning home is Dr. G.'s Brightening Peeling Gel ($14 on Amazon), which is a skin care product I saw Nicole Cliffe (of The Toast fame) recommending on Twitter, and I bought it without any further qualifications. It's this amazing, quick peel that claims to stick to dead skin cells and literally roll them off your face when you rub/peel it off. I don't know if that's what's happening or not, but it does make my face feel softer than it ever has. And peeling it off is kind of fun in a tactile way.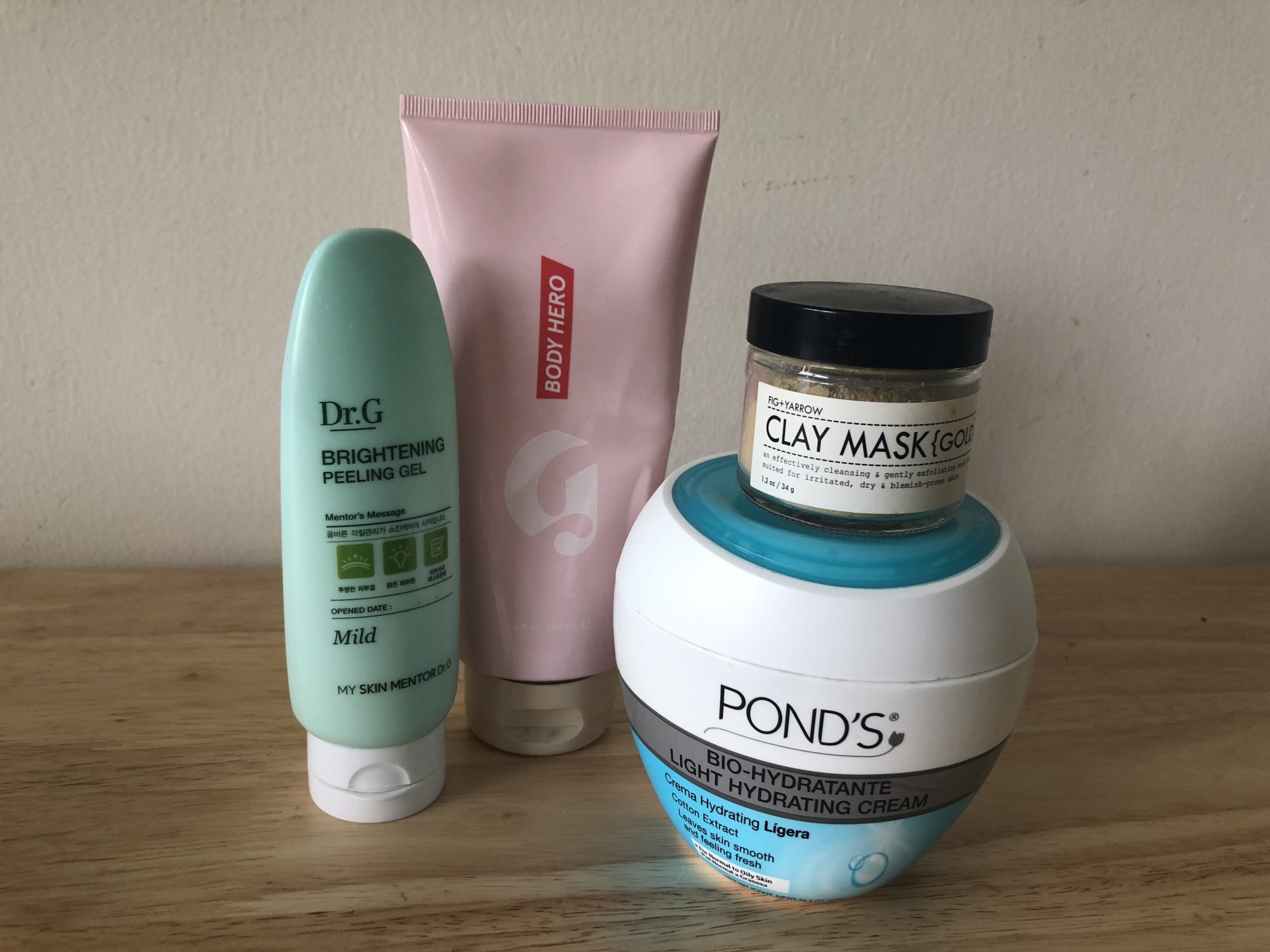 9 p.m. — Masks, peels, and body lotions oh my!
On days I haven't done a Dr. G peel, I'll end the night with this Fig + Yarrow Gold Clay Mask ($24) that I got at a little Silverlake beauty boutique on Sunset called Le Pink & Co. Apothecary. I bought it because I'd just returned to LA after confessing my love to a boy in New York who didn't feel the same way, and I wanted something to make me feel special. It's a powder mask that I mix with anything from plain yogurt to my moisturizer, to honey, aloe, or water! You can control the consistency and potency that way, which is a cool feature. Designed for irritated, dry or blemish-prone skin, it makes my face feel tight and fresh.
If I'm at home instead of at the yoga studio, I swear by Pond's Hydration Cream, Bio Hydratante ($12.79) to take my makeup off. I put a full face of it on and use a washcloth to just wipe everything clean. This stuff is great because you can slather it on your face, neck, and décolletage for some extra hydration.
Since my skin is dry all over, I deal with the curse of stretch marks. Right before bed, I've started using Glossier's Body Hero Daily Perfecting Cream ($22) all over to help treat and prevent these in the future. It dries fairly quickly so I'm not left feeling slimy in bed, like some lotions make me feel. Then, it's screens down, a bit of reading, lights out as early as possible to make 6:30 a.m. feel possible.
Indulge in beauty-themed voyeurism by reading all of our past Beauty Files, here.