What one HG contributor learned from her mom's ultra-glam beauty routine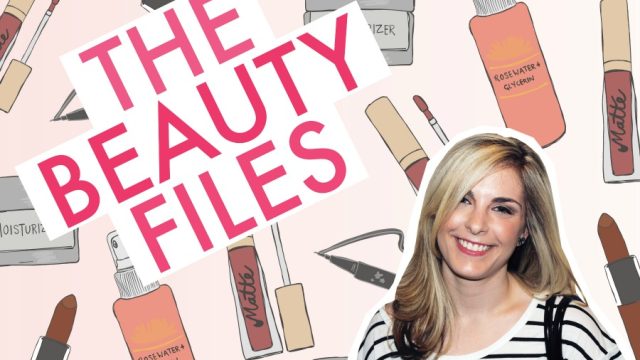 I absolutely love all things beauty, and I have my mom to thank for that. She's a rare breed of woman who goes everywhere (and I do mean everywhere: to the grocery store, to the post office, to the mailbox) decked out in a full face of makeup with her hair perfectly coiffed. She's even rocking sky-high heels. In fact, people who know her from the gym (the only place she goes sans makeup) often don't recognize her when they see her out in her normal glam look. It's hilarious!
That said, I never sport a pair of heels unless it's a fancy occasion. I prefer jeans, a sweater, and ballet flats — so this low-key vibe extends to my overall beauty routine. But her love of makeup naturally led me to love makeup, and you'll never catch me with a chip in my nails or without a swipe of mascara on my lashes.
How do I have fun with makeup while keeping things low-maintenance? Let me tell you!
Me, usually: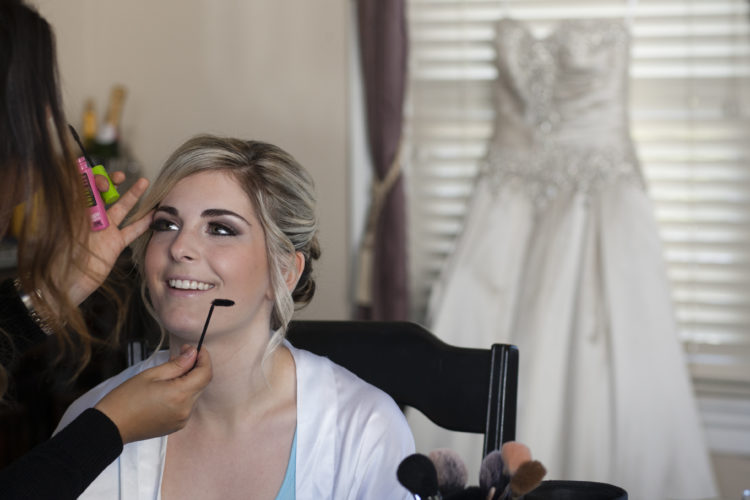 Just kidding! That was from my wedding day, and I look far less glam every other day of my life. Here's me IRL, with my "no-makeup" makeup look.
This is how the magic happens:
Morning: 11 a.m.
Why does my beauty routine start at 11 a.m., you may ask? Well, I'm a freelance writer with a fondness for 9:30 a.m. gym classes, so I usually just wash my face before I head out the door to get my sweat on. I'm pretty serious about fitness, and try and hit the gym five to six times per week. The downside to this is that my skin breaks out constantly, despite my best efforts to clean it immediately after my workout. Adult acne is terrible, and it's the kind of thing that only started hitting me once I got past 25 (thanks, adulthood!). I haven't found the perfect combination of products to keep acne at bay, and it's frustrating. That said, I'm a pretty loyal Neutrogena girl. I'm also obsessed with my Clarisonic Mia Cleansing Brush ($129), which was a Christmas gift from…who else? My fabulous momma.
After I shower and wash my face with Neutrogena Oil-Free Acne Wash (a score at around $6), I moisturize. I use the Clarisonic 2-3 times a week because my skin, though acne-prone, is annoyingly sensitive. What a lucky combo, right? I take moisturizing very seriously, and I use Garnier Clearly Brighter Brightening & Smoothing Daily Moisturizer SPF 15 ($15) on my face. I am obsessed with luxe body butters, and my all-time favorite is Bliss Body Butter, Blood Orange + White Pepper, which is on the pricey side at $29, but it's worth it for how soft my skin is. It smells amazing, too.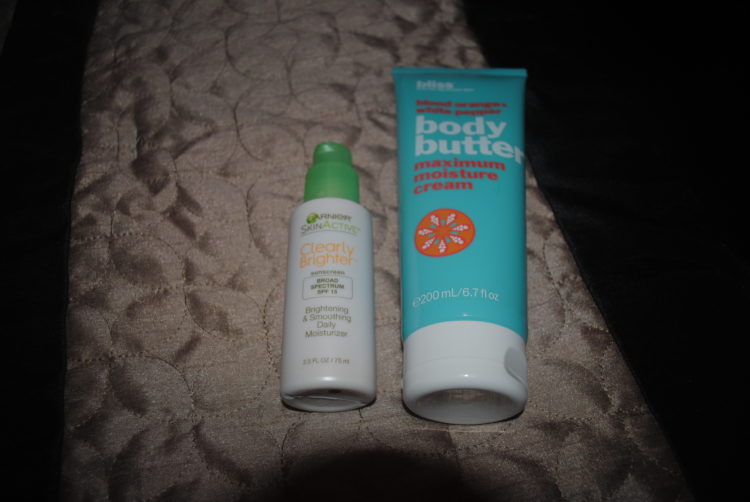 Though my makeup look is pretty low-maintenance (it takes me around 10 minutes, tops!), my hair is another story. I was blessed/cursed with thick, frizzy, wavy hair that requires a ton of maintenance, and I have been highlighting it regularly since my early teens. However, thanks to a lot of TLC, I've figured out a way to keep my locks healthy and strong, despite all the damage from bleach over the years.
I have my hair highlighted every seven weeks or so, but in-between care is crucial to keep it healthy. I only wash my hair twice a week, which my husband thinks is absolutely disgusting because of how much I work out (and I'm a very heavy sweater also!). My life-saver? Living Proof Perfect Hair Day Dry Shampoo ($22). I cannot sing the praises of this product enough. I bought it originally hoping to look like Jennifer Aniston, who was a longtime investor and spokesperson for the brand, and now I can't live without it. I apply it post-workout shower to absorb the oils in my hair, and use it every day I don't wash. I'll never have hair as good as Jennifer's, but at least I can kind of channel her signature locks in my daily routine.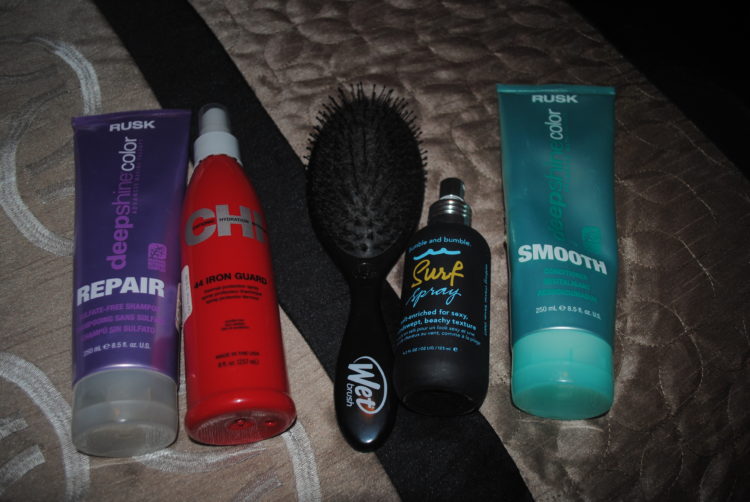 When I do wash, I am a fan of Rusk shampoo  (about $22) and conditioner ($14), but I switch it up and usually go for what looks good at the drugstore. On washing days, I try and let my hair air-dry as long as possible (at least an hour) to minimize damage from styling tools. Then I blow dry and flat iron, always using a heat protective spray to protect my tresses (I like CHI 44 Iron Guard Thermal Protecting Spray, which costs less than $15). If I'm feeling fancy and have the time, I will use my Beachwaver Pro curling iron ($199), which is SO easy to use.
I'll add a salt spray if I'm rocking my beach-y waves (I love Bumble & Bumble Surf Spray, which costs $27), a hit of hairspray to lock my style in, and I'm good to go. On days I feel lazy (read: often!), I will quickly flatiron my hair or throw it in a top knot. God bless the top knot, everyone. I truly envy those ladies (and dudes) who can roll out of bed with #flawless hair, but I am not one of them. These are the cards I was dealt.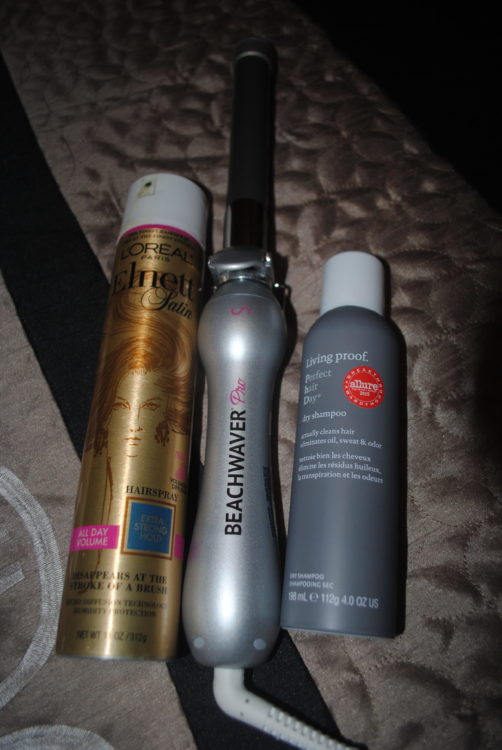 Mid-day: 12 -2 p.m.
Since I work from home, I often won't wear makeup unless I have to head out of the house that day, and I'll wait until I have to leave to put it on. But I won't go out without any makeup on, so thankfully, my routine is pretty quick. I start with a BB cream, which provides enough coverage but gives me an "even" look. My long-time favorite BB cream, the Garnier Miracle Skin Perfector BB Daily Anti-Acne – Light/Medium ($13), has been discontinued and I'm on my last bottle, so if any of you fellow acne-prone ladies have a recommendation for a good one, you know where to find me.
Then I apply concealer to any dark spots that need a little love. I have used Tarte's Maracuja Creaseless Concealer ($26) for a long time, and I find it does a pretty good job and lasts long enough. Then I go for a bronzer, since I'm very pale. I use the Phyto-Touche Illusion d'Été by Sisley-Paris, which retails for $115. I know, that sounds insane (I got it for free!), but I firmly believe in spending more for certain products that you love. I always use a mix of drugstore and high-end luxury products. It works for me.
I need a little blush to give my skin some color, so I use Phyto-Blush Eclat ($88), also by Sisley-Paris. For a super-cheap dupe, I like Milani Baked Powder Blush in Luminoso. It's only $8, and is pretty universally flattering on most skin tones. Win.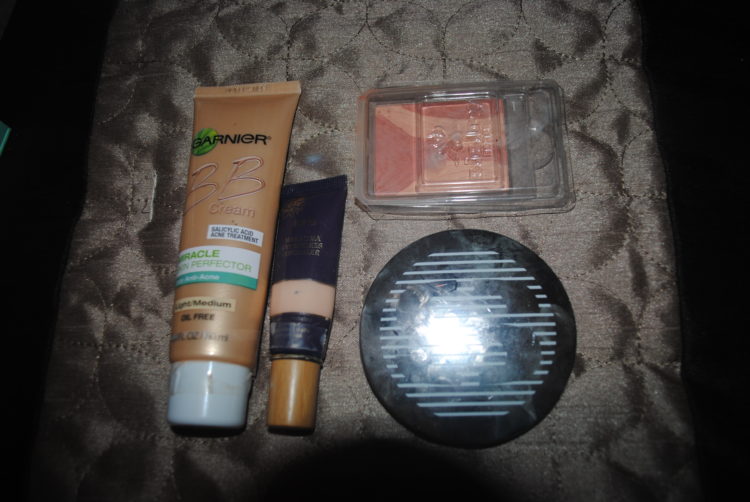 Now it's time for my eye makeup. I prime my lids with some concealer, and also carefully apply some underneath my eyes to get rid of under eye circles. I'm a big fan of eyeshadow palettes, and my latest favorite is Almay Intense I-Color Everyday Neutrals All Day Wear Powder Eye Shadow. At less than $5, it's a *major* steal. My eyes are green, and the purples/greys in this palette make my eyes pop. Plus, it's super easy to get a neutral, daytime smoky eye. I apply the "lid" shade to my lids (I'll put it as a base over my whole eye for a more dramatic look), the smoky grey "crease" color in my crease, via a "windshield wiper" approach, and the shimmery silver color by my brow bone to highlight the look.
My mom also gifted me this Too Faced Cosmetics Joy To the Girls Gift Set (similar options retail around $50), which features an array of rich, shimmery shadows. I find myself reaching most often for "Cheers!" which is a shimmery champagne shade for my lids and "Mulberry," a deep plum, for my crease. The great thing about powder shadows is how versatile they are. I can add more for a smokier look, or keep it relatively light for a neutral, daytime vibe.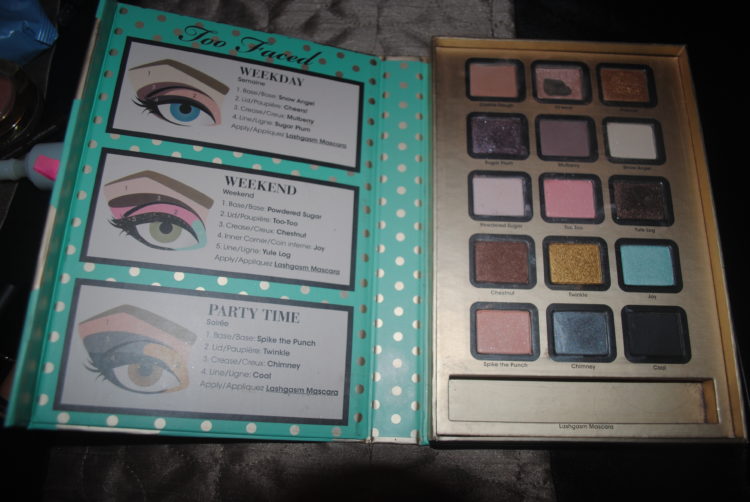 I'm notoriously terrible with eyeliner but feel like my look isn't complete without it, so I searched forever to find a goof-proof liner for my top lids. I seriously love Sephora's Retractable Waterproof Eyeliner, and at $12 you can't beat it. It's easy to apply, lasts forever, and comes in 23 shades, so I mix and match. Black is too harsh for my skin tone, but I'm a fan of brown, charcoal, and plum eyeliner. I buy, like, three at a time every time I'm near a Sephora store so I will never run out.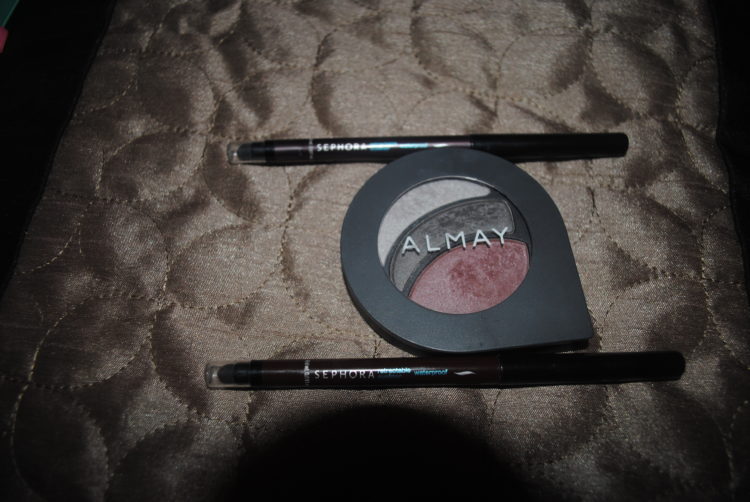 I love lashes that pop, so I apply about a thousand coats of mascara. I'm a die-hard, tried and true Maybelline fan, and still get excited when I open up that signature new pink and green tube. I always like the blackest black shade that exists, and I would take Maybelline mascara (less than $5) with me if I had to live on a deserted island. It's everything.
I was blessed with some pretty bushy brows, and am so glad that full brows are finally back in, so I leave those alone. I've tried brow gels and powders and feel like they look too "done" for me, so I let 'em live in their wild glory, getting them waxed every few months to keep their shape intact.
The last touch for me is my lips. I'm pretty self-conscious about how thin my lips are, so I only got into lipstick a few years ago. I wish I could pull off a red lip (and I do try!), but I feel clownish most of the time. Though I do love NARS Velvet Matte Lip Pencil in Cruella ($27), which is a "scarlet red" and makes me feel like a badass.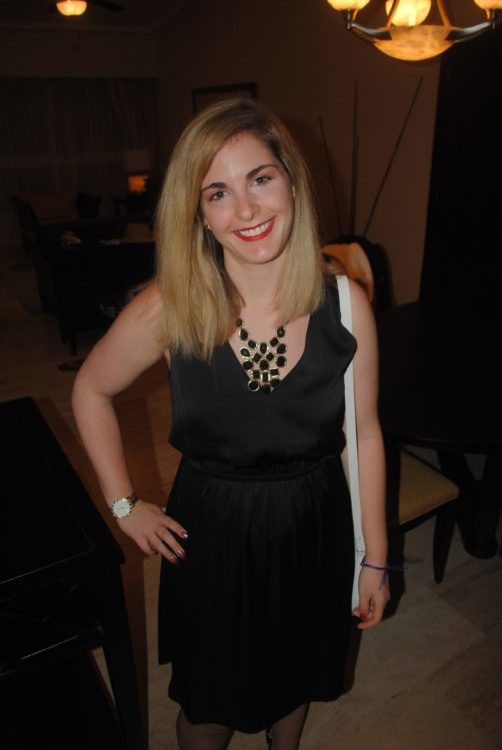 I normally stick to a neutral lipstick and lip gloss that doesn't even have a name! Yep, I'm still obsessed with the lip products gifted to me by my wedding day makeup artist, and I wear them every single day. They're ultra flattering and I will be devastated when they eventually run out…but I've been married almost three years and they're still going strong. (Shout out to Jeanette Haviland at Glo Beauty Bar!). After that, I'll be on the hunt for a lipstick that gives me that just-bitten look, lasts forever, and doesn't make me feel like a clown.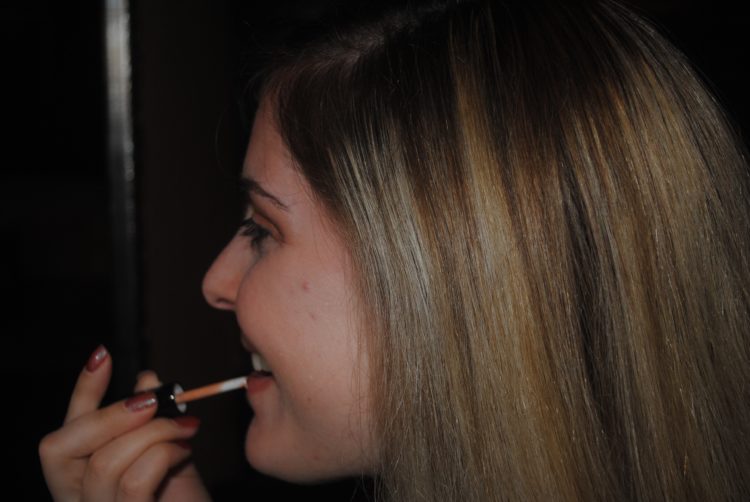 Before bed: 10 p.m.
I'm not much of a night cream person (just yet, anyway) but one thing I am religious about is removing my makeup before bed. But since I'm usually exhausted and lazy, I rely on makeup wipes (my favorites are Simple Cleansing Facial Wipes) which are quick, easy, and gentle on my skin. Then I hit the pillow and doze off into dreamland. Good night, world!
Save