From neon bright lipsticks to "My Little Pony" nail polish, here are the week's coolest beauty launches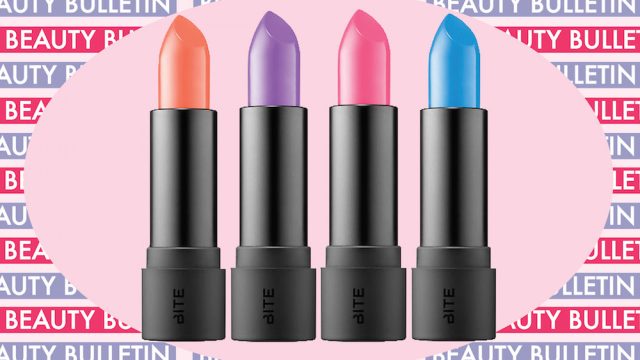 Overwhelmed by all the new beauty products that are out? Never fear, fellow makeup maven. HelloGiggles' Beauty Editor, Marie Lodi, and Associate Beauty Editor, Alyssa Morin, will be rounding up all of the best launches from the week in one place — in our Beauty Bulletin! Check back at the end of each week to find out which releases we need to get our perfectly painted claws on.
I'm a huge fan of Laura Mercier's Candleglow Foundation so my ears perked up when I heard the brand was coming out with a longwear formula. Their new Flawless Fusion Ultra-Longwear Foundation is weightless but will give you a smooth, flawless coverage. It's also made to repel sweat and humidity which is SO perfect right now for summertime. I swear, once I leave the safe haven of our AC-controlled office, my makeup starts melting off my face. SAVE ME LAURA! — Marie
Aside from foundation, Laura Mercier expanded their beloved stick eyeshadow and added MATTE SHADES! You can choose from six hues, including Cobblestone, Blossom, Fog, Au Naturel, Vanilla Kiss, and Caramel. Say hello to your new signature smoky eye. — Marie
ColourPop dropped some major releases this week (like NAIL POLISH!), but the one I'm most excited about is their Crushed Crystal Collection, which includes three new products — a priming spray, liquid highlighter, and a lip balm — all themed around crystals. Spencer Pratt, did you advise on this collection? I hope so. I, like Spencer, have worked with crystals for a long time so this collection was especially #close2heart. Unfortunately, a lot of the products are sold out, but knowing ColourPop, they will restock soon (hopefully). Choose from four different stones like Amethyst, Rose Quartz, Aquamarine, and Aventurine. — Marie
Glitter freaqs, please brace yourselves. Dazzleglass is back! There are 16 new shades that "reflect and refract light to mimic the brilliance of quartz and opal crystal," as described by MAC. If you're more of a lip gloss stan than a matte lip lover, you're going to want to pick up one of these on your next shopping trip. My faves are Comet Blue, Date Night, and Love Alert. — Marie
Our pals at China Glaze has given us the most colorful, FUN gift ever — a My Little Pony collection! The shades range from bold brights to magical glitters, and one luxe gold shade (adorably named Best Ponies Forever) that is seriously the kind of shade I've been looking for my whole life. My other favorites are the perfectly peach Sweet as Pinkie Pie, the  pistachio mint-hued Cutie Mark the Spot, and the space-age Let Your Twilight Sparkle. — Marie
Leave it to Bite Beauty to make my jaw drop at the site of a new lipstick line. With shades ranging from Electric Purple to Electric Blue, and Electric Fushia, this neon collection couldn't be more perfect for summer BBQ's, days at the beach, and Sunday brunch. My inner Pat Benatar is screaming! — Alyssa
Everyone knows I'm all about that J.Lo glow, and with four shades packed into one compact, you'll easily achieve that glow-from-within look. The new illuminating powder comes in 6 different hues — Summer Reflection, Shimmer Thrill, and Sunset Blvd are speaking to me. So whether you're feeling peachy or want more of a bronzed look, NYX has you covered. — Alyssa
If you wish you were on a tropical island sipping on a margarita (is this just my fantasy right now?), but can't afford to take a trip, let this Brazil-inspired palette be your escape. It's packed with 35 shadows that range from vibrant green hues to deep purples and vivid blues. Basically, this palette has it all, and the best part? It's cheaper than taking a vacation (wink, wink). — Alyssa
Sephora just dropped three major eyeshadow palettes that can easily transform your look from bronzed goddess to a castmember on Netflix's GLOW. Each palette, Pro Warm, Pro Cool, and Pro Editorial, comes with 28 stunning eyeshadow shades. That's a shadow for almost every day of the month. Which one will you be adding to your cart? I'm having a hard time picking one! — Alyssa
If want more makeup goodies, check out last week's Beauty Bulletin, here.