A beauty blogger found out exactly what's in Kylie's Lip Kits —and you're not going to be happy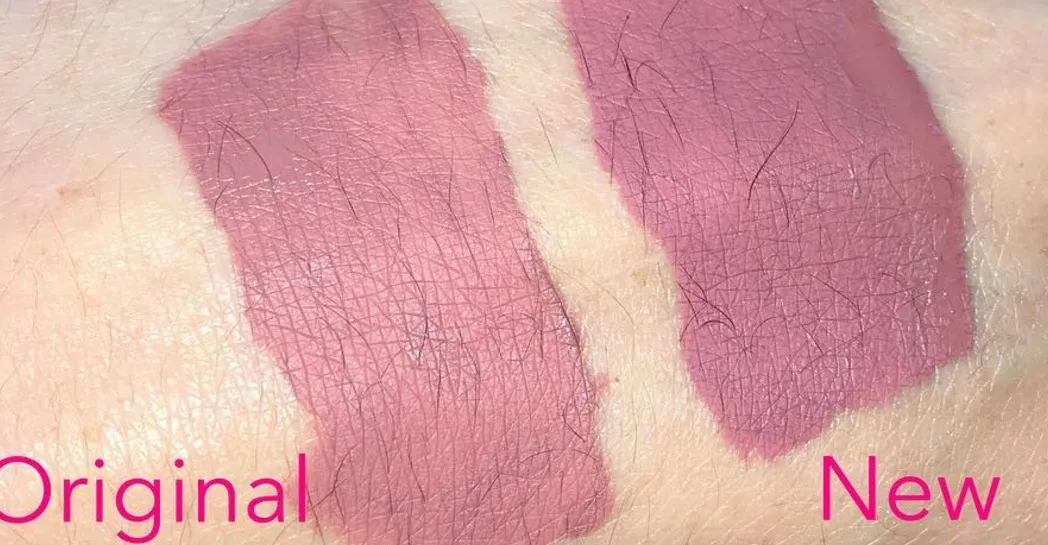 Kylie Jenner's famous Lip Kits sell out every single time they're restocked. The traditional kits include a matte lip shade along with a lip liner in a complimentary shade and retail for $29, while her lip glosses come solo and sell for $15.00. With shipping, a single product could cost you about $40. That's a LOT to spend on lipstick. Most people are clamoring to get their hands on them, but when it comes down to it: Are they even any good, and are they really worth the price?
There was some scandal surrounding the Lip Kits when they first launched, as several inquisitive beauty enthusiasts did some research and figured out Kylie's Liquid Lipsticks were basically the same thing as cult indie brand ColourPop's Ultra Matte Liquid Lipstick, just re-branded. Kylie was accused of stealing from ColourPop, but that argument was quickly shut down. Here's the thing: It's know that there are only a handful of companies that actually manufacture makeup, so most makeup companies (as well as food and medicine brands) actually use the same factory. That factory can manufacture one product under a private label that different companies can then buy, re-brand, repackage, and sell at their price.
Stephanie Nicole, a beauty blogger and YouTuber, decided to take a closer look at Kylie Cosmetics in comparison to ColourPop's most recent launch, a reformulated matte liquid lipstick. She discovered that they're basically the same thing, especially the newest version of Kylie's color Candy K. When it first launched, it was nude with a touch of pink undertones. The newest iteration shouldn't be referred to as nude, since it leans much more toward pink.
"I do feel like the formula is much thinner," Stephanie explained. "The first formula is mousse-y and creamy, and the second one is significantly more watery. The ingredients from this Candy K and the ColourPop Clueless Ultra Matte Liquid Lipstick are identical," Stephanie reported. "The ColourPop one does have a few other ingredients in there, which are filler products, but every single thing that's in these Kylie Jenner lipsticks are in the ColourPop ones."
You can see the differences and similarities in formula in the photo above. Ingredients are typically listed in order of what is used the most to what is used the least. You can see that Jenner's formula uses fewer ingredients than ColourPop's, which is probably why the wear of it is different than its previous version. "The company has to pay Kylie Jenner because her name is on it. The extra money is not going for product development or better ingredients," said Stephanie. "All she is doing is basically lending her name out to a brand that knows that no matter what it is, people will wait in line. So when they saw the huge response, they cut some corners, and took a good formula and made it cheap."
Basically, we're just paying for fancy packaging or the brand name when we buy makeup (which can sometimes be totally worth it; Who doesn't love fancy packaging?). However, some companies actually hire chemists and pay out labs to make a proprietary product for them that they can then hold a patent on for years. This is the reason why Clarisonic was the only facial exfoliating sonic brush on the market for years. Unfortunately, this can get really expensive really quickly, especially for a start-up beauty brand.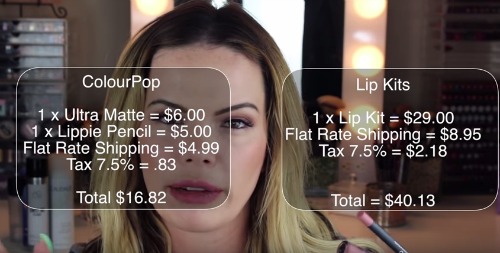 All that said, when it comes to Kylie's Lip Kits, you aren't paying for better ingredients or better wear. You are simply paying for her name. If you decide to get ColourPop's version, which costs $6.00, along with a lip liner at five bucks, it would cost you a grand total of $11.00 (not including shipping), making them much more affordable and accessible than Kylie's forever-sold-out kits.