This genius BeautyBlender microwave cleaning hack is going viral on Twitter, and our minds are blown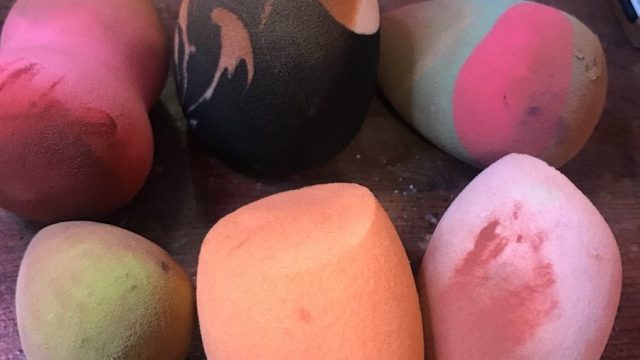 Even the most devoted beauty lovers have been known to drag their feet when it comes to cleaning their makeup brushes and sponges — which is why we're always looking for easy cleaning solutions that require minimal effort. A BeautyBlender microwave cleaning hack is going viral on Twitter, and it just might change the game for lazy makeup lovers everywhere.
Twitter user @Jaycoko stuck her BeautyBlender in the microwave for a minute and it came out squeaky clean — blowing her mind and ours as well. We've seen some pretty crazy sponge hacks before — like when a vlogger covered her BeautyBlender in a condom and the arrival of a dual-sided Squeegie Blender — but this one just might take the cake.
However, if you're a kitchen enthusiast or just a good old-fashioned germaphobe, then you probably already know that microwaving a sponge is the easiest way to clean and disinfect it. It translates to a BeautyBlender as well. However, the fact that the makeup sponge is spotless has our jaws dropped.
In order to achieve BeautyBlender cleanliness, @Jaycoko filled a container with soapy water and placed her sponges inside it, then microwaved it for a minute. (She used washing up liquid, which had a few Americans confused in the comment section, but one commenter explained that washing up liquid is typically used for clothing, so it could be detergent.) Another thing to keep in mind is if you put your sponges sans cup in the microwave, your sponge will melt, as that's what happened to some Twitter users who tried the hack. So try this at your own risk.
Are you as intrigued by this BeautyBlender microwave hack as we are?
Her sponges look brand-spanking new. @Jaycoko goes on to state that they come out wet.
It's not only a really great hack to clean the makeup out of the sponges, but also disinfects them as well — which your skin will thank you for.
This hack went viral last year, but luckily it's picking up steam again for anyone who might have missed out.
Other Twitter users tried the BeautyBlender hack with a variety of different makeup sponges, including cheaper ones.
Exhibit A:
It looks like it's pretty successful no matter what kind of sponge you use.
Exhibit B:
false
We aren't kidding when we said this would be a game-changer!
Exhibit C:
https://twitter.com/udfredirect/status/978764128813748229
The proof is in the pudding.
Now we're just itching to get home and put our makeup sponges in the microwave, aren't you?