"Beauty and the Beast's" Luke Evans spoke about why his sexuality shouldn't affect his career, and too right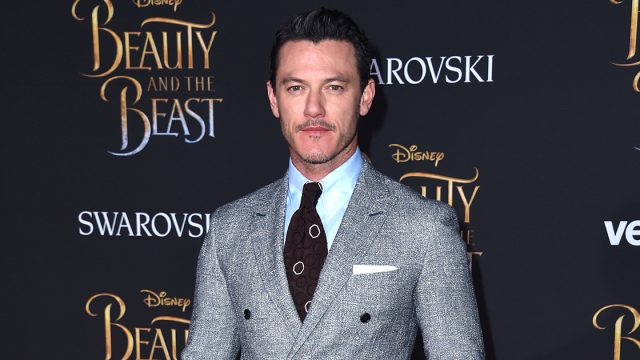 He's become one of Hollywood's leading men (and rightly so, because he's super handsome), and now Luke Evans has shared how his sexuality shouldn't have an impact on his career, and we couldn't agree more.
While we've low key loved Luke Evans for a while, it's the actors turn as Gaston in Beauty and the Beast that has sent our hearts a fluttering. Along with Josh Gad, the actor gave an impromptu performance during a press conference of the song "Gaston," and later, appearing on The Ellen DeGeneres Show, we got a peak at Luke Evans' incredible rendition of Adele's "When We Were Young" (a song he likes to perform in the shower). *Swoon*
https://www.youtube.com/watch?v=NAo7JFnI7s0?feature=oembed
Now in a new interview, Luke Evans has spoken about his sexuality, and why it shouldn't affect his career as an actor in Hollywood.
Back in 2002, Evans gave an interview with The Advocate in which he spoke candidly about his sexuality, explaining that "everybody knew me as a gay man, and in my life in London I never tried to hide." 
The actor has since kept his personal life out of the spotlight, declining to discuss it until now. In a new interview with The Jackal, Evans spoke about how he believed that his sexuality should have no impact on his career, and too right.
"I try to keep my personal life and my private life separate," Evans told The Jackal. "Not for any reason other than there's a clue in the title—it's private. As an actor you have to keep some sort of enigma and mystery. There's a dignity to keeping private. I'm trying to keep a bit of dignity to my private life and to protect the people in my life… It's the choice I've made."
When quizzed about whether he felt that Hollywood was ready for a gay action hero, Evans said that he couldn't speak for "'Hollywood' as you call it," but did say that he felt that there shouldn't be a connection between the personal and the private.
"Talent, success, what you do in your personal life – I don't see how one should have an effect on the other," he explained. "I don't think I'd be in this business if I felt that I was not being employed because of who I am in my personal life."
Evans went on to say that, while people know that he has his parents living in the Welsh Valleys, he's been very clear to distance his family from the spotlight, too. "They don't do press. They don't do interviews. I don't get photographed with them. Although everyone knows they're my mum and dad in the Valleys. It's the choice I've made," he said.
Meanwhile, it was reported that, following its release last month, Beauty and the Beast broke numerous box office records, and has so far taken over $1 billion worldwide.