This "Beauty and the Beast"-inspired pot will make everyone want to be your guest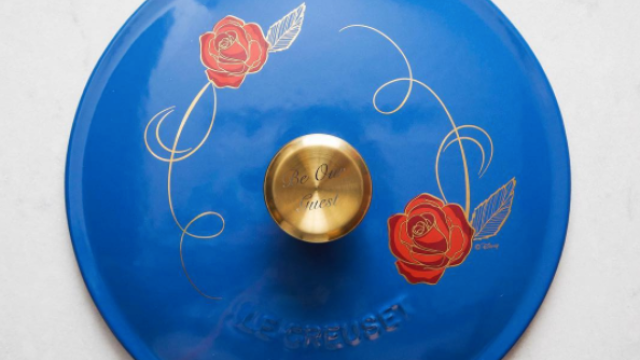 So you're looking to become the real-life Belle (or Beast) of your own castle? We have just the piece to complete your at-home cosplay. Believe us when we say that you need to feast your eyes on these two Beauty and the Beast-themed limited edition pots from Le Creuset. They'll make everyone want to be your guest.
The cookware company debuted its original Disney collaboration piece back in February, designed to celebrate the live-action film starring Emma Watson. Le Creuset came up with a beautiful blue cast iron soup pot that could fit right in among the other jovial kitchen tools in the Beast's castle.
We can't guarantee that Le Creuset's Beauty and the Beast pot will sing and dance, but you probably will while using it.
What's even better is that your blue "Be Our Guest" soup pot can now share the shelf and stove with a friend. According to Kitchn.com, Le Creuset is introducing its rose-filigreed soup pot in the color "Soleil," a sunny yellow color reminiscent of Belle's ballgown.
This new edition will be released on September 15th, in Le Creuset stores and online, and will sell for $280.
The blue "Be Our Guest" pot is currently not in stock, so you'll have to sign up for notifications on the Le Creuset website to be informed when it comes back.
Start drawing up the invitations now: once you get your hands on the latest Beauty and the Beast Le Creuset pot, your guests will be lining out the door.