This "Beauty and the Beast" engagement photo shoot is literally what dreams are made of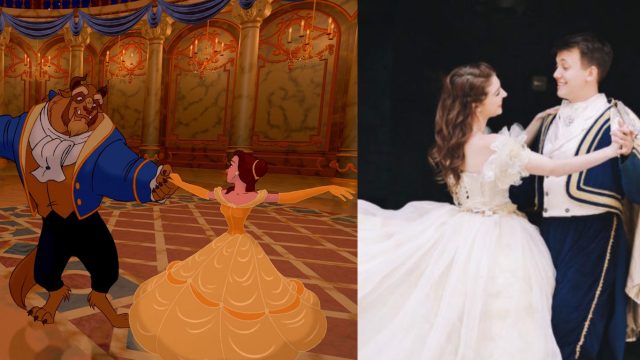 If you've ever dreamed of a fairytale romance, we've got just the heartwarming story for you because this Beauty and the Beast engagement shoot is everything. Thanks to a little internet magic earlier this year, Brenden McNeil decided to propose to his girlfriend, Kaley McLean. The heartwarming catch? She was starring in a production of Beauty and the Beast at the time, and starring as the lead "Belle," and in full costume. Brenden wanted to propose to her *during the show*.
Brenden planned this whole thing, even sneaking into rehearsals to train with the crew without McLean's knowledge. He'd talked to directors ahead of time and during a sold-out performance, proposed to his bride-to-be. Talk about stealth! With a plan that masterful, it's only right they continue with the whole Disney theme, making their engagement photos Beaty and the Beast-themed, too.
Talk about a tale as old as time.
Now that Kaley had said YES, it was time to mane even more magic happen. With the help of their friends — DaVid McCarthy, a costume designer, and Maya Novicki, a photographer — the two then had the most perfect Belle and Beast inspired photo session.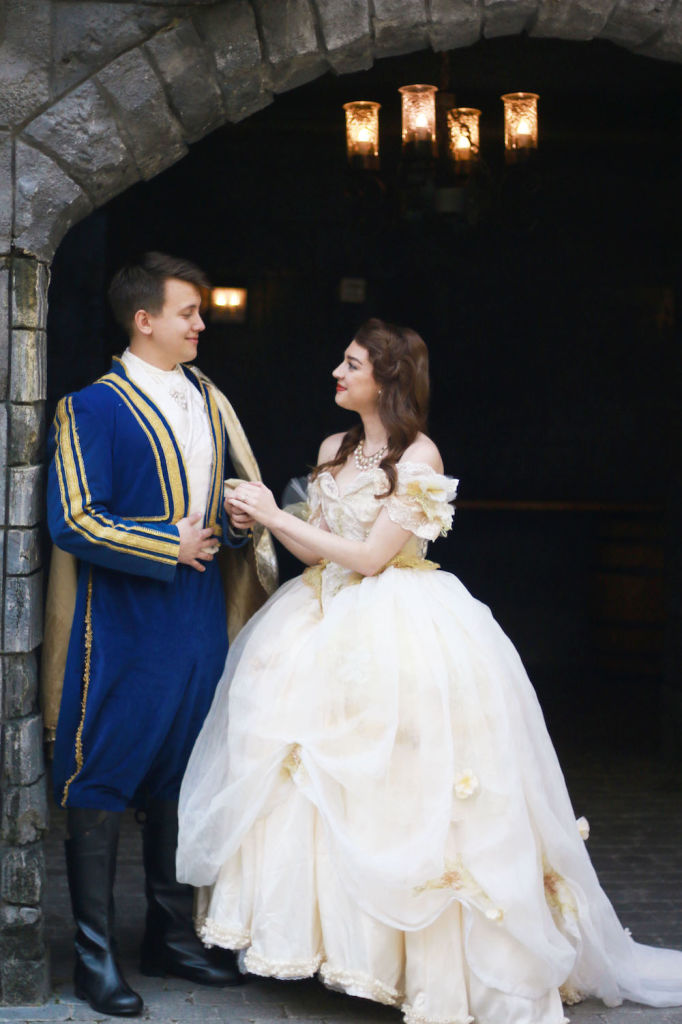 DaVid actually made these costumes, and it's best if he explains just how intricate and detailed they are. As he wrote to HelloGiggles:
I designed this gown as a Belle wedding look for the show's finale in another production, and the Prince's suit as well. The bodice is designed with a floral brocade that sprouts and grows as it comes up to the neckline, with spiraling vines of rhinestones leading to lace roses, and off the shoulder sleeves with several different embroidered trims all with rose motifs. The skirt is 6 layers of organza, satin, and a corded fabric over top of floral lace and mesh. The desired effect was a skirt that had layers of gold the closer you looked at it, but that upon first glance was ivory. The Prince's suit features a tone on tone white double breasted waistcoat, cravat with glass crystal brooch, blue velvet and gold trimmed tails coat, and an asymmetrical gold brocade cape.
Truly, outfits fit for a prince and princess. The costumes are beautifully crafted and have a real authentic feel, transporting us right back to seeing Belle and Beast meet for the first time. You just need to see all of these stunning photos (and we're not crying, YOU are).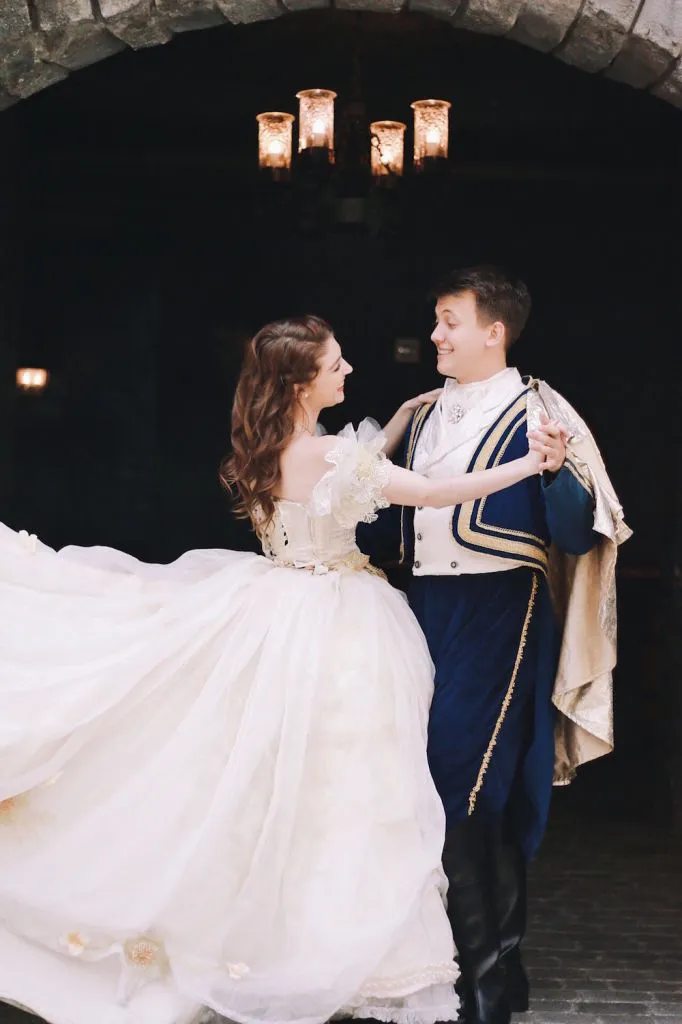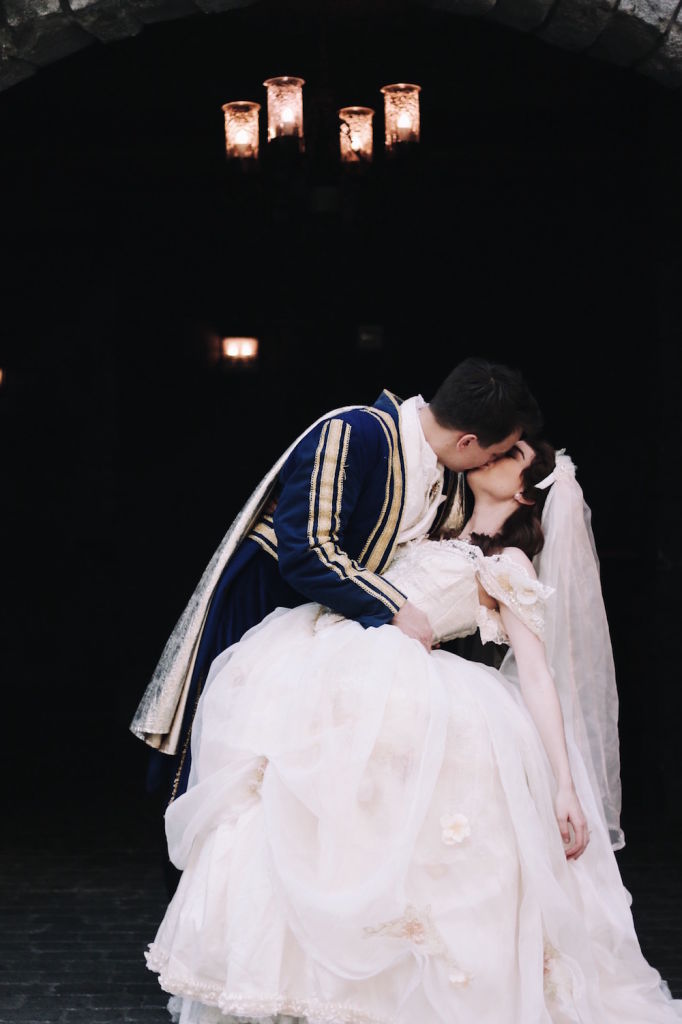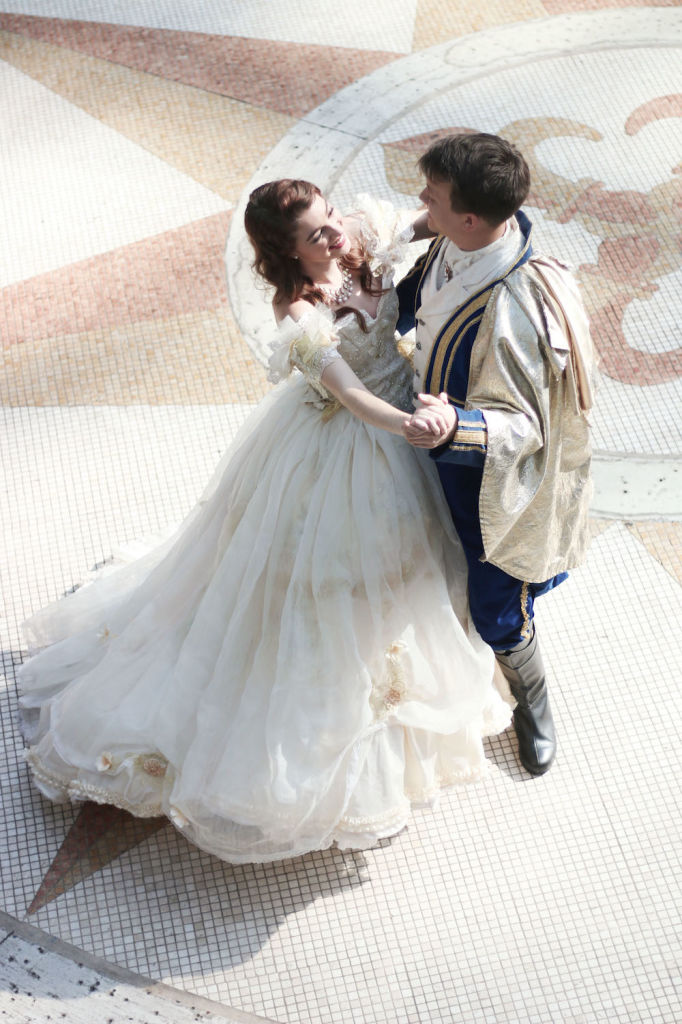 They're straight from a storybook, for sure! Congrats to the happy couple and best wishes on a long-lasting, storybook romance — with a happy ending! Please invite us to your Beauty and the Beast themed wedding! (Because we assume the wedding will be Beauty and the Beast themed!!) Here's to way more magic in 2017.