Disney is selling Beauty and the Beast Minnie Mouse ears, and they're fit for a princess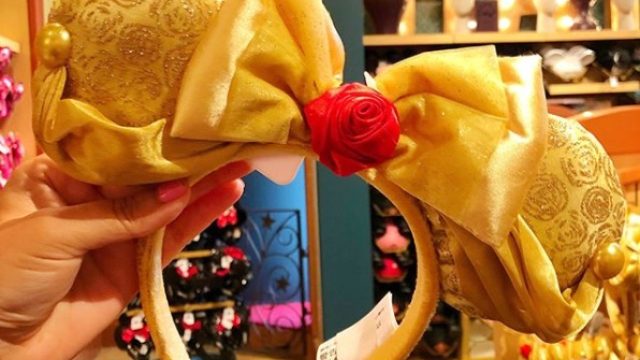 Accessorizing an outfit is a passion for some people. Especially those who tend to frequent the wonderful world of Disney. Creating a fashionable ~lewk~ for a Disneyland or Disney World visit is a thing; there's even a whole weekend called Dapper Day that celebrates vintage Disney-inspired looks. But generally, the easiest way to fanficy your Disney look is with a cute pair of Minnie Mouse ears. Even if you're just rocking jeans and a T-shirt for your trip, a pair of Minnie ears will seal the deal and make you look like a true Disney stan. And Disney is always releasing new, covetable ears: From millennial pink Minnie ears to completely customizable ones, there really is something for everyone. Now, there's a pair specifically for Beauty and the Beast fans.
Sacré bleu! These gorgeous golden Beauty and the Beast Minnie Mouse ears are now available at Disneyland's The World of Disney. The detailing is absolutely gorgeous, and the red rose right in the center of the ears will make you feel like Belle.
These ears are perfectly timed, actually. Everyone should grab a pair just in time for Zooey Deschanel to play Belle at the Hollywood Bowl.
How magical are these Beauty and the Beast Minnie Mouse ears?
https://www.instagram.com/p/BiPwvQohPDC
There's a special quote on the ears as well.
The lyric "Tale as old as time" is inscribed on the side of each pair in red.
These Minnie ears are just everything to our Beauty and the Beast-loving hearts.
They would look perfect with jeans and a Disney top, or even with a full Belle gown. There is no wrong way to wear a pair of Minnie ears. We can't wait to nestle ours atop our heads to go watch Zooey sing her heart out.
Beauty and the Beast plays at the Hollywood Bowl on Friday, May 25th and Saturday, May 26th. Get your tickets (and your ears!) ASAP.