This makeup tutorial recreates the iconic stained glass from Beauty and the Beast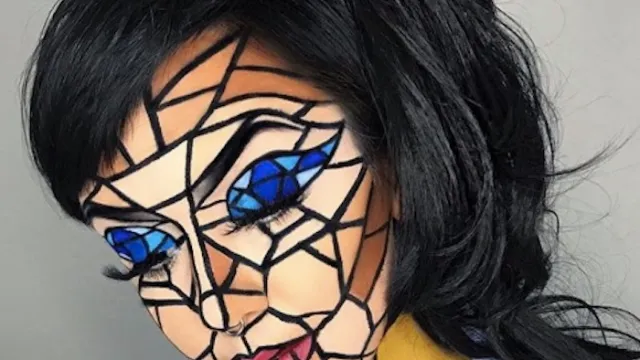 Disney-inspired makeup tutorials are nothing new — we're still swooning over Patrick Starrr's Little Mermaid makeover on Riverdale's Madelaine Petsch and sometimes we still think about the two-year-old Ursula-Vanessa split face makeup tutorial by Eva LaMorte. They're always so good and incredibly inspiring. But there's something extra special about makeup artist Rachel Murray's new Beauty and the Beast makeup tutorial — it puts a fresh spin on the entire genre.
If you're expecting to see a sweet and soft Belle-inspired take, then look again, because Rachel has transformed herself into the famous stained-glass window featured in Beauty and the Beast. It's an incredibly transportive and original look that really captures the essence of the original fairy tale.
Rachel Murray broke down the products she used to create this fresh, unique makeup style and if you've got the time and talent, you might want to start practicing. There's plenty of time before Halloween and this is definitely a showstopper.
Rachel used Mehron Makeup's Fantasy FX Paints in Gold, Yellow, White, and Blue; Mehron Makeups's Fleur Prisma Cake; Illamasqua Gel Liner and Obsidian ES; Olivia Belle Beauty's Jayme Lashes; Makeup Revolution C1, C4, C7 and C12 Concealers; and Spectrum Collection Brushes.
Makeup artist Rachel Murray was able to use the magic of makeup to transform herself into one of Beauty and the Beast's most iconic images.
It's truly a show of artistry.
Would you ever take on such an ambitious makeup look yourself? It certainly gives up-and-coming makeup artists something to aspire to, because the level of talent in the makeup artist community is staggering.