People are waiting five hours to snag this "Beauty and the Beast" cup, and we totally understand why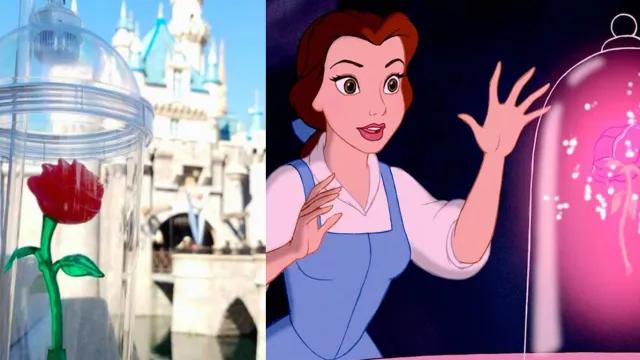 Why sip tea out of a chipped cup when you can do it out of a truly magical Beauty and the Beast rose tumbler instead? Disney has just released a crystal clear tumbler (with a straw) that will not only hold your beverage of choice, but it also holds an enchanted rose, too. That's one way to keep the petals from falling.
Also, the tumbler lights up. Seriously, where has this been our whole lives? We don't want to drink any other way from now on.
If you're looking to snag one of these tumblers for yourself, first, you've got to make your way into Disneyland. The Anaheim, California theme park has given Fantasyland a Beauty and the Beast makeover in anticipation of the brand new live-action movie. The Red Rose Tavern (formerly, the Village Haus) is serving up French-inspired cuisine — and obviously Disney magic, too. This is the only place in the park you can claim the cup as yours, so you better hustle towards the back of Disneyland once you're in.
Okay, sure, it is just a cup, but this is actually the best cup we've ever seen. Do you not see it LIGHT UP? This tumbler is basically if the Beast's transformation manifested as a cup. Cue the transformation music:
false
And now, the bad news: You have to physically be in Disneyland to snag one of these cups (you can't buy them online, womp womp). Also, more bad news: These cups keep selling out, and even if you do manage to snag one, you're probably going to be waiting a while for them. Guests are saying that they're waiting anywhere from two to five hours just to get their hands on one.
https://www.instagram.com/p/BQ9odZ1Ftff
But at least if you wait five hours to buy this cup, you can treat yourself to some Grey Stuff (it's delicious).
https://www.instagram.com/p/BQ8qiSXAAwM
The Enchanted Rose Sipper sells for $14.99, but drinking out of it from now until the end of time is PRICELESS.