People are losing their minds for this "Beauty and the Beast" college a cappella group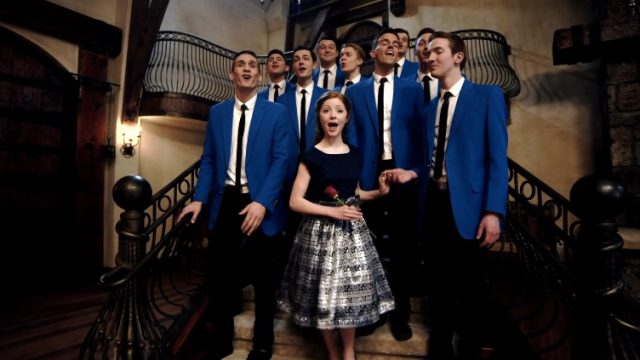 With today being opening day of the new live-action Beauty and the Beast (FINALLY!), it seems only fitting that we celebrate by watching a Beauty and the Beast a capella medley from amazing singer Lexi Walker and students from Brigham Young University.
The group, called BYU Vocal Point, sing renditions of every song from the movie, and to make this deal even sweeter, the BYU Ballroom Dance Company assisted with choreographed dancing! The whole video is shot in a super creative way with plenty of movement, moody lighting, and great costumes and props.
Put your feet up, and let these songs wash over you…and make you want to rush out to see the movie!
https://www.youtube.com/watch?v=Fx9vkm_VLAk?feature=oembed
Seriously, isn't that the best? We just love this a cappella version, and the infectious energy of the video. If you're interested in checking out more from BYU Vocal Point, they maintain an active Instagram account with clips from their various performances.
Here's one inspired by another Disney classic, Hercules.
So, so talented!
Now back to Beauty and the Beast, because that is obviously the theme of the day.
Walker has already seen the movie, and she gives it two thumbs up!
https://www.instagram.com/p/BRuk235gE–
"I LOVED IT!! Totally worth the wait! The new music, the set design, it was all so great!"
And look, Belle herself is giddy with excitement!
"@beautyandthebeast opens today! I hope you have as much fun watching it as I did making it. Love, Emma"
On the happiest of Fridays, we're feeling geared up to grab all our friends and go experience the magic of Beauty and the Beast AND welcome the weekend with a spring in our step.