Adam Yauch Park hosted a "Stand Up To Hate" rally and it's a beautiful thing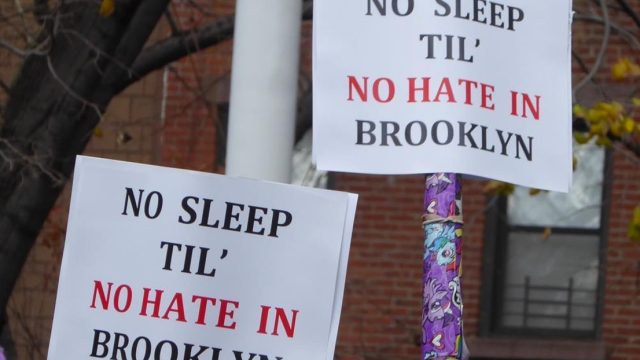 On Friday, Brooklyn Heights residents woke up to swastika (and pro-Trump) graffiti on the playground of Adam Yauch Park. Yauch, beloved to many as MCA of the Beastie Boys, was a staunch activist throughout his life; when he passed in 2012, then-Palmetto Park was renamed Adam Yauch Park in his honor.
Along with New York State Senator Daniel Squadron and city councilman Brad Lander, who both organized the event, Beastie Boy member Horovitz, his wife Kathleen Hanna (whom you may know from, y'know, Bikini Kill and Le Tigre and The Julie Ruin), and Ben Stiller (who starred in the film While We're Young with Horovitz) attended to show solidarity with the crowd. Judging from social media, the crowd was a mix of races, genders, creeds, ages — coming together over to create a safe space for all people.
https://www.instagram.com/p/BNCnuSRgvTN
As our nation's presumed leader continues to go after the arts on Twitter, it's heartening to watch a diverse community come together in defense of their futures and in support of each other. No sleep, indeed.
https://www.instagram.com/p/BNC0RUJAhtB