A bear got stuck in a literal Winnie the Pooh situation, but there's a happy ending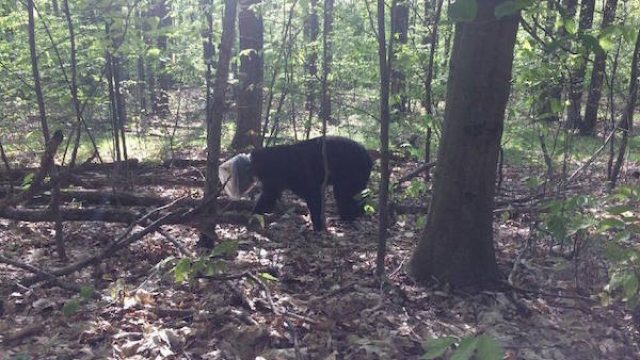 We all know Winnie the Pooh as the cartoon bear that regularly gets stuck in honey pots trying to get every last drop. Well, it turns out a real black bear in update New York found himself in quite the Pooh predicament.
On April 24, a woman reported that she saw what appeared to be a bear with a bucket on his head. There were since several sightings of the bear, with what a plastic bin for cheese puffs or pretzels affixed to his head.
Though locals spotted "Bucket Head Bear" several times, wildlife officials still weren't able to spot him.
However, after several reported glimpses, Environmental Conservation Officer Andrew McCormick finally caught the bear. Along with wildlife biologists, they captured bucket head bear and tranquilized him in order to coax off the bucket.
The New York State Department of Environmental Conservation shared the update on their Facebook page earlier this week. In the update, they announced the bear has since fully recovered.
They wrote, "Staff carried the bear out of the woods and placed it in a trap to recover overnight. The following morning, ECO McCormick and Bureau of Wildlife employees successfully released the bear. The bear had made a full recovery as he shot out of the trap like a cannon, seeming no worse for wear."
The post also urged the importance of being mindful of trash and litter, a lesson all of us can learn from.
We're just glad the bear is safe and sound!