Beanie Feldstein went completely makeup-free for "Lady Bird," and that's just another reason to love her and Julie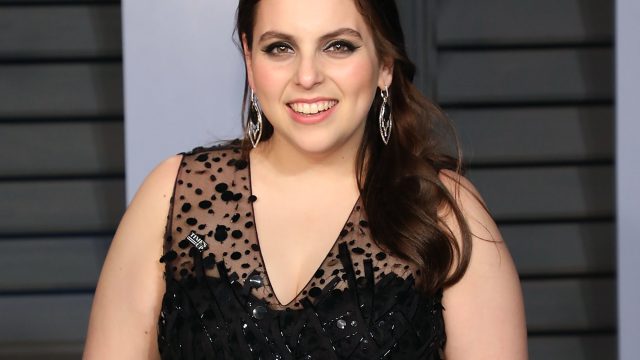 While many first got a taste of Beanie Feldstein in her scene-stealing role as Nora in 2016's Neighbors 2: Sorority Rising, it's safe to say she was one of the breakout stars of 2017. As Julie, the wonderfully earnest best friend of the titular teenager in Lady Bird, Feldstein captivated audiences in nearly every scene she appeared in — whether she was gushing over her dreamboat math teacher, singing "Make Me a Channel of Your Peace" for her Merrily We Roll Along audition, or fighting with Lady Bird over blowing off her "titular role" in The Tempest.
While capturing the hearts of America in Lady Bird, the actress also made her Broadway debut in Hello, Dolly!, starring in the show alongside Bette Midler. Feldstein's Broadway debut was made even sweeter because at the same time, her high school best friend, Ben Platt, was also appearing on stage as the lead in Dear Evan Hansen, one of the biggest shows of the year.
Feldstein's breakout year has her poised to be one of the next go-to actresses in Hollywood — she's already lined up her next role in Olivia Wilde's directorial debut, Booksmart — but the actress remains in awe of the film that made her a household name. HelloGiggles jumped on the phone with Feldstein just before the Oscars, and the actress opened up about relating to Lady Bird, whether Julie and Lady Bird would still be friends today, and whether she and Platt will ever appear on-screen together.
HelloGiggles: I think one of the many reasons Lady Bird resonated with so many people was because every minute of the film was so relatable. Was there any moment of the movie that struck you as too close to home with the subject material?
Beanie Feldstein: Well, I will be honest and tell you that I'm currently riding in the passenger seat of the car, with my mom — so to mention that stuff definitely rings close to home. I grew up in LA, and we spent a lot of time in the car then and now together. The conversations between a mother-daughter, I feel like Greta just captured so intimately and beautifully and in a very unique special way that has never been seen. That relationship is definitely very relatable. And then, also, I grew up doing musicals in high school so all of that stuff was just my high school experience.
HG: Your costar Saoirse Ronan she said she let her acne kind of run free during the movie, just to kind of get herself into the more relatable young teenage mindset. Did you do anything to channel your inner 18-year-old self?
BF: Yeah, I worked closely with our head of makeup and Greta…on all of that stuff. I knew that Julie would never wear makeup. It just wouldn't be on her radar, so we did true no makeup instead of movie "no makeup," which would be like foundation and mascara and lip balm. Like, we actually didn't do any makeup for Julie, unless it was like the prom or the musical or like specific events where she would be putting on makeup actively. And that was definitely true to my experience as well, in high school. I never wore makeup. We all agreed that she would actually not wear any makeup, and I was very excited to do that.
HG: So what do you think Julie is up to right now, in 2018?
BF: I don't know. I mean, I think because she discovered theater later in her adolescence, versus someone like me who has known my whole life that that is what I wanted to do, I would hope that she still is exploring that and performing, because it was something that she discovered in herself later. And I think her and Lady Bird are definitely still best friends.
HG: Obviously the movie is this great, awkward high school experience. Do you have a favorite awkward high school story?
BF: Oh gosh, so many. The one that just popped into my mind is ninth grade. I grew up in California — Southern California — and our high school was outside. There was this big set of stairs, sort of in the center of campus that [led] up onto a terrace where we all ate lunch, like a little area with tables. And there was this group of really cool guys at a big table… I fell down a flight of stairs in front of a group of very cool boys, and I was very mortified. Now, truly wouldn't care at all, but then I was really mortified.
HG: So speaking of high school, you went to high school with Ben Platt, and you guys starred in high school productions together. Would you ever want to star with each other in a show on Broadway or in a movie? Do you have any aspirations of working together?
BF: Oh a 112% yes. It is definitely one of our lifelong dreams to work together. But because it's so weighted, we really want it to be the absolute right thing. So I don't know what that is. I really think a musical movie would be perfect because it combines both of those things together. So that is what I've always had in the back in my brain is that we would do a musical movie together.
HG: You made your Broadway debut in Hello, Dolly! at the same time that he was on stage in Dear Evan Hansen. What was that like going through this experience together?
BF: It was incredible. So Ben had done The Book of Mormon before Evan Hansen, so he was already sort of very well acquainted with the Broadway schedule and the lifestyle and the commitment, and so, it was so special for me to sort of get to watch him and follow in his footsteps, in a way, because he had all of the answers in my eyes. I said, "Ben what do you do when your throat is feeling scratchy?" Or "What do you do if you feel this way?" Or "How many drops of honey do you put in your tea?"
But I really looked to him to sort of answer all of these Broadway questions for me. We would drive to school together singing musicals in the car and so then to be between shows and cuddling in his dressing room…and like eating dinner, it was surreal. It was completely surreal. And it's totally a once in a lifetime thing, and there is something so beautiful about the Broadway community. I feel so honored to be a part of it. It's just a really loving, engaged, close-knit group of people that I just love so much.
Lady Bird is now out on digital download,  DVD, and Blu-Ray!