Watch Beanie Feldstein as Grey Sloan Memorial's new intern in this Grey's Anatomy sneak peek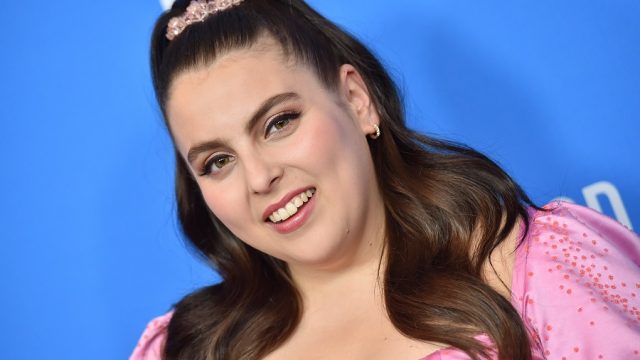 Beanie Feldstein has already begun her domination on the big screen, thanks to roles in instant cult classics like Lady Bird and Booksmart. But in 2020 she has set her sights on the small screen, too, with guest roles in some of the most iconic shows on TV. Beginning tonight, February 27th, Grey's Anatomy fans can see Feldstein in her scrubs, because she's playing an intern at Grey Sloan Memorial, and it certainly seems like she's eager to make an impression.
Grey's Anatomy shared a quick snippet of tonight's episode, and it centers on senior surgeon Richard Webber taking Feldstein's new character under his wing.
Feldstein's character introduces herself as Tess Desmond to Dr. Webber, who instantly takes a liking to Desmond's go-getter attitude. Desmond approaches him to ask why a seasoned surgeon would be practicing a laparoscopic cholecystectomy (that's a gallbladder removal, for us laypeople), as he's probably done "like a million of those." Webber responds by saying that he's only an expert because he practices, and we fully get it. But then, Feldstein's Dr. Desmond really impresses him.
"I just don't get it. Those residents, they work their butts off, they go into a mountain of debt all for a chance at the greatest job on the planet and they treat it like it's retail," she says, clearly trying to separate herself from the pack and show her enthusiasm for her career path. That's what gets Dr. Webber to get her to step in and show off her laparoscopic cholecystectomy skills in his place.
Are we the only ones getting the sense that maybe Feldstein is channeling a little bit of her overachiever character Molly from Booksmart here?
Check out the entire debut clip below:
ABC hasn't announced yet if Feldstein is slated for a multi-episode arc, but here's hoping.
We do know Feldstein a longtime fan of Grey's Anatomy herself because she shared the sweetest story.
In 2019, Feldstein gave a joint interview with her real-life BFF, Sarah Halle Corey, where they said that the two of them watched Sandra Oh's departure episode while sobbing in their college dorm, hand-in-hand. (Aww!)
If you want more Beanie on your TV screens, do we have good news for you. She also lent her voice to the February 23rd episode of The Simpsons, playing a support group therapist in Springfield. She gushed about the experience on Instagram, sharing a photo of her name in the end credits, along with an adorable shot of her nephews on the show's studio lot. In her caption, she called the experience "the coolest ever," writing "getting to bring my nephews to watch me record The Simpsons was the greatest day." She then thanked the crew "for making me seem like a cool aunt for one single day."
https://www.instagram.com/p/B89gWBBJ3Td
And later this year, you'll be able to see her star as Monica Lewinsky in American Crime Story: Impeachment, which we cannot wait for. As for now, though, we'll be tuning in to Grey's this week to see her turn as a surgical intern. You bring the popcorn!