BFFs Beanie Feldstein and Ben Platt performed the perfect Broadway duet together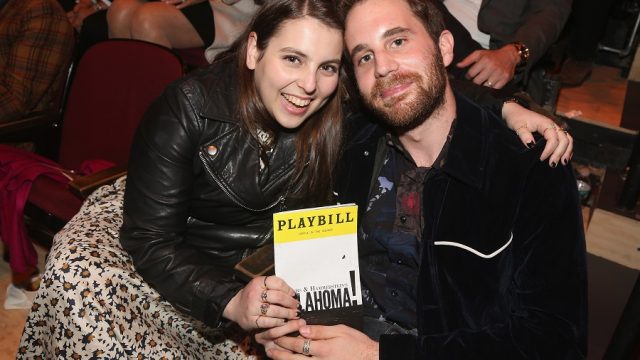 Beanie Feldstein and Ben Platt, who have been friends for years, teamed up with some of Broadway's other brightest stars during Broadway.com's Take Me to the World: A Sondheim 90th Birthday Celebration. The pair joined a killer cast—including Meryl Streep, Sutton Foster, Neil Patrick Harris, and Jake Gyllenhaal—to sing some of Sondheim's greatest works. They were both celebrating the songwriting legend and raising money for Artists Striving to End Poverty (ASTEP).
Feldstein and Platt, appropriately, sang "It Takes Two" from Into the Woods, while quarantined in their respective homes.
Needless to say, the two of them totally knocked it out of the park. They've been best friends since high school, so of course, the chemistry was undeniable. Before taking off, Feldstein wished Sondheim a very happy 90th birthday. The Broadway legend actually turned 90 at the end of March, but the festivities were canceled due to coronavirus. Waiting a month to celebrate with performances like this one was totally worth it.
Feldstein and Platt come in at the 32:50 mark during the live stream below:
If you liked seeing Feldstein and Platt belting out Stephen Sondheim songs, then you have something to look forward to. The friends are slated to star in a film adaptation of Merrily We Roll Along.
Platt will play Charlie, Feldstein will take on the Mary role, and Glee's Blake Jenner will portray Frank. For those who aren't familiar with the plot, Sondheim's musical follows three friends over the course of their lives as they navigate their careers in show business. However, we won't see this film come to fruition for quite a while.
Director Richard Linklater plans to shoot Merrily We Roll Along over two decades, which is even longer than his production for Boyhood.
Though she's best known for her roles in movies like Booksmart and Lady Bird, Feldstein played Minnie Fay in Hello Dolly! on Broadway in 2017. Of course, her Tony Award-winning BFF Platt has been in countless musicals, including Dear Evan Hansen and the movie Pitch Perfect.
https://www.instagram.com/p/B_eJ02-J6b0
So, for now, we'll just watch the above clip on repeat until Linklater's 20 years is up. Hopefully, in the meantime, we'll get to see Feldstein and Platt team up in other projects within the decades to come.
As information about the coronavirus pandemic rapidly changes, HelloGiggles is committed to providing accurate and helpful coverage to our readers. As such, some of the information in this story may have changed after publication. For the latest on COVID-19, we encourage you to use online resources from CDC, WHO, and local public health departments, and visit our coronavirus hub.