This BBC interviewer stood up to Sean Spicer, telling him he "corrupted" world discourse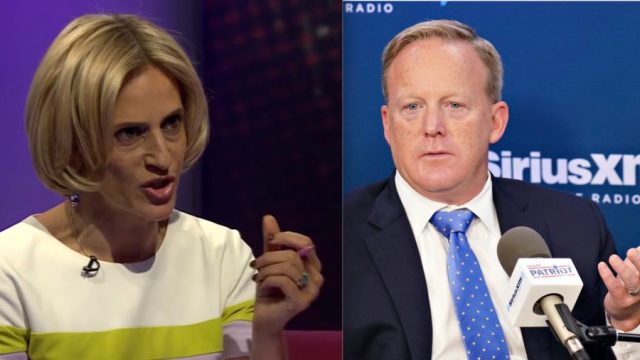 Sean Spicer may have only served as White House press secretary for seven months before resigning in July 2017, but in that brief time, he demonstrated a clear willingness to lie on behalf of President Donald Trump. Spicer is currently on tour promoting a new book, and in a recent interview on the BBC, a reporter condemned him for spreading Trump's frequent lies, saying that he had "corrupted discourse for the entire world."
According to The Hill, Spicer appeared on BBC Newsnight on July 24th to promote his new book, The Briefing. During his interview, host Emily Maitlis questioned the former press secretary about his willingness to spread President Donald Trump's frequent lies. In particular, she brought up Spicer's false declaration in January 2017 that Trump's inauguration had the highest attendance rate of all time.
Maitlis told Spicer that by spreading this lie and then famously claiming he was using "alternative facts," he and White House counselor Kellyanne Conway had dangerously created a "second version of the truth."
Spicer attempted to dismiss the interviewer's accusation, first by claiming that Conway had tried to get the real numbers by different agencies, and then by saying, "We all make mistakes." He added that "there are things I would absolutely love to do over." But Maitlis didn't let up.
"It became a joke. It became something that defined you," she said. "You joked about it when you presented the Emmy awards. But it wasn't a joke. It was the start of the most corrosive culture. You played with the truth, you led us down a dangerous path. You have corrupted discourse for the entire world by going along with these lies."
In response, Spicer insisted that he had only been doing his job, which he said was to present Trump's "thoughts and his ideas" to the public without interpretation.
https://www.youtube.com/watch?v=DwN1py3dV2g?feature=oembed
Maitlis also asked Spicer about the notorious Access Hollywood tape in which Trump bragged that he could grab women "by the pussy" because of his fame. "Did that tell you anything about your man that you didn't previously know?" she asked him. The former press secretary again tried to downplay Trump's words as "private comments."
"Look, if we're going to judge everybody by private comments that they may or may not have made at one point in their life, I'm not sure all of us would want to have that account," Spicer said.
We're applauding Maitlis's willingness to hold Spicer accountable for his actions. We need this type of reporting now more than ever.