A top journalist just resigned over the BBC gender pay gap, calling it "secretive and illegal"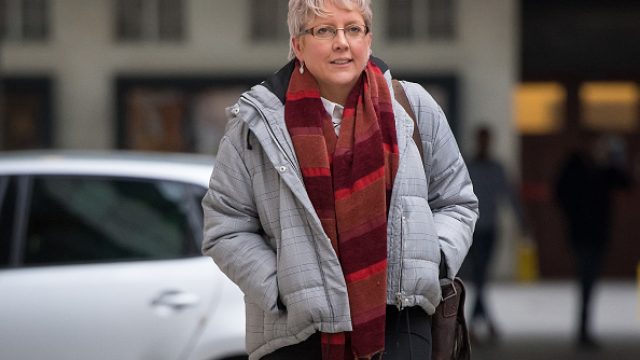 Even in 2018, women are still fighting for equal pay in the workforce. The gender pay gap affects women in all countries and industries. Most recently, BBC journalist Carrie Gracie resigned due to the revelation that her male coworkers were earning 50 percent more than she did.
Gracie was the BBC's China Editor, and she had been working for the news organization for more than 30 years. On January 7th, Gracie wrote an open letter on her blog detailing her decision to resign from her position in China and resume her previous role as a normal news anchor.
It was reported in July that two-thirds of the corporation's top earners were male. After the report was released, Gracie and more than 40 female BBC employees published an open letter in The Telegraph demanding that the corporation resolve the pay gap.
In her blog post, Gracie referenced the July report and wrote that the two male international editors at the BBC made 50 percent more than the two female editors. When Gracie requested she be paid the same as her male counterparts, the BBC offered her a raise that still didn't match the two men's salaries.
"This is not the gender pay gap that the BBC admits to," Gracie wrote. "It is not men earning more because they do more of the jobs which pay better. It is men earning more in the same jobs or jobs of equal value. It is pay discrimination and it is illegal."
She also noted that women of color have a wider wage gap and said called the BBC's pay structure "secretive and illegal."
On Twitter, many expressed their support for Gracie's decision. And in an interview at the Golden Globe Awards, Emma Watson applauded Gracie's actions, saying that her resignation highlights the importance of holding organizations accountable for sexist policies.
false
The BBC released a statement on January 8th in response to Gracie's letter stating that an independent audit of the organization's payroll showed "no systemic discrimination against women." In the statement, the news company pledged to release another report on employees' salaries in the near future.
Despite what critics say, the gender wage gap is real. We applaud Gracie for speaking up, and we implore the BBC and all workplaces to pay employees of all genders equally. It's 2018: Pay inequality needs to end.