Soon, you can meet BB-8 IRL at Disney, and we are beeping ready for this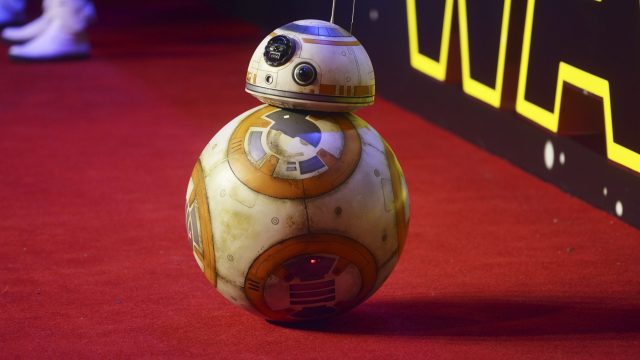 Grab the nearest speeder you can find, because you have someplace to be right now. Disney has just announced that soon, you'll be able to meet BB-8 in the flesh metal at Hollywood Studios and we have been waiting for this day FOR-EV-ERRRRR.
At the Disney Parks across the world, you can meet all sorts of Star Wars characters, from Darth Vader, to Chewbacca, and most recently, Kylo Ren (and sometimes Luke, Leia, and Boba Fett if youre lucky). But, no droids. The droids aren't up for meet and greets, or something, because they're real busy napping indefinitely (looking at you, R2), or tormenting Finn.
But, the latter is soon going to roll his way to guests and this is the most exciting Star Wars thing we're going to hear about all day.
According to the Disney Parks Blog, in the coming weeks BB-8 will make his grand debut at the Star Wars Launch Bay, nestled back in Hollywood Studios at Walt Disney World in Orlando, Florida. Currently, you can meet both Chewbacca and Kylo Ren there, and BB-8 will join them, too — but don't expect to see these three dudes hanging out together. Like, come on. You know BB and Ben do not get along.
There's no clear date as to when BB-8 will roll out for the first time, but expect it to happen SOON. While he probably won't sign autographs (unless this droid has some tricks up his sleeve we don't know about yet) just imagine all the glorious selfies. #BBSELFIES!!