This woman documented what it's like to search for a bathing suit bigger than a size 10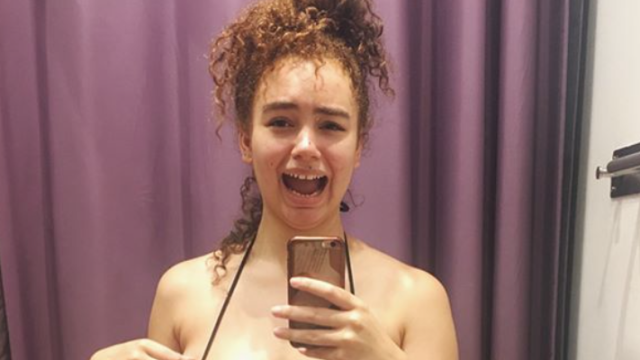 The dressing room can be a stressful place. This is especially true if you're a plus-size woman attempting to buy a swimsuit at a big box store.
Body-positive model Sonny Turner posted a mirror selfie to Instagram to document her experience shopping for a swimsuit as a plus-sized woman.
"THE REALITY OF SHOPPING AS A THICK/PLUS SIZE WOMAN," the post begins.
Sonny goes on to explain that she picked out a bathing suit in the largest size available, (a U.S. 8-10), which provided virtually no support or coverage for her body.
"High Street store bikinis do not cater for women of my body type," she wrote, referring to the malls in London. "The majority of online stores don't either. NO ONE GETS IT."
The 19-year-old model, who frequently uses the hashtag #EveryBODYisBeautiful, advocates for body love and societal acceptance of all body types. She continued her post with a long, all-caps list of "tips" for future swimsuit designers.
The list included:
Underwire to support larger breasts.
Cups that cover more than the nipple.
Swimsuit sizes that correlate to bra sizes — and are available beyond DD.
Bottoms that "cover our vagina lips."
More choices for plus-sized swimsuits beyond generic black colors and high-waisted cuts.
"It's not fair that we can't wear cute swimwear just [because] we are built differently. We deserve to walk into a store and pay £10 for a nice bikini without breaking the bank and our body confidence," Turner wrote.
The post earned more than 14,000 likes on Instagram, along with hundreds of comments thanking Sonny for spreading the message that all bodies deserve representation in stores.
We hope the message spreads far and wide.