Baskin-Robbins' newest addition to their ice cream menu is a game changer
Baskin-Robbins just added something to their menu that we had no idea we needed so badly. The world's largest chain of ice cream specialty shops just launched their brand new Warm Cookie Ice Cream Sandwiches and Sundaes. So basically everything our dreams are made of.
There is no better topping for a warm cookie than ice cream, and there is no better topping for ice cream than a warm cookie. They go together like they were made for each other. And now at Baskin-Robbins, they are made for each other. And for our mouths.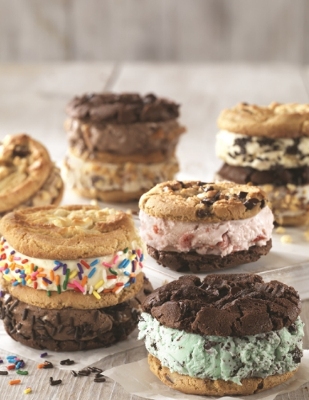 For the Warm Cookie Ice Cream Sandwich, you can choose your favorite ice cream flavor along with your favorite type of warm cookie — the options being Dark Chocolate Chunk, Double Fudge, Peanut Butter Chocolate and White Chunk Macadamia Nut. You can even mix and match two different types of cookies if you're feeling indecisive. Because Baskin-Robbins knows.
As for the Warm Cookie Sundae, your favorite ice cream flavor is served with a choice of two warm and chewy cookies,  and it's served with whipped cream, chopped nuts and a cherry. You can also "Make it a Double" with two scoops of ice cream and three cookies.
So yeah. Happy Tuesday, dessert lovers.