A man harassed a Muslim woman at a coffee shop, employees reacted perfectly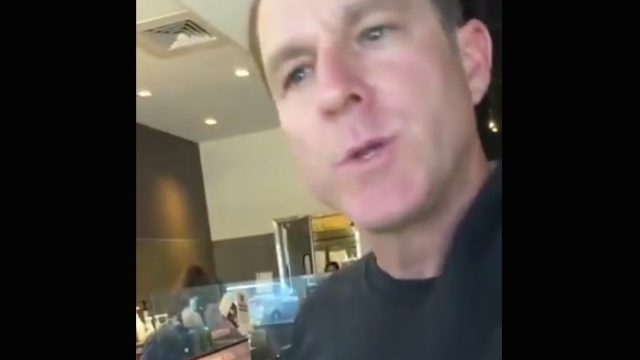 A video making the rounds on social media this week serves as a startling reminder that discrimination is very real for so many Americans. Fortunately, it also sheds a light on the many Americans who won't sit back when they see it unfolding. A Coffee Bean & Tea Leaf shop in California refused to serve a man after he verbally harassed a Muslim woman wearing a niqab. In the viral video, shared to social media Saturday, May 12th, a man shouts, "Is it Halloween or something?" at the woman, named Kathleen Deady, while she films the encounter in real time.
"Why would you say that?" she asks. "Do you know I'm a Muslim?"
The man confirms that he does know she's Muslim, and "doesn't like" that. "I don't like your religion because it says to kill me, and I don't want to be killed by you," he says. "How's that?"
When Deady asks if he's ever read the Quran, he responds that he's read "enough of it to know." As the woman continues to challenge the man on his viewpoints, he blocks her camera with his hand, at which point she exclaims: "You are committing hate speech!"
While the video is upsetting to watch, the casual display of racism isn't ignored: a bystander gets involved and shouts at the man to leave, and the baristas themselves won't take the man's outstretched bills.
At the end of the video, the camera turns to the coffee shop barista who refused to serve the man slinging hate speech. She identifies herself to him as the supervisor on duty, and tells the camera that she will not be accepting his money "because he is disrupting a public place and being very racist."
"Thank you," the Deady responds.
The Coffee Bean & Tea Leaf released a statement saying they are "fully committed to ensuring the wellness and safety of its customers, team members and business. We have a zero-tolerance policy when it comes to discrimination of any kind," the statement continues, "and have the right to refuse service to any person who makes customers or team members feel endangered in any way."
In a political climate that's increasingly hostile towards Muslims and many other marginalized groups, we applaud all those involved for standing up for what's right.