Like It Or Not, Super Thin '90s Brows Are Having A Moment
Nicola Peltz Beckham, Ashley Graham, and Bella Hadid are all showing less is more when it comes to brows.
The product recommendations in this post are recommendations by the writer and/or expert(s) interviewed and do not contain affiliate links. Meaning: If you use these links to buy something, we will not earn a commission.
Time to trade that eyebrow pencil for a pair of tweezers. Ranking right up there with the return of MC Hammer pants and low-rise jeans (don't like 'em, never will) is the re-emergence of another somewhat disturbing '90s trend: super-thin brows.
Model Bella Hadid kicked it off by showcasing razor-thin brows back in 2021 — followed by fellow model Ashley Graham (who recently bleached the top half of hers as to not risk permanently removing any hair), and now, Nicola Peltz Beckham. Actress Julia Fox has even bleached hers entirely, so they look basically nonexistent.
Is the bold brow we've come to love gone forever?
With '90s and Y2k fashion trends back with a vengeance, it comes as no surprise beauty trends would follow suit. But, after years of fluffy, puffy, brows, growth serums, and even a "laminated brow" trend, why the recent resurgence of skinny ones? One could speculate it's the '90s icons themselves that are bringing 'em back.
RELATED: '90s Outfits That Would Make the "Friends" Cast So Proud
For instance, Pamela Anderson recently re-entered the spotlight with her Netflix documentary Pamela, A Love Story, and her very first memoir. The Baywatch actress hasn't changed much about her iconic looks over the years, from her signature box-dyed blonde locks, to her —you guessed it! —pencil-thin brows.
"I definitely think '90s fashion and looks are back! Pamela's style was and always will be major. The '90s were really all her, so it's no surprise that her brows are making a huge comeback, she's an icon, after all," says Anderson's makeup artist Eileen Madrid.
Madrid says she uses a line of products from BrowCode to achieve Pam's thin but shapely brows.
"I start on the arch of the brow, without putting too much pressure on the brush, and use light strokes on top to fill the brow in. I like to fill them more than Pam's natural brow to give her a little more fullness, but we love to keep them looking 90's iconic," says the makeup artist.
This trend is emerging much to the chagrin of those of us who survived it the first time around (seriously, it's amazing I have any eyebrow hairs left at all). We'd even been able to poke fun at ourselves last year, with a trend on TikTok that urged middle-aged millennials and xennials to show off old pics of your embarrassingly skinny brows.
Now, a search for "thin eyebrows" on TikTok shows people waxing, bleaching, plucking, and *gasp* even shaving their brows, to achieve this new lesser-browed look. C'mon girls, haven't you learned anything from my plight? We do know, in this day and age, that consistently removing eyebrow hairs at the root can potentially cause them to not grow back at all.
Yet, here we are. Plucking away to our heart's content. "Having lived through the '90s and studied period pieces for character development, I'm all-too familiar with the pencil-thin brow," says production makeup artist Genn Shaughnessy of The Backstage Stylist.
"One of the things I hear most from my clients is that they wish they didn't overpluck their brows so much in the '90s," says Shaughnessy. "Brows are the focal point of the face and bad ones can really ruin a good look in the moment. It could also force you to have thinner brows in the future because pulling out the hairs damages the follicles so they won't grow back."
So, before you commit to downsizing your brows, Shaughnessy suggests this hack: Use a glue stick (yes, the kind you use for crafting) to cover the top and bottom parameters of brows with glue. Next, coat that area with concealer and powder, then using a sharp pencil, draw in thinner eyebrows. It's a good way to see what it'll look like, before you actually remove any hair.
But if you're like me, and you learned your lesson the first-time around, you'll leave the skinny-mini brows in the '90s, where they belong.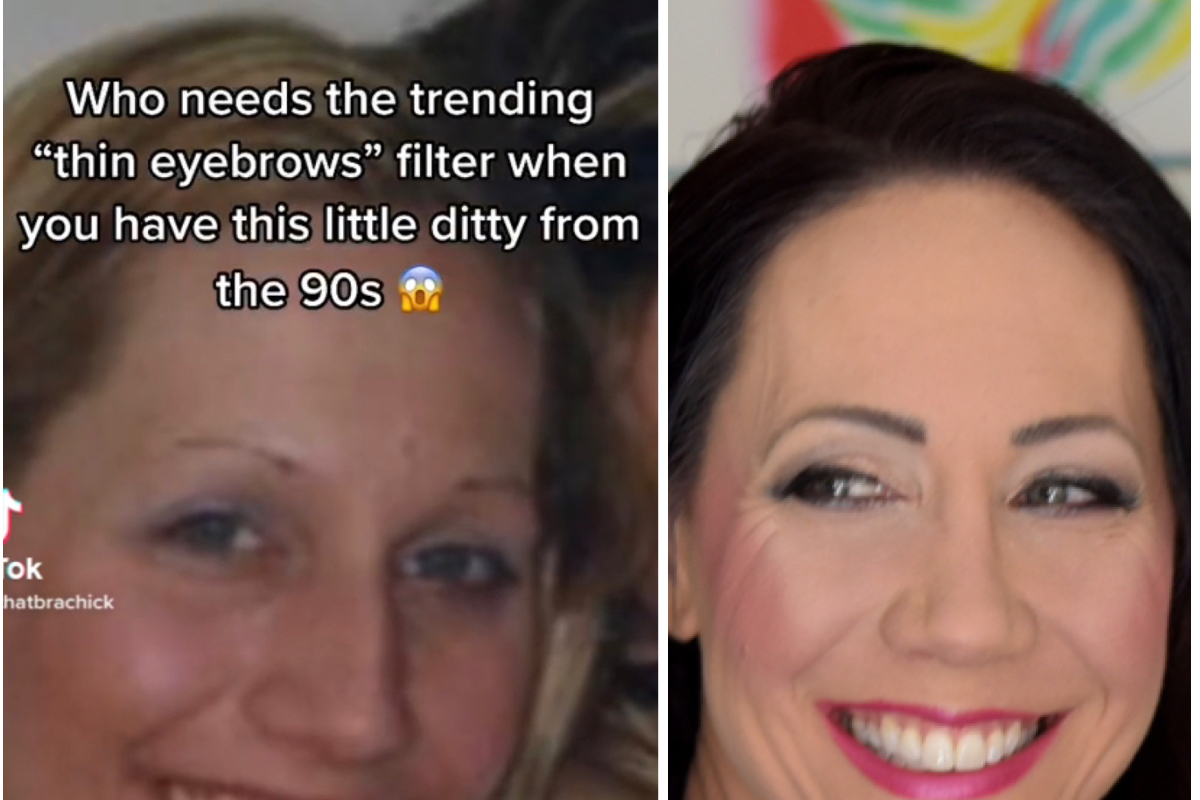 Jené Luciani Sena is an accredited journalist and internationally-renowned bestselling author, regularly seen on national TV outlets such as Access Daily, Today and Dr Oz. Touted as one of Woman's World Magazine's "Ultimate Experts," she's a TEDTalk speaker and a busy Mom of 4.
Read more