Barbados just renamed the street Rihanna grew up on Rihanna Drive in honor of her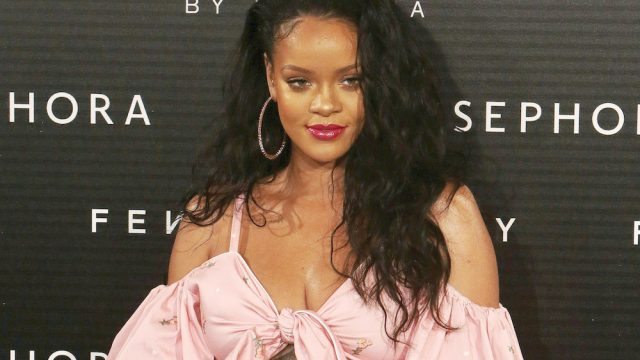 Rihanna has had quite the year. But let's be real, every year is her year! To close out 2017, though, Rihanna got a street named after her in Barbados where she was raised. Riri grew up on Westbury New Road, and now that street has officially been renamed Rihanna Drive. Because our girl is a queen and deserves everything named after her. Recently, she went to the ceremony in her honor and even gave a speech. It seems like she's always been connected to her home, even after she became a star. It makes sense that she would take the time to attend in person and let everyone know how special the event was for her.
With the release of her makeup line Fenty Beauty this year, Rihanna's already been having wins left and right. (Like, have you seen her new Fenty holiday collection? Enough said.) It's only fitting that she caps off the year with a street namesake and an event back in her home that honors her for her many achievements. Riri lived there until she was sixteen and began her music career, but she's always remained true to her roots. Now, she has an official recognition of her presence there. Wearing an amazing yellow gown to the event, she gave a heartfelt speech about the importance of her home town in her life.
Rihanna referenced the power of dreams and thanked her family and her country for their support.
"Welcome to Rihanna Drive… My home. My whole life was shaped on this very road. I was just a little island girl riding bikes, running around barefoot and flying kites in the cemetery, but I had BIG dreams. Dreams that were born and realized right here... Thank you to my family, my country and the people of Westbury New Road! You will forever be a part of who I am, and for that I am honoured to have this place named after me.
https://www.instagram.com/p/BcJmT2YjKvm
Yep. We're obsessed with her, basically. And now we're planning a visit to Rihanna Drive, too.