Obama on his post-presidency plans: "I'm still waiting for my job at Spotify"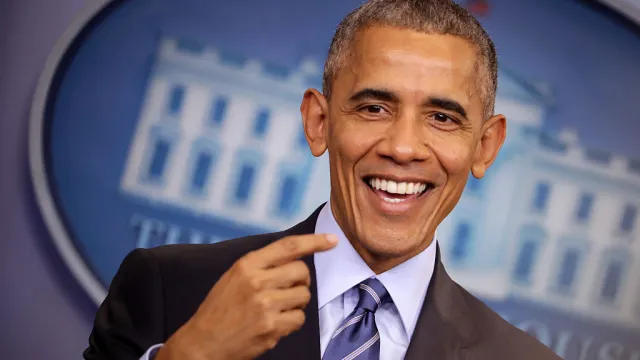 With President Barack Obama's eight-year term coming to an end very soon, it's only natural that people are curious as to what the future holds for the president after he leaves the White House. According to podcast host and writer Natalia Brzezinski, Obama is waiting for a call from Spotify…and Spotify's CEO is on board with the idea!
President Obama has done a lot of really important (and historic!) things during the past eight years, but one of our favorite things about him will always be his incredible taste in music (see: his summer 2016 music playlist and his equally awesome workout playlist). And it seems the president agrees, reportedly joking to Brzezinski recently: "I'm still waiting for my job at Spotify…'cause I know y'all loved my playlist."
Brzezinski and her husband, former Swedish ambassador Mark Brzezinski, were chatting with POTUS this week, where he joked about working for Spotify after his term ends later this month.
Not only does Obama love Sweden (he reportedly also told the Brzezinskis, "I loved visiting you in Stockholm, it was my favorite trip. I plan to go back there really soon."), it seems he's feeling a music career, and we are here for it.
The president has created multiple Spotify playlists over the years, and they're all so good. His workout playlist, released last October, featured everyone from Icona Pop to Beyoncé, while also throwing it back with some Sting. His summer 2016 playlist was so bangin' it gave one list for daytime and one for nighttime, featuring everyone from the Beach Boys to Billie Holiday to Sara Bareilles.
Turns out, Spotify would love to offer the POTUS a pretty important position with the company. Spotify CEO Daniel Ek tweeted an open job posting, encouraging Obama to apply.
The "President of Playlists" role is a heady one, and has many responsibilities, including: providing "world-class leadership to playlist editors and supporting staff, identifying and substantiating new playlist ideas, e.g. from a playlist for shooting hoops with your friends, to the perfect warm up playlist for addressing the nation about health care legislation that bears your name." Of course, the candidate will also need to "attend daily briefings."
Obama is perfect for the role, since they're looking for someone with "at least eight years experience running a highly-regarded nation." All he needs now is a good reference, and he's all set!