You have to watch Barack Obama sing Christmas songs with feminist Christmas carolers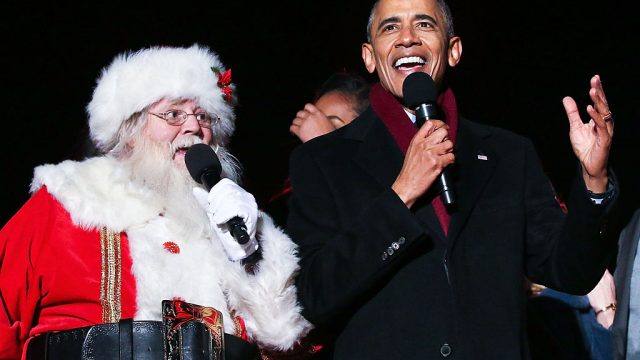 The holidays can be a rough time for some people. So if you're looking for something to pull you out of the post-holiday, pre-New Year's slump, look no further than this incredible video of Barack Obama singing a Christmas song. While many of us spent the holidays bundled up, the former president opted to relax in his home state of Hawaii. And during the merriment that comes with celebrating the season, Obama sang Christmas carols with a group of feminists.
Can you imagine casually singing seasonal tunes with Barack Obama? What a very merry holiday that would be! The Obamas were relaxing inside when a group of carolers appeared unannounced at their doorstep. But these carolers weren't your typical crooners wearing long Victorian dresses. They were a group of feminist carolers called the Windward ReSisters. There were plenty of pink pussy hats mixed in with the traditional Santa ones, Bustle reports. And everyone was enjoying the Christmas spirit as they sang outside the Obamas' door.
But what they didn't expect was for Obama to step outside (flanked by his security detail) and join them. The former president chatted and joked with the group, and even sang a few bars before wishing the carolers a Merry Christmas.
Watch Obama greet the Windward ReSisters and even join in during "We Wish You a Merry Christmas."
https://twitter.com/udfredirect/status/945038094863966208
Of course, it's no surprise that Barack Obama would want to sing along. The former President has a well-documented passion for music. In the past, he's sung "Amazing Grace," "Shape of You" by Ed Sheeran, "Purple Rain" by Prince, and even a few bars of "Let's Stay Together" by the legendary Al Green.
The only thing that could make this story better? Some sweet dance moves from Michelle.
Next year!