Obama's response to the Florida shooting is exactly what Trump *should* have said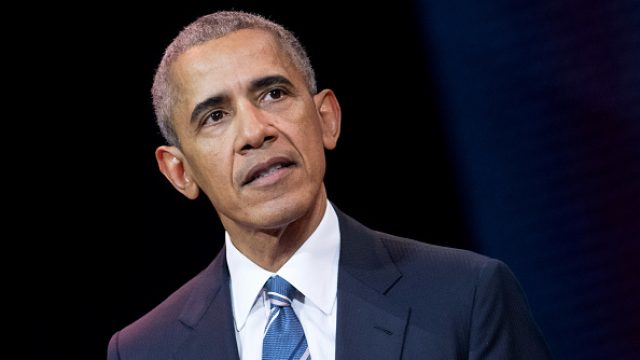 Another school shooting has occurred. On February 14th, 17 people were killed and 23 injured when a gunman opened fire at Marjory Stoneman Douglas High School in Parkland, Florida. Politicians soon took to Twitter to express their condolences. And former President Barack Obama was among those who responded to the Florida school shooting.
Obama expressed his sorrow at the tragedy, saying that he was "grieving" for the community. But Obama's February 15th tweet also included a call to enact gun control legislation, which is what the country needs right now.
"We are grieving with Parkland. But we are not powerless," Obama wrote. "Caring for our kids is our first job. And until we can honestly say that we're doing enough to keep them safe from harm, including long overdue, common-sense gun safety laws that most Americans want, then we have to change."
President Donald Trump has called the Parkland shooting "terrible," but he has yet to mention gun control legislation. Instead, the president has focused on the mental health of the Parkland shooter and said that the gunman's former classmates should have reported his suspicious behavior to the police.
https://twitter.com/udfredirect/status/963878055969198080
https://twitter.com/udfredirect/status/964110212885106689
Other Republican politicians, including House Speaker Paul Ryan, have gratingly offered "thoughts and prayers" while saying that the latest shooting shouldn't affect Americans' rights to own guns. Ryan also said that in the aftermath of the shooting, people should avoid "taking sides and fighting each other politically." Hm.
According to an October 2017 Gallup poll,  60 percent of Americans surveyed were in favor of stricter gun sale laws. But despite the fact that most Americans are in favor of at least some form of gun control, Congress has been slow to act. In 2017, Congress introduced legislation to strengthen the instant background check system used to purchase guns as well as a bill to ban "bump-stocks," which enable semiautomatic weapons to be used automatically. But as of February 16th, neither of these bills have been voted on.
In the wake of yet another school shooting, the need to end gun violence is greater than ever. Obama's was right in his response to the Florida shooting: Thoughts and prayers are not enough. We need to change, and we need to change now.