Barack Obama's response to the white supremacist violence in Charlottesville is so poignant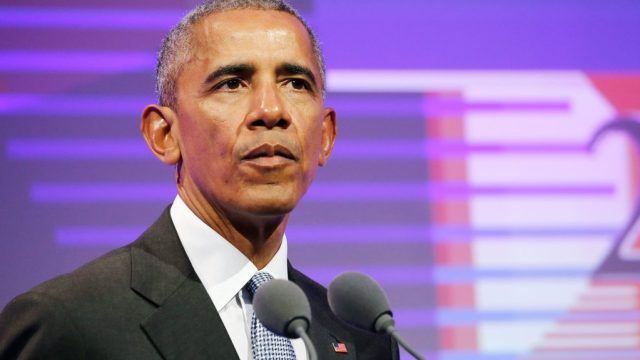 The unsettling events of this weekend have left most of us confused and downright terrified. On Friday night, an angry mob of white nationalists stormed the streets of Charlottesville and the University of Virginia, carrying firearms and torches. They were dressed in T-shirts with Nazi symbolism, and Trump's "Make America Great Again" campaign slogan — it seems they've traded in the white hood. Many have taken to Twitter to respond to the white supremacist violence, including former President Barack Obama.
The 44th POTUS didn't directly say the word Charlottesville, but considering the fact that he hasn't been very active on his Twitter page recently, the timing and subject matter of his tweets would imply he was, in fact, sharing his thoughts on the violent attacks in Virginia.
Obama shared words from his hero and former South African President Nelson Mandela.
He quotes,
"No one is born hating another person because of the color of his skin or his background or his religion. People must learn to hate, and if they can learn to hate, they can be taught to love…"
The Unite the Right rally by white nationalists was organized to protest the planned removal of a statue of Confederate general Robert E. Lee from the city's Emancipation Park. The large group of neo-Nazis sparked unrest throughout the streets of Charlottesville and on Saturday, a 32-year-old woman was killed and 19 others injured after an alleged supporter of the hateful movement plowed a car into a group of peaceful protesters demonstrating against what was touted to be one of the biggest white nationalist rallies in a decade. James Alex Fields, Jr. is currently being held on murder charges related to the fatal incident.
Two Virginia policemen also lost their lives while trying to assist in efforts nearby to contain the clashes.
Donald Trump, for his part, has been facing quite a bit of backlash for failing to denounce the far-right rally. During a statement on the crisis, he said "many sides" were involved in the Charlottesville incidents, which many think just wasn't enough.
Our hearts are breaking over this senseless display of racism and terrorism, but we remain hopeful for a more peaceful tomorrow.