Obama got a traditional "nose-rubbing" greeting in New Zealand, and OMG the pictures
He may have been out of office for a year, but former President Barack Obama is still a public icon. Whether he's sharing his wisdom by speaking with Prince Harry or wishing his wife Michelle a happy birthday, we love keeping up with the former president. And photos from Obama's recent visit to New Zealand, where the former president received a traditional nose-rubbing greeting, are making us nostalgic for his time in the White House.
Obama arrived in New Zealand on March 21st for his first visit. The three-day trip included meeting with Prime Minister Jacinda Ardern and hosting an Obama Foundation event for female Maori leaders. And between his official duties, Obama also found time to squeeze in a golf game or two.
But the former president's visit kicked off with a welcome ceremony at the Government House that included a customary Maori greeting called a hongi, in which two people press their foreheads and noses together. Obama was also given a whale tooth pendant. Other world leaders have also taken part in a hongi. Hillary Clinton was greeted with one during her time as Secretary of State, and Prince William and Kate Middleton, the Duchess of Cambridge, have also received the welcome. The welcome ceremony was the only part of Obama's visit open to the public.
And the pictures of the hongi are giving us life.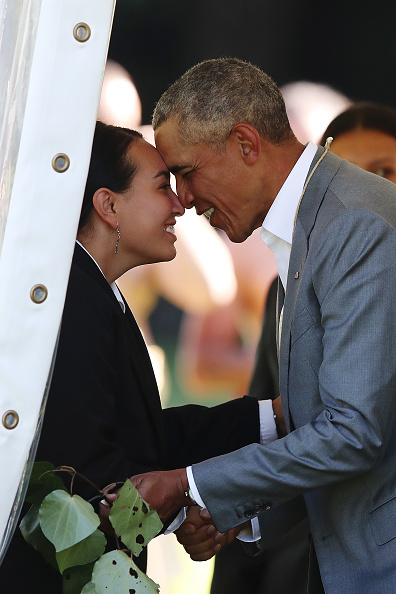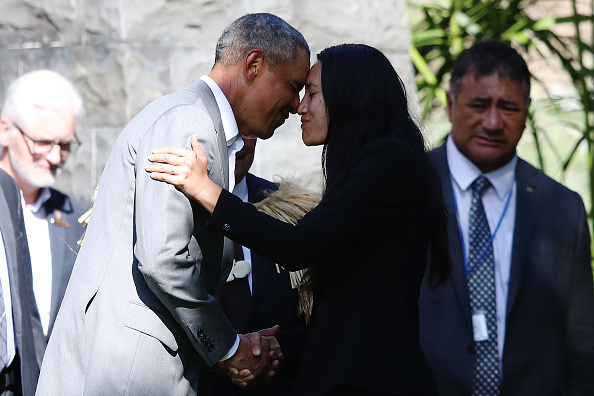 According to New Zealand news site Stuff.co.nz, the hongi demonstrates unity between two people. The nose-touching represents an exchange of breath, and sometimes foreheads are touched to symbolize an exchange of knowledge. The greeting can be serious or lighthearted, depending on the situation, but Obama's expression in these photos is one of pure joy.
We're happy to see Obama living his best life post-presidency. But more than that, it makes us glad that our former president is still using his platform to connect with people around the world.