Barack Obama threw so much shade at Trump in a recent speech — here were the boldest parts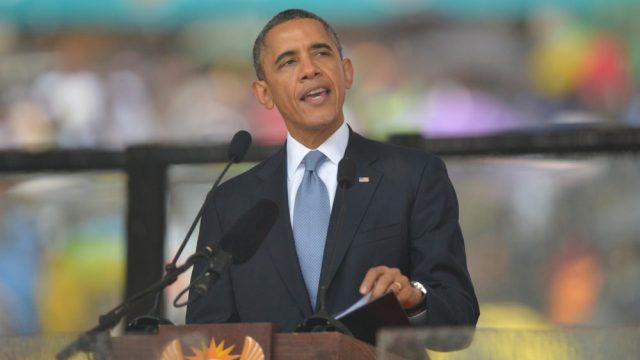 Since he left the country's highest office, former President Barack Obama has mostly kept to himself. Although he's occasionally taken to social media to speak out in favor of measures like gun control, so far, Obama has refrained from calling out President Donald Trump's decisions directly. But in a recent address in South Africa, the former president condemned lying politicians — and many believe his remarks were directed at the current POTUS.
According to CBS News, Obama appeared before a crowd in Johannesburg on July 17th to give the 2018 Nelson Mandela Annual Lecture. CBS noted that while the former president focused on Mandela's legacy, he also touched on the "politics of fear" and racist nationalist parties whose ideals include "protectionism and closed borders."
"In the West, you've got far-right parties that oftentimes are based not just on platforms of protectionism and closed borders, but also on barely hidden racial nationalism," he said.
https://www.youtube.com/watch?v=XkHjrKDrhjg?feature=oembed
He also appeared to call out Trump on his often and repeated public lies.
"Unfortunately, too much of politics today seems to reject the very concept of objective truth," he said. "People just make stuff up. They just make stuff up."
Hmmm…"people." We think we get what you're puttin' down, Obama (wink, wink).
Obama continued by criticizing "the utter loss of shame among political leaders where they're caught in a lie and they just double down and they lie some more."
The former president also condemned "the promotion of anti-intellectualism and the rejection of science from leaders who find critical thinking and data somehow politically inconvenient." He ended his speech on a positive note, declaring that, "Love comes more naturally to the human heart. Let's remember that truth."
John Stremlau, professor of international relations at Witwatersrand University in Johannesburg, told the Associated Press he saw Obama's speech as condemnation of the current U.S. administration.
"Just by standing on the stage honoring Nelson Mandela, Obama is delivering an eloquent rebuke to Trump," Stremlau told the AP.
Obama's condemnation of dishonesty in politics is exactly the kind of leadership we need right now. So let's do our best to promote love and integrity — because that's what America's dad would want.